Easy Roast Turkey With Herbs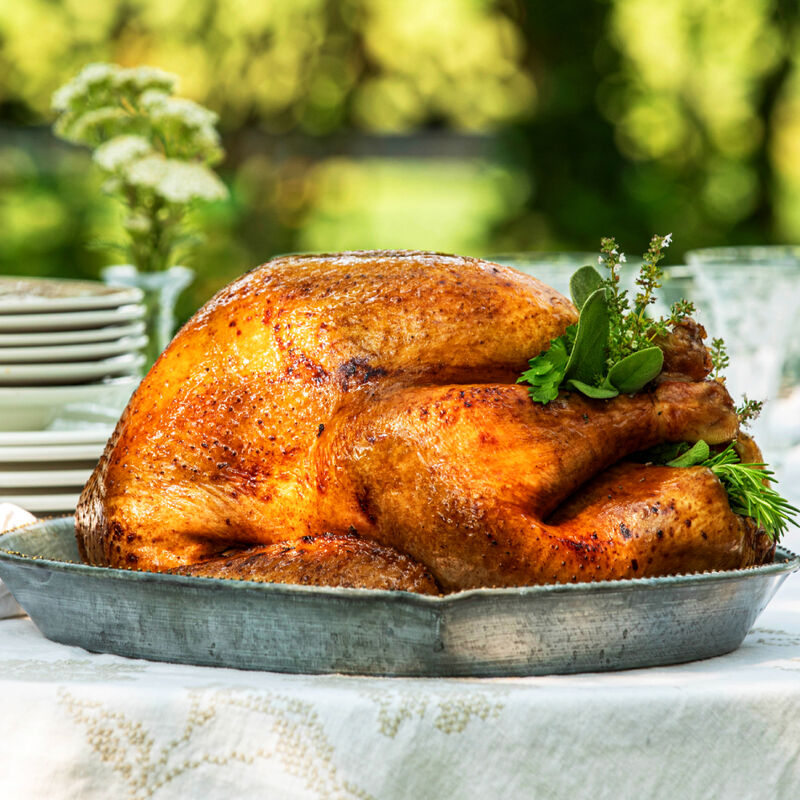 Easy Roast Turkey With Herbs
This may be the best turkey recipe ever! Why? Because it's easy -- the perfect recipe for someone who is roasting turkey for the first time. A mixture of oil and herbs coats the skin and lends flavor and moisture as the turkey slow roasts in the oven. Basting during the second half of the cooking process also infuses the whole bird with flavor. A classic main dish for the holidays!
Nutritional Information
*Percent Daily Values are based on a 2,000 calorie diet.
Ingredients
Ingredients
10- to 16-lb. Perdue Whole Turkey
1/2 cup olive oil
2 tablespoons fresh lemon juice
2 tablespoons kosher salt
2 tablespoons fresh parsley leaves, minced
1 tablespoon fresh sage leaves, minced
1 tablespoon fresh rosemary leaves, minced
1 tablespoon fresh thyme leaves
1 tablespoon black pepper
Step 1
Step 1
Place rack in bottom third of oven and preheat to 325 F. Place turkey on rack set in large roasting pan. Tuck wing tips under and tie legs together with kitchen string to hold shape.
Step 2
Step 2
Pour 1 cup water into bottom of roasting pan. Whisk together olive oil, lemon juice, salt, herbs and pepper. Rub half of mixture over turkey; cover with foil and roast 2 1/2 hours.
Step 3
Step 3
Remove foil and brush with remaining herb mixture.
Step 4
Step 4
Continue to roast, basting every 20 minutes with pan juices, for another 1/2 to 1 1/4 hours or until meat thermometer inserted in thickest part of thigh registers 180 F. Remove turkey from oven, cover loosely with foil and let stand at least 20 minutes before carving.