Easy Shredded Beef Street Tacos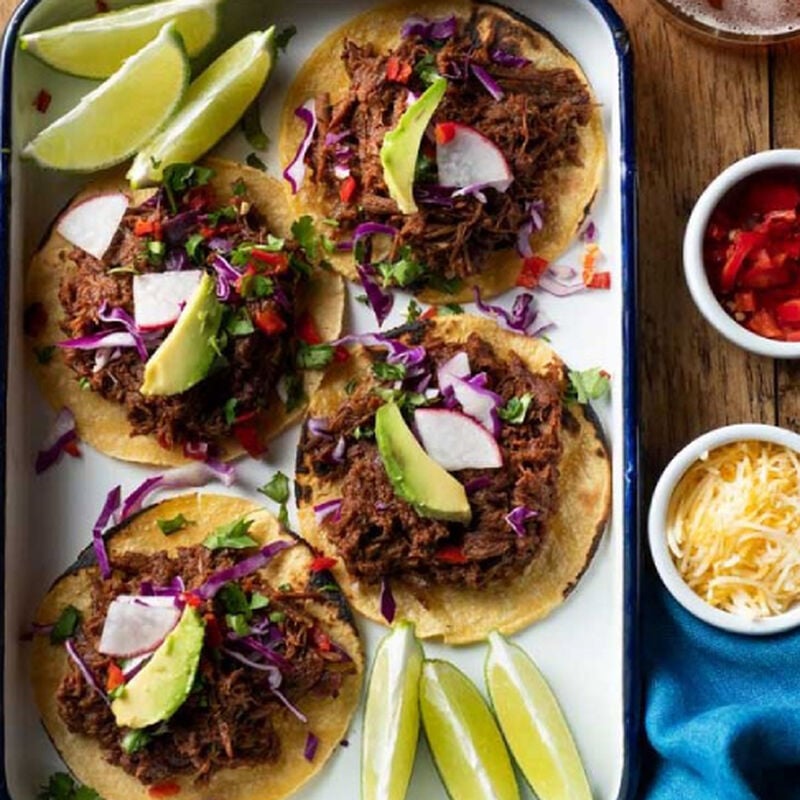 Easy Shredded Beef Street Tacos
Short on time but still crave something super tasty? This taco recipe comes together in a flash. Start with Niman Ranch's shredded pork or beef and top with your favorite toppings, from sour cream to hot peppers and cilantro.
Nutritional Information
Calories

250

Protein

13g

Sodium

470mg

Sat. fat

5g

Sugar

10g
Nutritional Information
*Percent Daily Values are based on a 2,000 calorie diet.
Ingredients
Ingredients
14 ounces shredded meat
1 bunch radishes, thinly sliced
1 cup cilantro, chopped
2 avocados, peeled and sliced
3 to 4 jalapeño peppers, sliced into wheels (remove seeds for less heat)
1/2 cup sour cream
1/4 cup thinly sliced red cabbage
Tortillas and hot sauce
Timing
Timing
Prep
5 minutes
Cook
8 minutes
Step One
Step One
Heat shredded beef or pork according to instructions on package.
Step Two
Step Two
In a heavy-bottomed skillet (preferably cast iron), cook tortillas until lightly browned on both sides and heated through.
Step Three
Step Three
Assemble tacos by placing shredded meat in the center of each tortilla, then top with avocado, radishes, cilantro, jalapeño, sour cream, red cabbage and hot sauce.