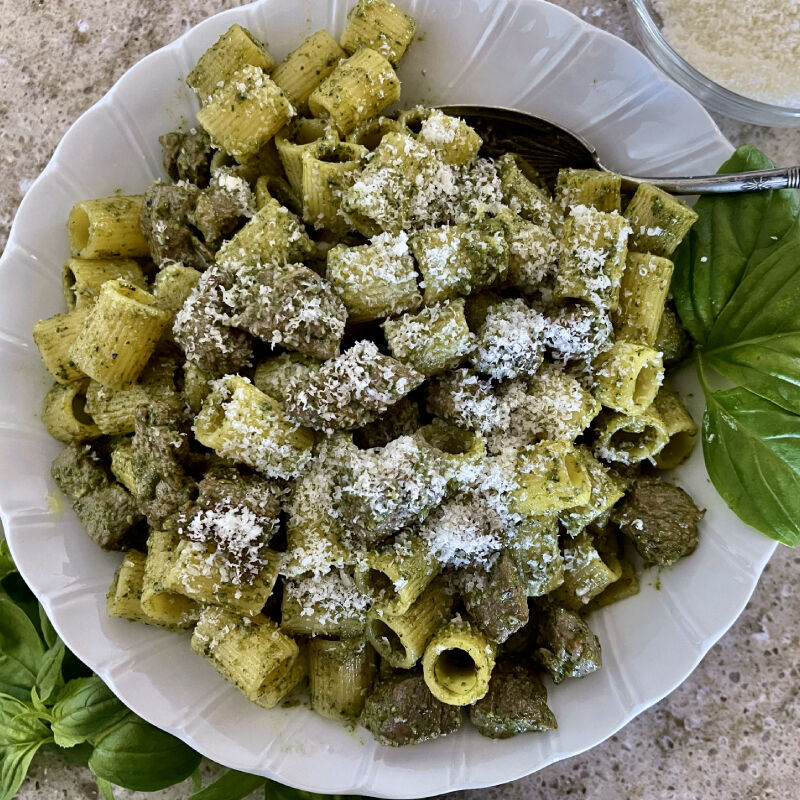 Filet tips are cut from the ends of the tenderloin, so they offer all the tenderness and flavor of filet mignon but without the hefty price tag. This simple and quick preparation will please both meat lovers and pasta afficionados. If you've got a supply of basil in your garden, make your own pesto, but if not, prepared pesto from the grocery store is a fine alternative.
Nutritional Information
Calories

352

Sodium

479mg

Sat. fat

5.7g

Sugar

2g
Nutritional Information
*Percent Daily Values are based on a 2,000 calorie diet.
Ingredients
Ingredients
1 pound beef tenderloin tips
1/2 teaspoon kosher salt
1/2 teaspoon black pepper
2 tablespoons olive oil
1 pound short pasta, like rotini or farfalle
1/2 cup pesto
2 ounces grated Parmesan
Timing
Timing
Prep
10 minutes
Cook
15 minutes
Step One
Step One
Pat the filet dry with a paper towel. Sprinkle all over with salt and pepper. Heat the oil to shimmering in a large skillet over medium-high heat. Add the meat in batches and stir to brown on all sides. The meat should be just browned, but still rare inside. Remove each batch to a plate.
Step Two
Step Two
Cook the pasta according to package instructions. While the pasta is cooking, remove any excess oil from the skillet and return the meat. Add the pesto, and over low heat, stir just until the meat is coated. Drain the pasta, reserving the cooking water, and add to the skillet. Stir until everything is coated in pesto. Add a little pasta water, if needed.
Step Three
Step Three
Remove to a serving dish and sprinkle the grated cheese over. Serve immediately.