Popcorn Surprise Fried Chicken Cobb Salad
Recipe Source

by the Perdue Farms Culinary Team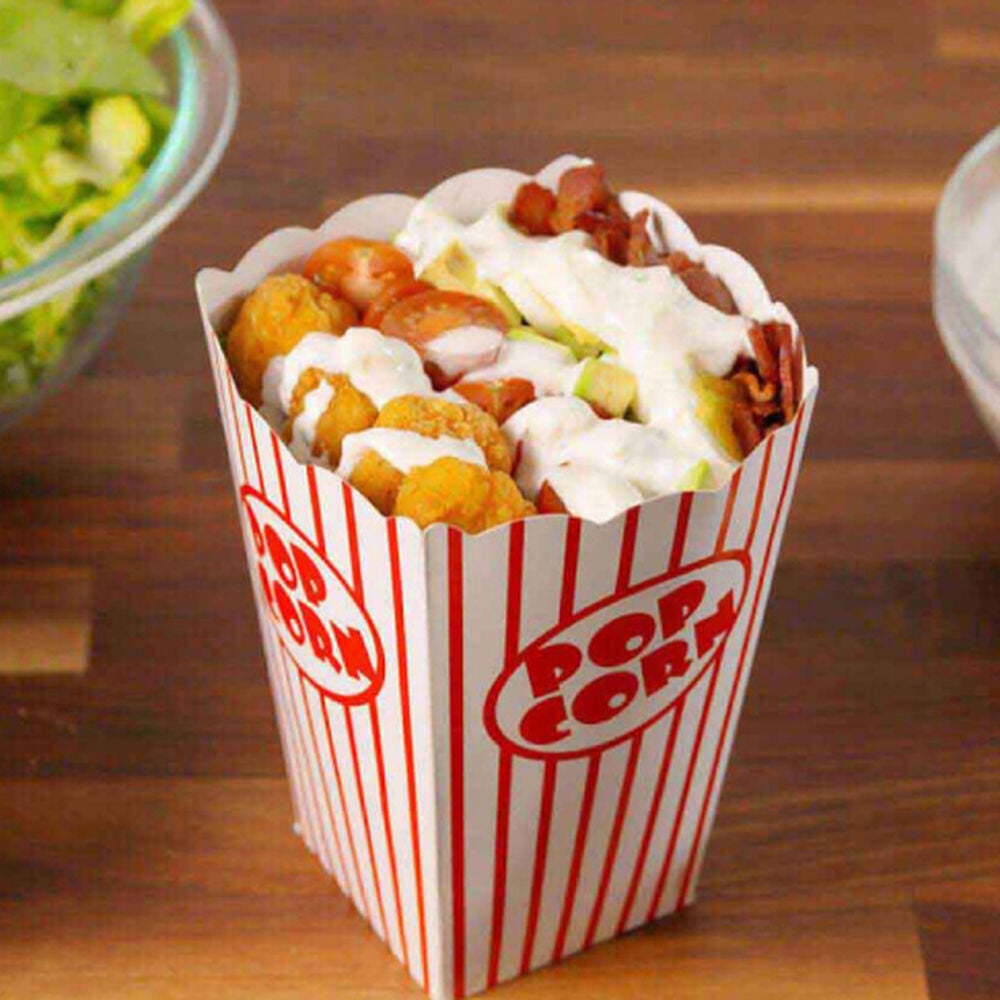 Popcorn Surprise Fried Chicken Cobb Salad
Recipe Source

by the Perdue Farms Culinary Team
A fun way to plate a classic salad recipe! This Cobb salad is topped with crispy fried chicken and served up in popcorn containers. Great for lunch or a light dinner!
Nutritional Information
8 Servings Per Recipe
Total Carbohydrate: 19.1g
*Percent Daily Values are based on a 2,000 calorie diet.
Ingredients
Ingredients
8 ounces Perdue Breaded Popcorn Chicken
1/2 cup buttermilk
2 teaspoons fresh chives, chopped
Salt and coarse ground pepper, to taste
8 ounces cherry tomatoes, halved
4 hard-boiled eggs, sliced
6 to 8 popcorn containers
1 cup Greek yogurt
1/2 cup mayonnaise
4 ounces crumbled blue cheese
2 teaspoons fresh parsley and chives, chopped
6 to 8 cups mixed greens
2 avocados chopped and tossed with lime juice
6 slices of crispy bacon, chopped
Step 1
Step 1
Preheat oven to 425 F and line a baking sheet with parchment paper. Place frozen pieces of chicken in single layer on the baking sheet. Bake on middle oven rack for 15 minutes, or until heated through (and turn pieces halfway through heating time). Remove the chicken from the oven and let cool.
Step 2
Step 2
Whisk together all of the dressing ingredients. Set aside. Using tongs, assemble the salad in popcorn containers or a large bowl: Start with the greens, then layer on the chicken and all remaining salad ingredients. Spoon dressing on top. Serve immediately.

Recipe provided by Delish.com.
The Perdue Farms Culinary Team
Chef Chris Moyer, CEC, CRC, and Chef Shawn Reese, CEC, CRC, bring decades of combined culinary experience to their roles at Perdue Farms. The chefs contribute to recipe development, culinary ideation, and all culinary aspects of the company business.
MEET THE CHEFS