Deep-Fried Mini Corn Dogs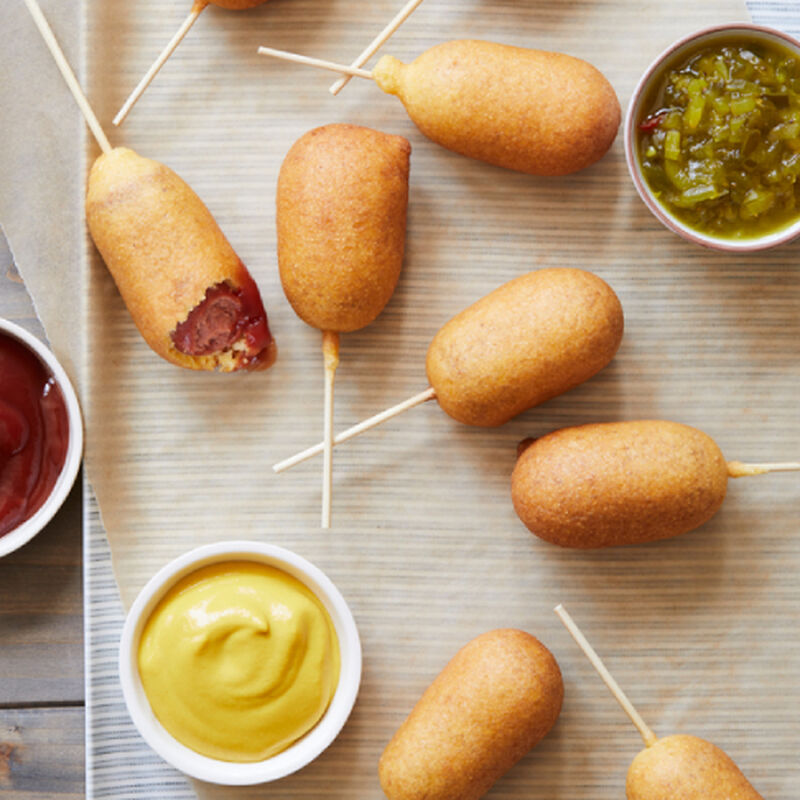 Deep-Fried Mini Corn Dogs
An all-American classic that's loved by kids of all ages! This corn dog recipe has a bit of a kick, thanks to the pinch of cayenne powder added to cornmeal batter. Made with Niman Ranch's premium protein franks, this dish will be a big hit at your next party or family gathering.
Nutritional Information
Calories

170

Protein

6g

Sodium

320mg

Sat. fat

7g

Sugar

3g
Nutritional Information
*Percent Daily Values are based on a 2,000 calorie diet.
Ingredients
Ingredients
8 hot dogs, cut in thirds
1/2 cup yellow cornmeal
1/2 cup all-purpose flour
2 tablespoons sugar
2 teaspoons baking powder
1 teaspoon onion powder
1/2 teaspoon garlic powder
1/4 teaspoon ground cayenne
1/4 teaspoon kosher salt
1 large egg
1/2 cup whole milk
5 cups vegetable oil, for frying
12 6-inch wooden sticks
Assorted condiments for dipping
Timing
Timing
Prep
5 minutes
Cook
3 minutes
Step One
Step One
Insert a wooden stick into each piece of franks. Pat franks thoroughly dry with a paper towel.
Step Two
Step Two
Whisk together the cornmeal, flour, sugar, baking powder, salt, cayenne, onion and garlic powders. Beat the egg and the milk together and stir them into the dry ingredients.
Step Three
Step Three
Heat the oil to 350 F (use a candy thermometer in the oil to monitor the temperature) in a pot deep enough to submerge the franks.
Step Four
Step Four
Transfer the batter to a tall glass and dip franks into the batter to coat. Immediately submerge in oil, holding the stick with tongs out of the oil.
Step Five
Step Five
Fry until golden brown, about 2 to 3 minutes. Drain on paper towels. Keep corn dogs warm in the oven, set on low heat, while the other dogs are fried. Serve with your favorite condiments.