Bacon-Wrapped Filet Mignon on the Grill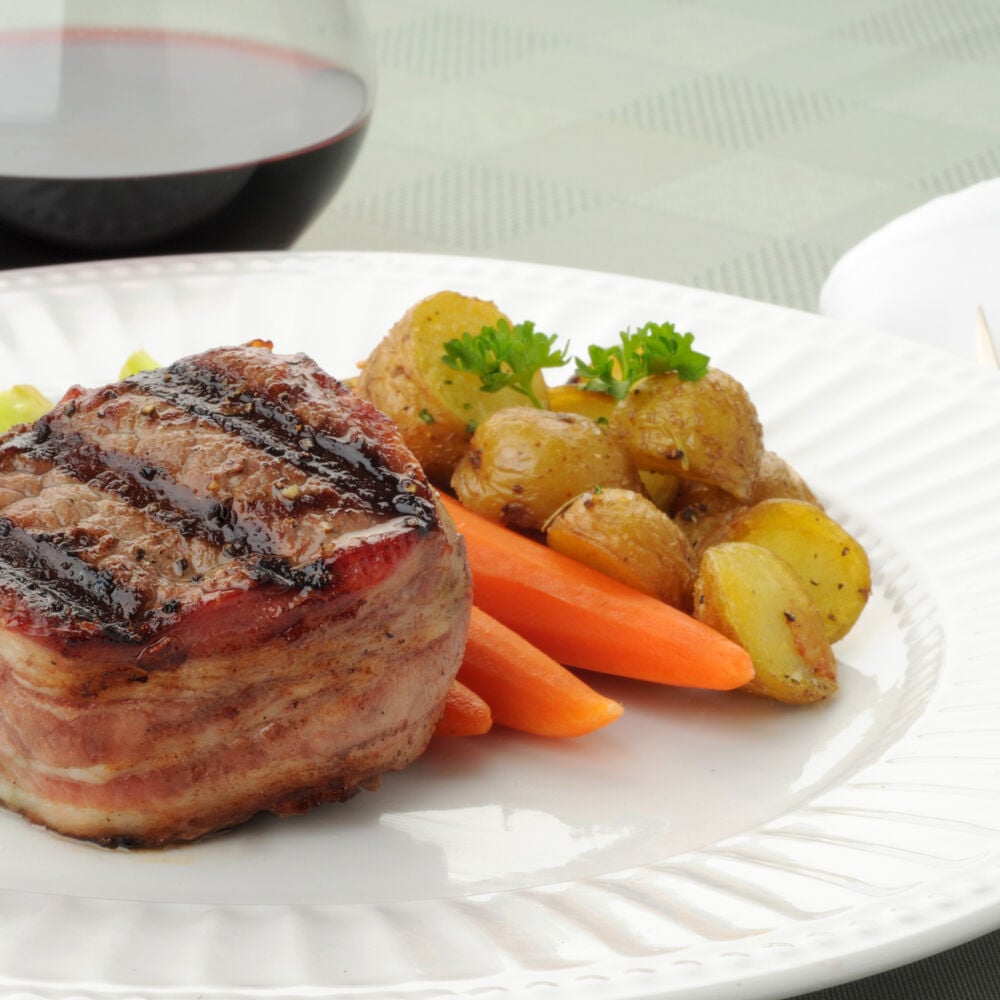 Bacon-Wrapped Filet Mignon on the Grill
Bacon and steak — its the perfect combination! This filet mignon recipe is so easy to make and the payoff is major. Bacon lends a smokey flavor and seals in moisture as the filet sears on the grill. Serve up with grilled vegetables for a well-rounded summer meal.
Nutritional Information
*Percent Daily Values are based on a 2,000 calorie diet.
Ingredients
Ingredients
4 Panorama Organic Grass-Fed Filet Mignon Steaks
8 strips Niman Ranch Applewood Smoked Uncured Bacon
Seasoning salt
Ground peppercorns
Oil
Step 1
Step 1
Remove steaks from the refrigerator. Rub a healthy amount of unfiltered, extra virgin olive oil on all sides of the steak, and let sit at room temperature for 1 hour before cooking. Wipe off the olive oil after the hour is up, or leave it on to help the seasonings stick to the meat.
Step 2
Step 2
Generously season both sides of steak with ground peppercorns and seasoned salt. A good ratio rule of thumb is 2 parts pepper to 1 part salt (even if it's seasoned).
Step 3
Step 3
Brush oil on the grill, and heat to medium-high. When residue begins to blacken, scrape clean. Re-apply oil to grill (use a brush meant for high temperature).
Step 4
Step 4
Throw the bacon on the grill for a quick 30 seconds on each side for a partial-cook. Remove from grill. Wrap 2 pieces of bacon around each tenderloin, securing them with toothpicks.
Step 5
Step 5
Grill steaks, covered, for 5 minutes. Flip steaks, cover and grill for an additional 3 to 5 minutes or until cooking thermometer reaches 130 F (medium rare) or to your liking.
Step 7
Step 7
Let rest on a plate for 5 to 10 minutes. Remove toothpicks and serve with grilled asparagus or your favorite grilled vegetable.

Nutritional information based on sugar-free bacon.