Grilled Filet Mignon with Red Wine Sauce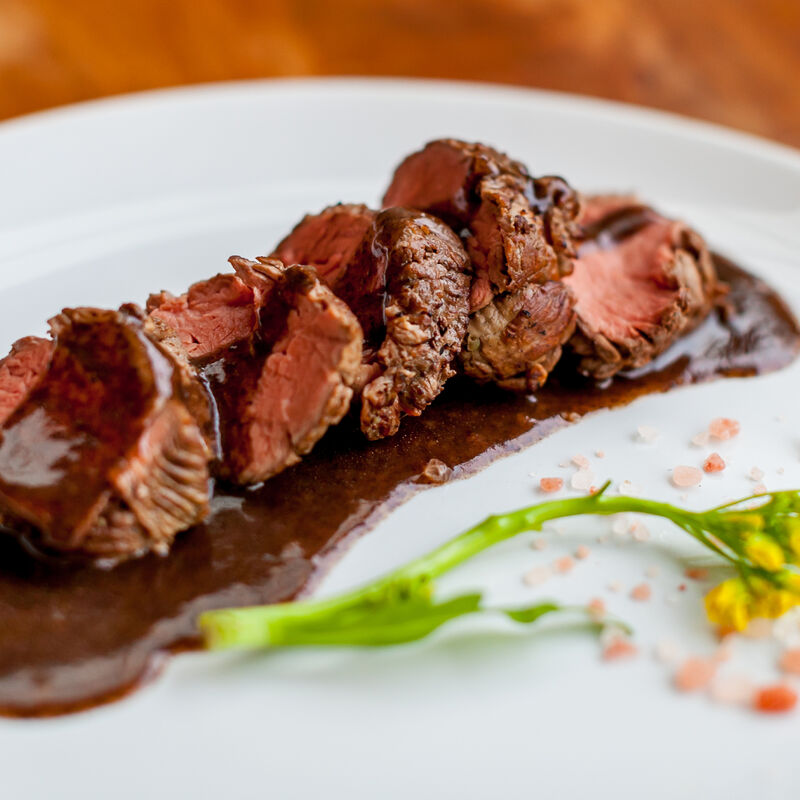 Grilled Filet Mignon with Red Wine Sauce
We think this may be the very best way of grilling filet mignon! Each filet is coated in a mixture of garlic, rosemary and seasonings before being perfectly seared on the grill. A garlic and red wine sauce is the only topping needed to make our grass-fed and grass-finished beef shine.
Nutritional Information
Calories

380

Protein

33g

Sodium

3030mg

Sat. fat

9g

Sugar

1g
Nutritional Information
4 servings per recipe
Total Carbohydrate: 5g
2%
*Percent Daily Values are based on a 2,000 calorie diet.
Ingredients
Ingredients
tablespoons coarse sea salt
tablespoons coarsely ground pepper
cloves of garlic, finely chopped or sliced to preference
tablespoons ghee or other clarified butter
cup beef stock or bone broth
Step One
Step One
Prior to preparing/cooking the meat, let it sit at room temperature for one hour so the temperature on the inside of the tenderloins is the same as the outside.
Step Two
Step Two
Lightly coat the steaks in olive oil. Combine the salt, pepper, finely chopped garlic and rosemary in a small bowl. "Pack" the tops and bottoms of the steak with the mixture, gently pressing it into the meat. Once the tops and bottoms are nicely coated, use any leftover mixture as light seasoning on the side of the filets.
Step Three
Step Three
Preheat the grill to medium-high or high heat. Oil the grate well to ensure proper searing and easy removal of the steaks. Throw the steaks on the grill.
Rare: Cook a total of 8 minutes for 1-inch-thick steak. 10 minutes for 1 1/4-inch-thick, etc.
Medium Rare: Cook a total of 10 minutes for 1-inch-thick steak. 12 minutes for 1 1/4-inch-thickness, etc.
Medium: Cook a total of 13 minutes for 1-inch-thick steak. 15 minutes for 1 1/4-inch-thickness, etc.
Medium Well: Cook a total of 18 minutes for 1-inch-thick steak. 20 minutes for 1 1/4-inch-thickness, etc.
Step Four
Step Four
Remove steaks from the grill, cover in foil and let rest for 10 minutes. While the steaks rest, begin the sauce. Add the clarified butter to an iron skillet, or a heavy bottomed pan, on medium heat. Do not use non-stick. Once the butter browns and begins to bubble, add in the minced garlic. Gently stir for a brief amount of time. Add the stock and wine to the pan. Bring to a gentle boil. Reduce heat to let simmer for approximately 10 minutes. Remove from heat, and pour on top of the beef tenderloin steaks just prior to serving.