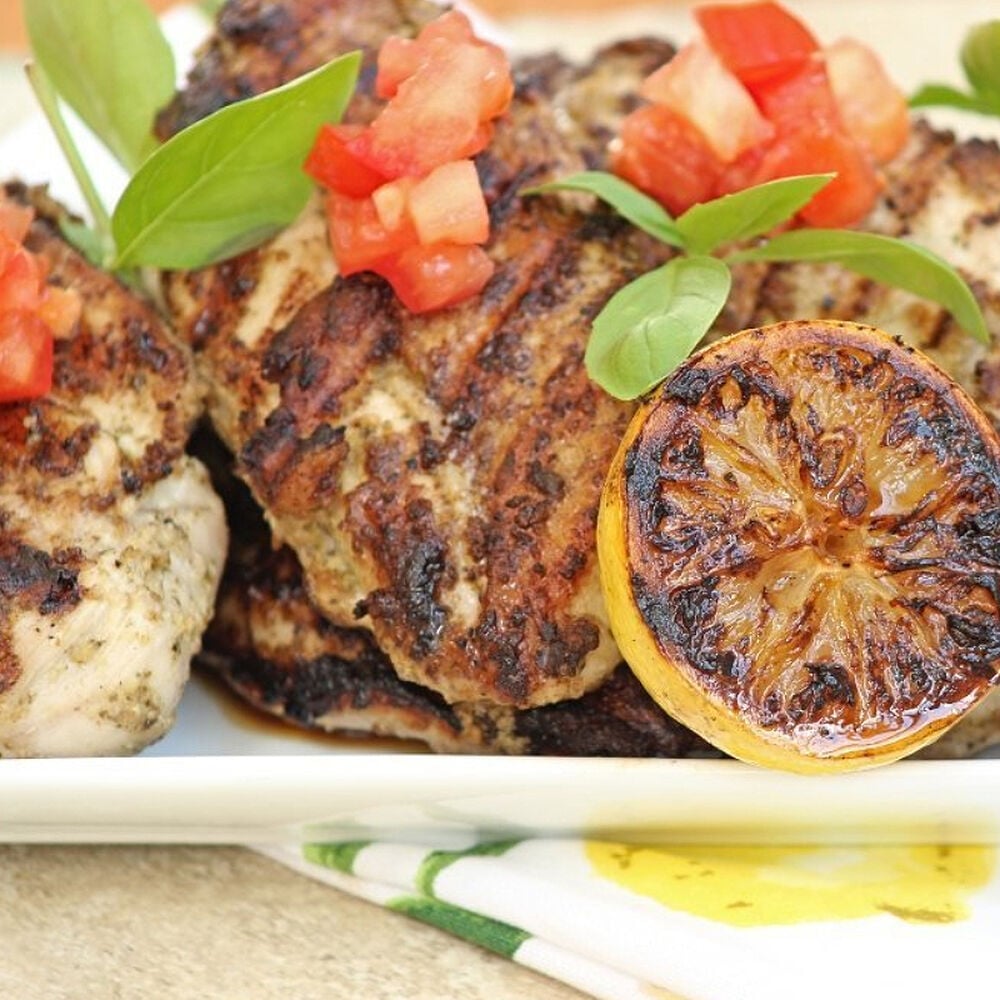 The best way to use bunches of fresh-from-garden basil! The pesto in this instance is used as a marinade to infuse chicken with vibrant Italian flavors. Cook chicken breasts on your gas grill or in a grill pan and enjoy any night of the week.
Nutritional Information
4 Servings Per Recipe
Total Carbohydrate: 13.6g
*Percent Daily Values are based on a 2,000 calorie diet.
Ingredients
Ingredients
4 to 6 Perdue Boneless Skinless Chicken Breasts
2 handfuls of basil leaves
1/2 cup walnuts
4 garlic cloves
1 teaspoon salt
Fresh cracked black pepper, to taste
1/2 cup olive oil
1 lemon (1/2 juiced, 1/2 reserved)
Vegetable oil
4 roma tomatoes, chopped, for garnish
Approx. 3-lb. pack of succulent and juicy chicken breasts ― portioned in three 1-lb. pouches
Step 1
Step 1
Preheat oven to 350 F. Remove chicken breasts from package and pat dry.
Step 2
Step 2
Place basil, walnuts, garlic, salt, pepper, olive oil and lemon juice in a food processor. Blend until smooth. Place chicken breasts on a platter or in a container, smear mixture over chicken breasts, cover, place in refrigerator and let marinate for 1 hour.
Step 3
Step 3
Preheat cast iron grill to medium heat. Brush with vegetable or other oil of choice. Grill chicken for about 5 to 6 minutes per side. Note: Wait until grill lines are set to flip chicken over. Brush the pan with vegetable oil between batches of chicken to avoid sticking. Grill the other half of lemon in the same pan, about 3 to 5 minutes.
Step 4
Step 4
Place chicken in a flat aluminum sheet pan. Place pan in oven and roast for about 10 minutes or until the center of chicken is no longer pink and a digital meat thermometer, inserted in the thickest part of the breast, registers 165 F.
Step 5
Step 5
Remove chicken from oven, plate, top with chopped roma tomatoes, garnish with grilled lemon and serve.