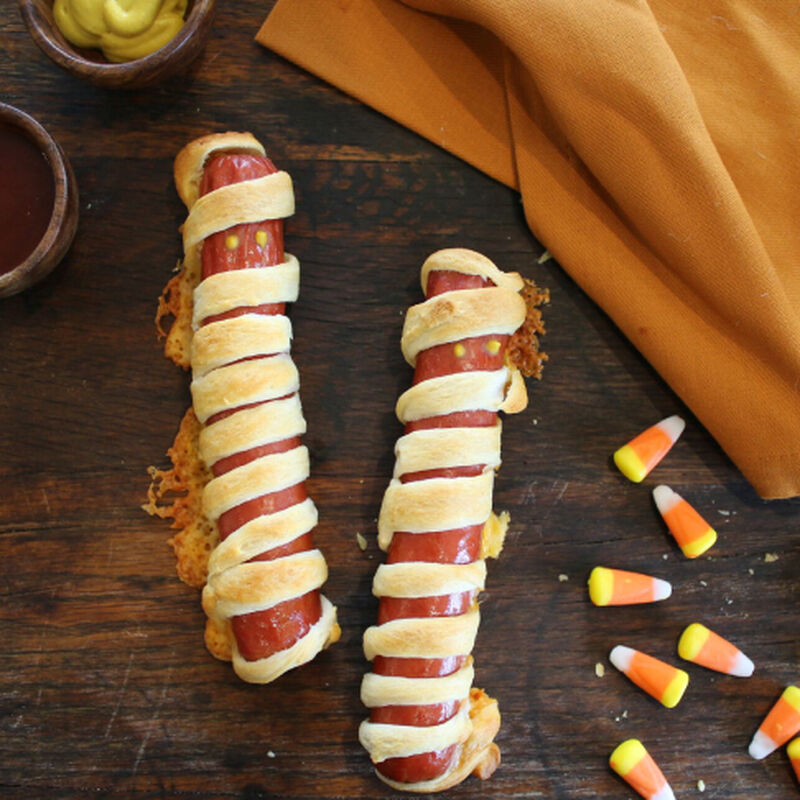 Of all the Halloween appetizer recipes, this specialty corn dog may be one of our favorites. Cheese-stuffed NIman Ranch beef franks are wrapped, mummy style, in a blanket of biscuit dough. Your favorite condiments can be used to draw spooky faces and any other ghoulish features. Guaranteed to be a hit at your trick-or-treat gathering!
Nutritional Information
Calories

400

Protein

25g

Sodium

1330mg

Sat. fat

10g

Sugar

3g
Nutritional Information
*Percent Daily Values are based on a 2,000 calorie diet.
Ingredients
Ingredients
4 hot dogs
1 8-ounce can of flaky biscuit dough
3 slices of cheddar cheese (sliced into 1/2-inch strips)
Cooking spray
Mustard or ketchup
Timing
Timing
Prep
10 minutes
Cook
17 minutes
Step One
Step One
Preheat oven to 375 F. Unroll biscuit dough and flatten with a rolling pin.
Step Two
Step Two
Cut flattened dough into long strips. Cut cheese slices into 1/2-inch strips.
Step Three
Step Three
Slice each hot dog lengthwise down the middle almost, but not all the way, through. Place 2 1/2-inch slices of cheese inside each hot dog.
Step Four
Step Four
Wrap 4 pieces of dough around each hot dog or enough dough to create a "bandage" look, leaving a gap for the "face" of the mummy.
Step Five
Step Five
On an ungreased large cookie sheet, place wrapped hot dog (cheese side down), spraying dough lightly with cooking spray.
Step Six
Step Six
Bake 13 to 17 minutes or until dough is lightly brown. With mustard or ketchup, draw eyes on the "face" of the mummy.