Halloween Stuffed Poblano Peppers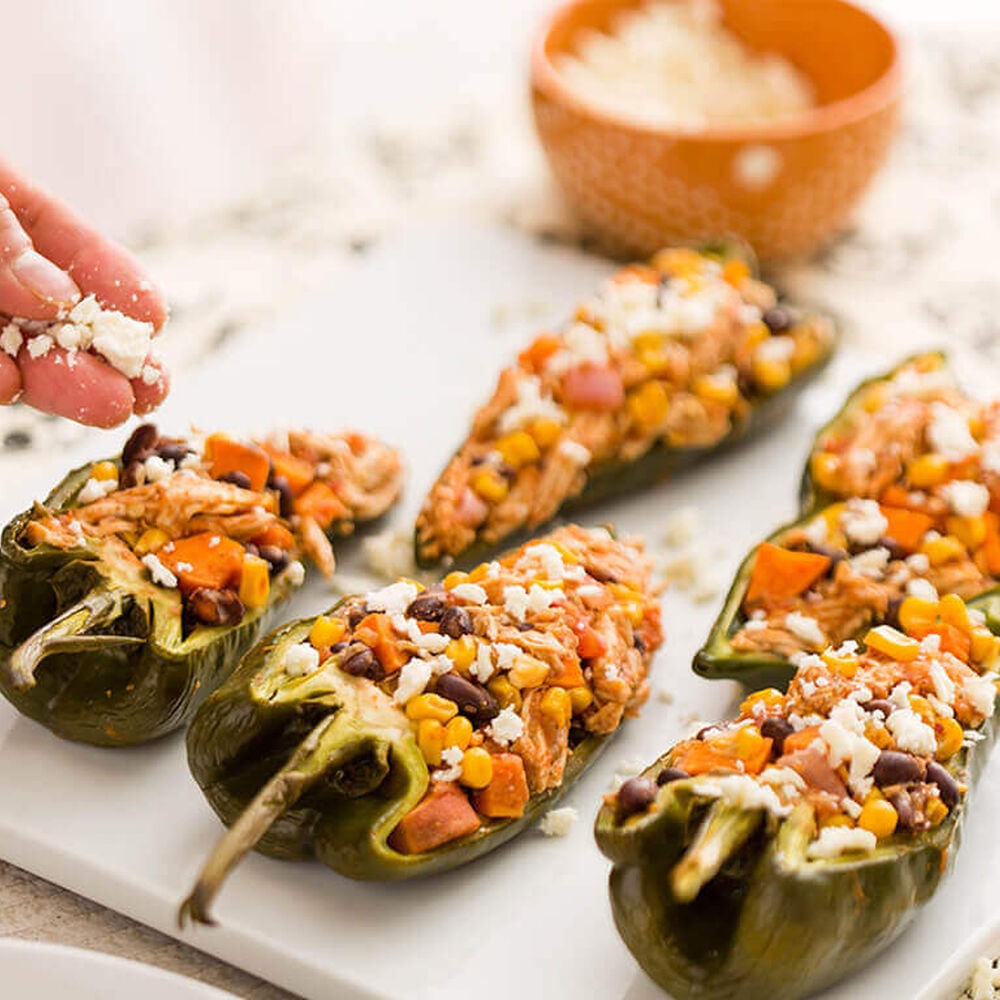 Halloween Stuffed Poblano Peppers
This main course is ideal for a more formal Halloween sit-down dinner for adults. In the recipe, ground beef is replaced with shredded chicken breast meat and sweet potato, which are seasoned with Mexican spices. Stuffed poblano peppers bake in the oven until fork tender and can be served with a topping of feta cheese and chopped cilantro.
Nutritional Information
*Percent Daily Values are based on a 2,000 calorie diet.
Ingredients
Ingredients
2 Perdue Harvestland Boneless Skinless Chicken Breasts
1 teaspoon salt
1 teaspoon black pepper
1 clove garlic
4 slices lemon
Water
Bundle fresh herbs
4 large poblano peppers
1 can black beans, rinsed and drained
1 can sweet corn, rinsed and drained
1/2 cup diced red onion
1 small sweet potato, finely diced
1 1/4 cup chunky tomato salsa
1 teaspoon chili powder
1 teaspoon cumin
1 teaspoon dried oregano
1 cup feta cheese
1/4 cup chopped cilantro, for garnish
Step 1
Step 1
Lay the chicken breasts in a single layer in the bottom of a large saucepan. Season with salt and pepper. Top with lemon slices, fresh herbs (rosemary, oregano and marjoram) and crushed garlic. Fill the saucepan with cold water until it reaches 1 to 1 1/2 inches above the chicken breasts. Bring the water to a boil, then cover the saucepan and reduce the heat to low. Lightly simmer until the chicken breasts are just cooked through, about 15 minutes. The cooking time will vary depending on the thickness of the chicken breasts. Once the chicken is done cooking, cool and shred.
Step 2
Step 2
Slice each poblano pepper in half lengthwise and place in a baking sheet lined with parchment paper.
Step 3
Step 3
Clean and dice the sweet potato and red onion. Mix shredded chicken, black beans, corn, onion, sweet potato, tomato salsa, cumin, chili powder, salt and pepper.
Step 4
Step 4
Divide mixture evenly in each poblano pepper half. Cover the pan with foil and bake for 40 minutes or until the peppers are fork tender. Remove from oven and garnish with feta cheese and cilantro.