Recipe Source

courtesy of Niman Ranch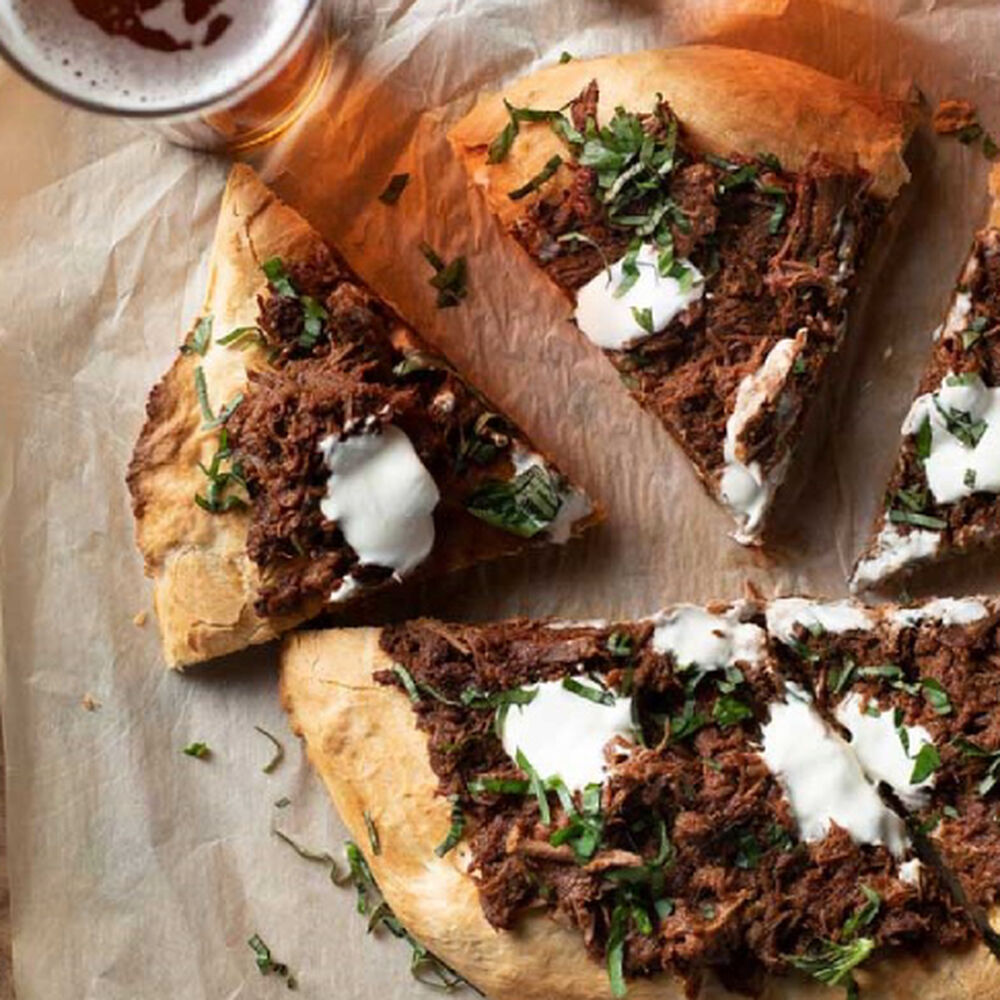 Recipe Source

courtesy of Niman Ranch
Nothing quite compares to pizza dough made from scratch and this beef-topped pizza is worth the time and effort. Tex-Mex toppings are heat and serve, which means this plates up quickly – perfect for a football party or any casual gathering of friends.
Nutritional Information
8 Servings Per Recipe
Total Carbohydrate: 23g
8%
*Percent Daily Values are based on a 2,000 calorie diet.
Ingredients
Ingredients
12 ounces Niman Ranch Fat Tire Shredded Beef
1 cup sour cream
2 jalapeños, slice into wheels (remove seeds for less heat)
1 cup thinly sliced red cabbage
1 bunch of cilantro, finely chopped
1 1/2 cups warm water
2 teaspoons yeast
1/8 teaspoon sugar
2 cups bread flour
1 cup whole wheat flour
1 teaspoon salt
Step 1
Step 1
In the bowl of a stand mixer with dough hook attachment, combine warm water, yeast and sugar and let stand until bubbly, about 5 minutes. With the mixer running on low, add both flours and allow it to knead for 5 minutes, slowly increasing the speed. Add salt and allow to knead for another 2 minutes. Once the dough stops sticking to the sides of the bowl and begins forming a ball, transfer dough to a lightly oiled bowl, cover with a clean towel and allow to rise for 1 hour.
Step 2
Step 2
Once dough has risen for 1/2 hour, preheat oven to 400 F. After an hour, place pizza dough onto lightly floured work surface and stretch into a large circle using your hands.
Step 3
Step 3
Place round pizza dough onto parchment-lined baking sheet. Bake 10 to 15 minutes until golden brown.
Step 4
Step 4
While pizza dough is baking, heat shredded meat according to instructions on package. Remove pizza dough from oven once it's evenly browned and top with shredded meat. Place dollops of sour cream around pizza, in the center of where each slice will be. Add other garnishes, slice and enjoy!

*If you don't have time to make pizza dough from scratch, use a high-quality pre-made dough.