Honey Mustard Chicken Nuggets
Recipe Source

by Erin Aronowitz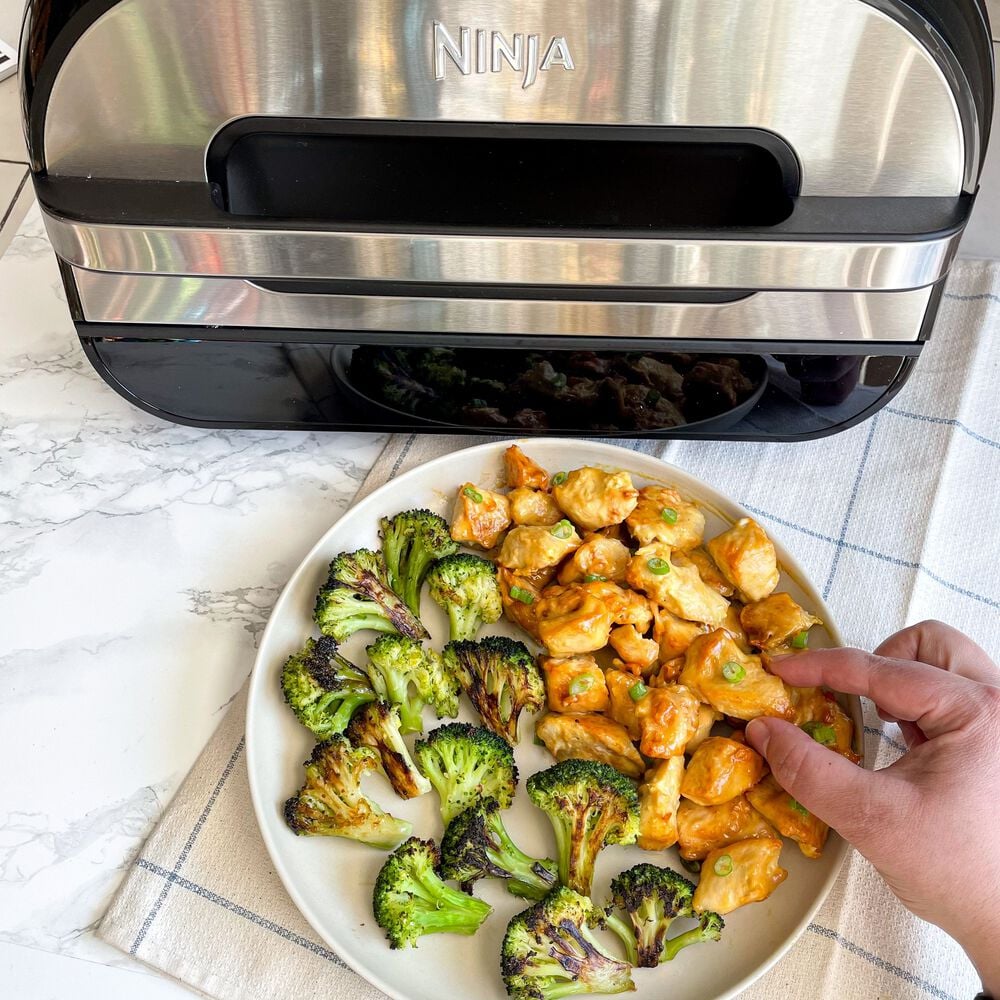 Honey Mustard Chicken Nuggets
Recipe Source

by Erin Aronowitz
Appliance used: Ninja® Foodi™ Smart XL Grill. Tip: You can use 1 egg instead of 2 egg whites, but the flavor of the batter will be a bit "eggier." Also, you can use maple syrup instead of honey. To keep this recipe paleo, make sure your mayonnaise and hot sauce do not include any sugar or non-compliant ingredients.
Nutritional Information
4 Servings Per Recipe
Total Carbohydrate: 11.7g
4%
*Percent Daily Values are based on a 2,000 calorie diet.
Ingredients
Ingredients
1 pound Perdue Boneless Skinless Chicken Breasts, cut into 1-inch chunks
2 egg whites
3 tablespoons tapioca starch
3/4 teaspoons kosher salt
2 tablespoons yellow mustard
1 tablespoon avocado oil mayonnaise
1 1/2 tablespoons honey
A few dashes of hot sauce
1 tablespoon lemon juice
Approx. 3-lb. pack of succulent and juicy chicken breasts ― portioned in three 1-lb. pouches
Your Price
Limited Time Only Save 62%
Regular Price
$39.99
Sale Price
$14.99
Each
avg/ea
Step 1
Step 1
In a medium bowl, add egg whites and whisk until frothy. Then add the tapioca starch and whisk until a smooth batter forms.
Step 2
Step 2
Evenly coat the chicken in the batter and season with salt.
Step 3
Step 3
Place the air crisp basket in the unit and close the hood. Select AIR CRISP, set temperature to 390 F and set time to 14 minutes. Press START/STOP to begin preheating.
Step 4
Step 4
When unit beeps to signal it has preheated, place the chicken nuggets in the basket. Close hood and cook for 7 minutes.
Step 5
Step 5
After 7 minutes, remove the basket and flip the chicken. Reinsert basket in unit, close hood and continue cooking.
Step 6
Step 6
While the chicken cooks, make the sauce by combining the rest of the ingredients in a medium bowl.
Step 7
Step 7
When cooking is complete, remove the chicken nuggets. Transfer to the sauce bowl and toss until evenly coated. Serve immediately.