Five-Alarm Fire Chicken Bites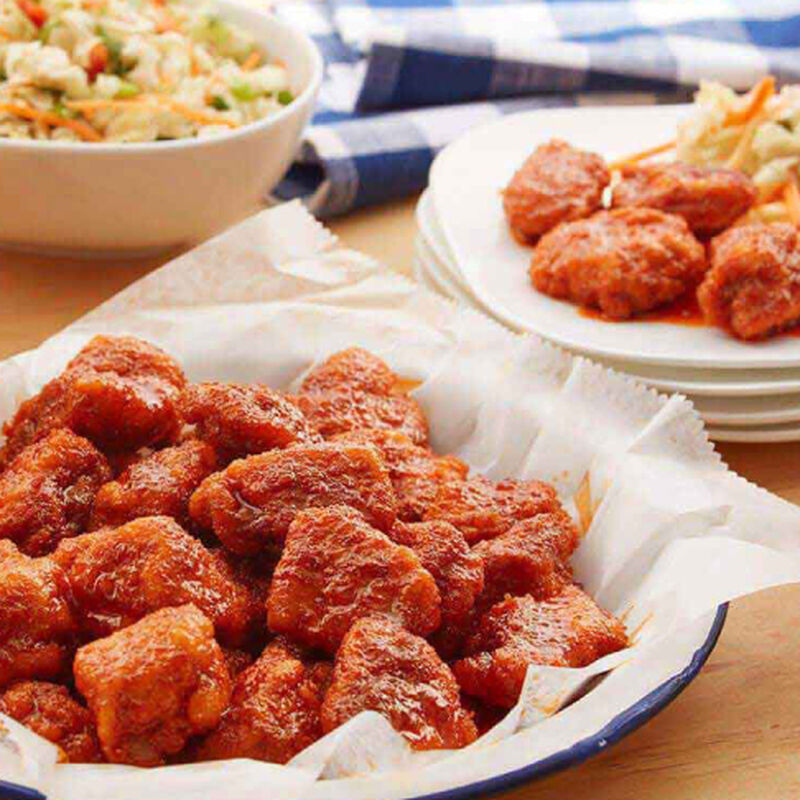 Five-Alarm Fire Chicken Bites
Keep an ice-cold beverage close at hand because these baked chicken chunks are HOT! The perfect appetizer for a football party, these bit-size morsels are roasted in the oven before being dunked in a spicy pepper oil. Serve with coleslaw, celery and blue cheese dressing and your favorite tailgate party foods.
Nutritional Information
Calories

410.0

Protein

24.0g

Sat. fat

4.0g

Sugar

6.0g
Nutritional Information
6 servings per recipe
Total Carbohydrate: 25.0g
*Percent Daily Values are based on a 2,000 calorie diet.
Ingredients
Ingredients
1 1/2 pounds breaded chicken chunks
1 cup vegetable oil
6 tablespoons cayenne pepper
4 tablespoons brown sugar
1 tablespoon garlic powder
2 teaspoons smoked paprika
1 teaspoon salt
Coleslaw for serving
Sliced pickles for serving
Really cold drinks for serving
Timing
Timing
Prep
5 minutes
Cook
10 minutes
Step One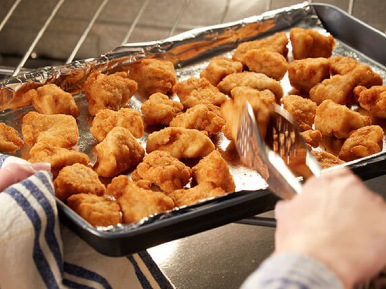 Step One
Preheat an oven to 425 F. Spray a baking sheet with cooking spray. Place the frozen chunks in a single layer on the baking sheet and heat for 9 to 10 minutes. For a crispier product, turn halfway through the heating time.
Step Two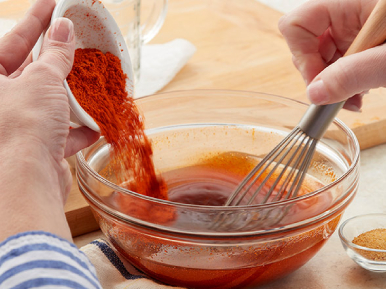 Step Two
In a bowl, whisk together the vegetable oil, cayenne pepper, brown sugar, garlic powder, smoked paprika and salt.
Step Three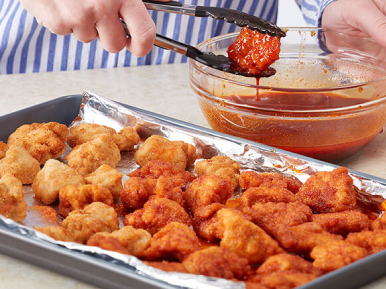 Step Three
Dunk the cooked chicken chunks in the cayenne pepper oil.
Step Four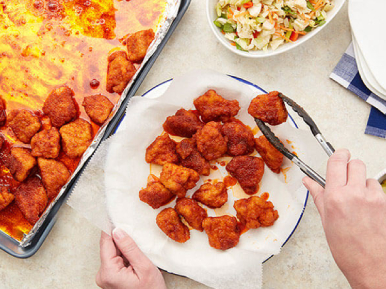 Step Four
Place the chicken in a basket and serve with pickles, coleslaw and something really cold to drink! Serve immediately.
TIP: The longer the cayenne pepper oil sits, the hotter it gets.