Individual Beef Wellingtons with Caramelized Onions and Compound Butter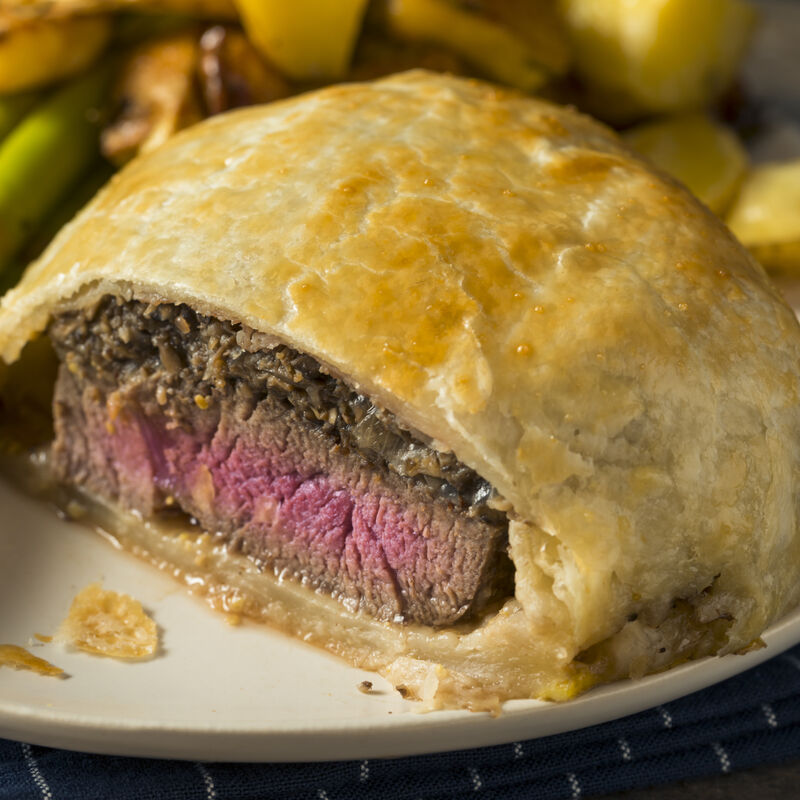 Individual Beef Wellingtons with Caramelized Onions and Compound Butter
The perfect main course for the holidays, a special occasion or a romantic dinner for two, this easy Beef Wellington recipe will become one of your favorites. Filets are topped with cararmelized onions and a Gorgonzola cheese compound butter before being wrapped in a delicate puff pastry.
Nutritional Information
Calories

1310

Protein

52g

Sodium

1060mg

Sat. fat

44g

Sugar

6g
Nutritional Information
*Percent Daily Values are based on a 2,000 calorie diet.
The link to Individual Beef Wellingtons with Caramelized Onions and Compound Butter has been copied
Ingredients
Ingredients
2 filet mignon steaks
1/2 cup softened butter
4 ounces gorgonzola crumbles
3 sprigs fresh rosemary, chopped
3 tablespoons bacon fat, butter or olive oil
Kosher salt and fresh cracked pepper
1 onion
2 tablespoons butter
2 sheets puff pastry
2 eggs
2 tablespoons water
Timing
Timing
Prep
20 minutes
Cook
1 hour, 40 minutes
Step One
Step One
Make the compound butter by combining the gorgonzola with the rosemary and butter. Store in the refrigerator until firm. Once firm, slice two 1/4-inch rounds per filet. Refrigerate remaining butter.
Step Two
Step Two
Season tenderloin steaks with kosher salt and cracked pepper. Sear on both sides in a hot pan with olive oil, butter or bacon fat. Remove the steaks from the pan to rest and cool.
Step Three
Step Three
Using the same pan, sauté the sliced onions and butter on low heat, taking time to caramelize, approximately 40 minutes.
Step Four
Step Four
While onions caramelize, remove puff pastry sheets from the freezer and allow them to come to room temperature.
Step Five
Step Five
Add two slices of the compound butter, a layer of caramelized onion, one seared filet and another layer of the caramelized onion to the puff pastry sheet. Fold the puff pastry sheet over the filet mixture, removing excess pastry. Cut designs from scraps to top the pastry.
Step Six
Step Six
Cover Beef Wellingtons in plastic wrap and place in the freezer. Freeze for 5 hours, or up to 5 days.
Step Seven
Step Seven
Make egg wash by whisking together egg and water. Set Wellington seam side down on parchment paper, and brush all sides of the pastry with egg wash. Top pastry with cut-out designs. Brush with the egg wash again.
Step Eight
Step Eight
Heat the oven to 400 F. Make a fresh batch of egg wash. Remove the Wellington pastries from the freezer, and give them another coat of egg wash. Do not allow the pastries to thaw.
Step Nine
Step Nine
Add the Beef Wellingtons to a lightly greased, heavy rimmed baking sheet and bake for 20 minutes. Reduce the heat to 350 F, and bake for another 35 to 40 minutes. Internal temperature of beef should reach 110 F. Remove from oven and let rest for 10 minutes. Cut each Wellington in half and serve immediately.