Korean Double-Fried Chicken Wings with Gochujang Sriracha
Recipe Source

by Perdue Farms Culinary Team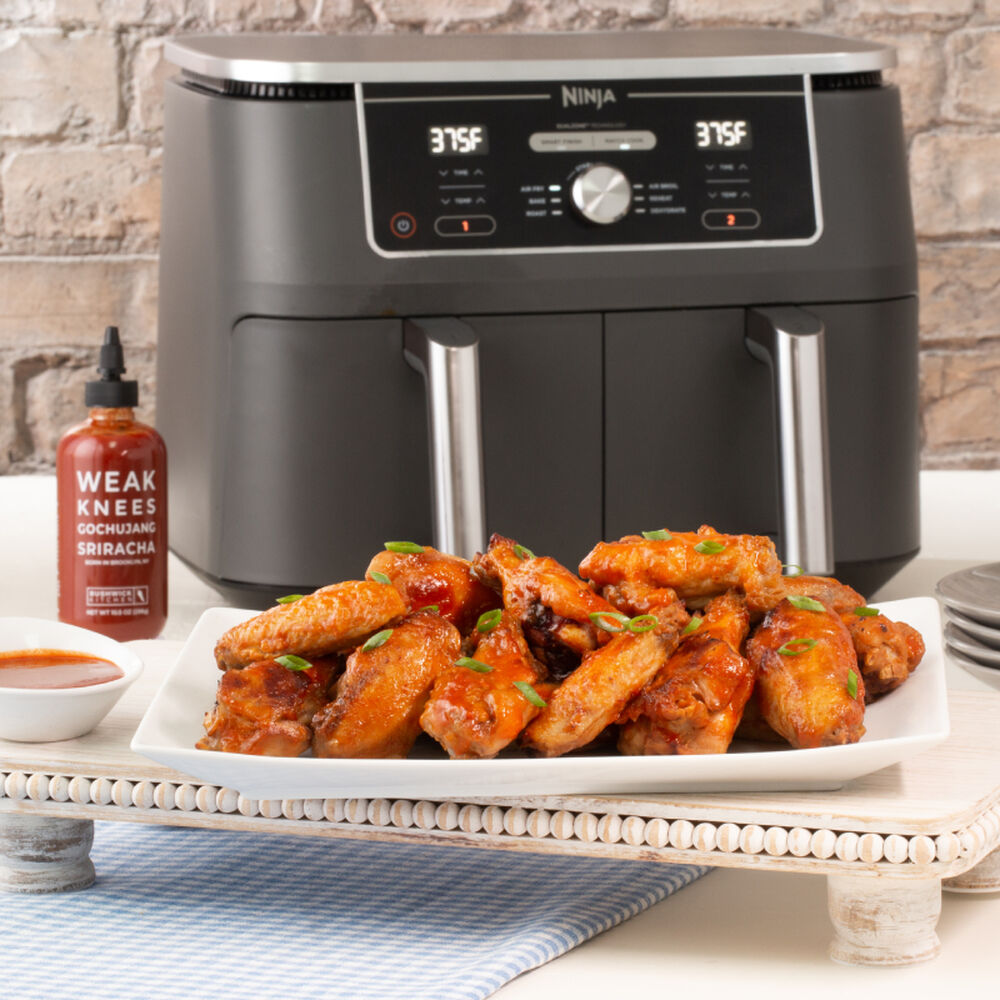 Korean Double-Fried Chicken Wings with Gochujang Sriracha
Recipe Source

by Perdue Farms Culinary Team
Spicy marinated chicken wings, breaded and fried extra crispy and tossed in a Gochujang Sriracha sauce
Nutritional Information
4 Servings Per Recipe
Total Carbohydrate: 26.1g
9%
*Percent Daily Values are based on a 2,000 calorie diet.
Ingredients
Ingredients
Approx. 3-lb. pack Perdue Chicken Wing Sections
1/2 cup water
1 tablespoon minced fresh ginger
1 tablespoon minced garlic clove
1 tablespoon Bushwick Kitchen Weak Knees Gochujang Sriracha Honey
1 teaspoon sesame oil
4 tablespoons soy sauce
2 teaspoons sugar
1 tablespoon salt
2 tablespoons vegetable oil
2/3 cup instant flour
1/3 cup cornstarch
1 teaspoon baking powder
2 teaspoons salt
1/4 cup cold water
Approx. 3-lb. pack of juicy chicken wings ― portioned in three 1-lb. pouches
Step 1
Step 1
Place wings in a zipper lock storage bag, combine marinade ingredients (eight ingredients listed after wings) and pour over wings, seal bag and store in the refrigerator for 8 to 24 hours.
Step 2
Step 2
Remove wings from marinade and place in a mixing bowl. Combine oil, instant flour, cornstarch, baking powder, salt and water and pour over wings. Toss wings to coat.
Step 3
Step 3
Install the crisper plate into each basket of the Ninja Foodi XL 2-Basket Air Fryer. Then, fill baskets with a single layer of wings. Do not stack.
Step 4
Step 4
Select Zone 1, select AIR FRY, then set temperature to 375 F and the time to 30 minutes. Then select Match Cook. This feature syncs cook settings across both zones.
Step 5
Step 5
Press the START/PAUSE button to begin cooking. When the Zone 1 and 2 times reach 15 minutes, press START/PAUSE to pause the unit. Remove the baskets and, using silicone-tipped tongs, flip the wings. Reinsert the baskets and press START/PAUSE to resume cooking. Cook until wings reach an internal temperature of 185 F when measured with a digital meat thermometer.
The Perdue Farms Culinary Team
Chef Chris Moyer, CEC, CRC, and Chef Shawn Reese, CEC, CRC, bring decades of combined culinary experience to their roles at Perdue Farms. The chefs contribute to recipe development, culinary ideation, and all culinary aspects of the company business.
MEET THE CHEFS