Lemon and Herb Grilled Chicken
Recipe Source

by Ailar Poormoghaddam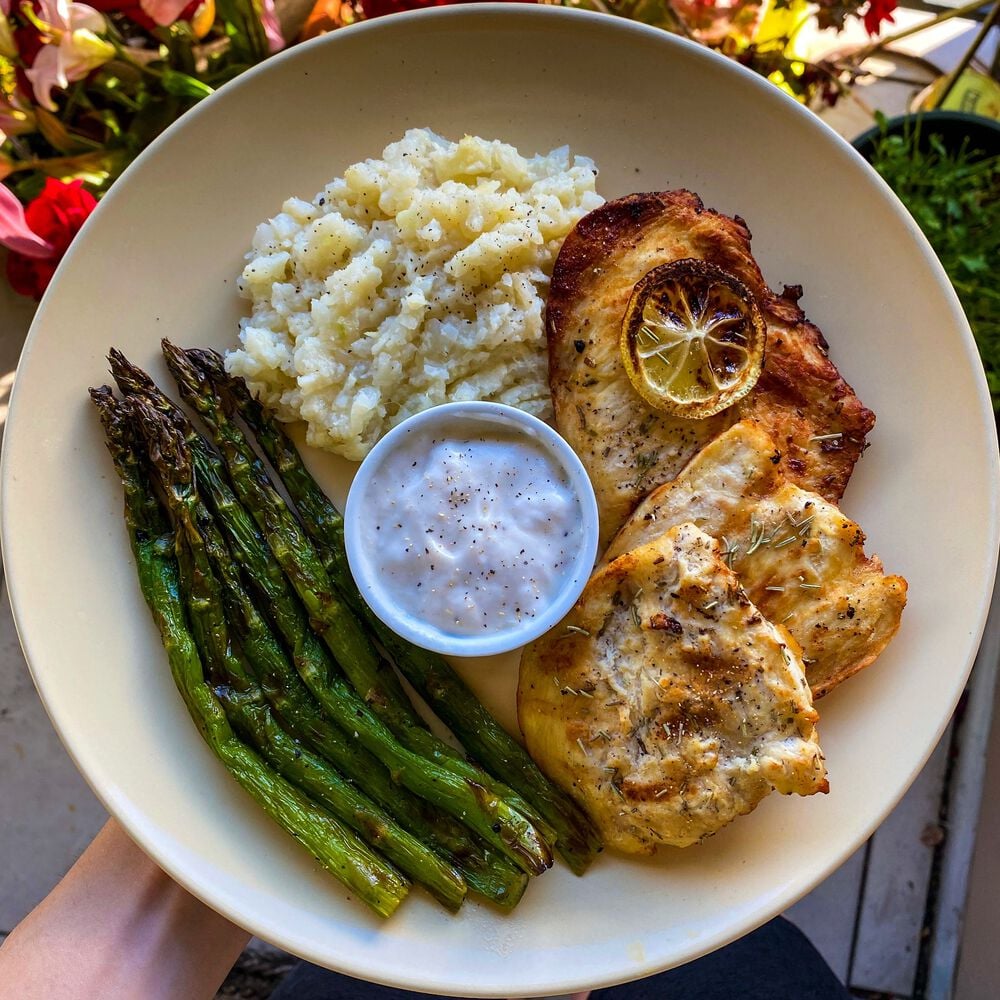 Lemon and Herb Grilled Chicken
Recipe Source

by Ailar Poormoghaddam
Appliance used: Ninja® Foodi™ Smart XL Grill. Tip: Serve your grilled chicken over a bed of cauliflower rice with a side of grilled asparagus and fresh grilled lemon slices.
Nutritional Information
4 Servings Per Recipe
Total Carbohydrate: 3.2g
1%
*Percent Daily Values are based on a 2,000 calorie diet.
Ingredients
Ingredients
4 Perdue Boneless Skinless Chicken Breasts
Juice of 3 lemons
4 tablespoons canola oil
2 teaspoons minced garlic
3 tablespoons fresh rosemary
1/2 teaspoon kosher salt
1/4 teaspoon ground black pepper
Nonstick cooking spray
Approx. 3-lb. pack of succulent and juicy chicken breasts ― portioned in three 1-lb. pouches
Your Price
Limited Time Only Save 62%
Regular Price
$39.99
Sale Price
$14.99
Each
avg/ea
Step 1
Step 1
In a large bowl, toss the chicken with lemon juice, oil, garlic and rosemary until evenly coated. Cover the bowl and marinate in the refrigerator for 1 hour.
Step 2
Step 2
Strain chicken from marinade and season with salt and pepper.
Step 3
Step 3
Insert grill grate in unit and close hood. Select GRILL, set temperature to MED and set time to 25 minutes. Select START/STOP to begin preheating.
Step 4
Step 4
When the unit beeps to signify it has preheated, open hood, spray grill grate with nonstick cooking spray and place chicken breasts on grill. Close hood and cook for 10 minutes. After 10 minutes, flip the chicken. Close hood to continue cooking for 5 minutes.
Step 5
Step 5
After 5 minutes, squeeze a little lemon juice over the chicken, close the hood and continue cooking for 10 minutes. The chicken is cooked when the centermost point of the chicken reaches an internal temperature of 165 F.
Step 6
Step 6
When cooking is complete, remove chicken from unit and let rest for 5 minutes before serving.