Louisiana-Style Jambalaya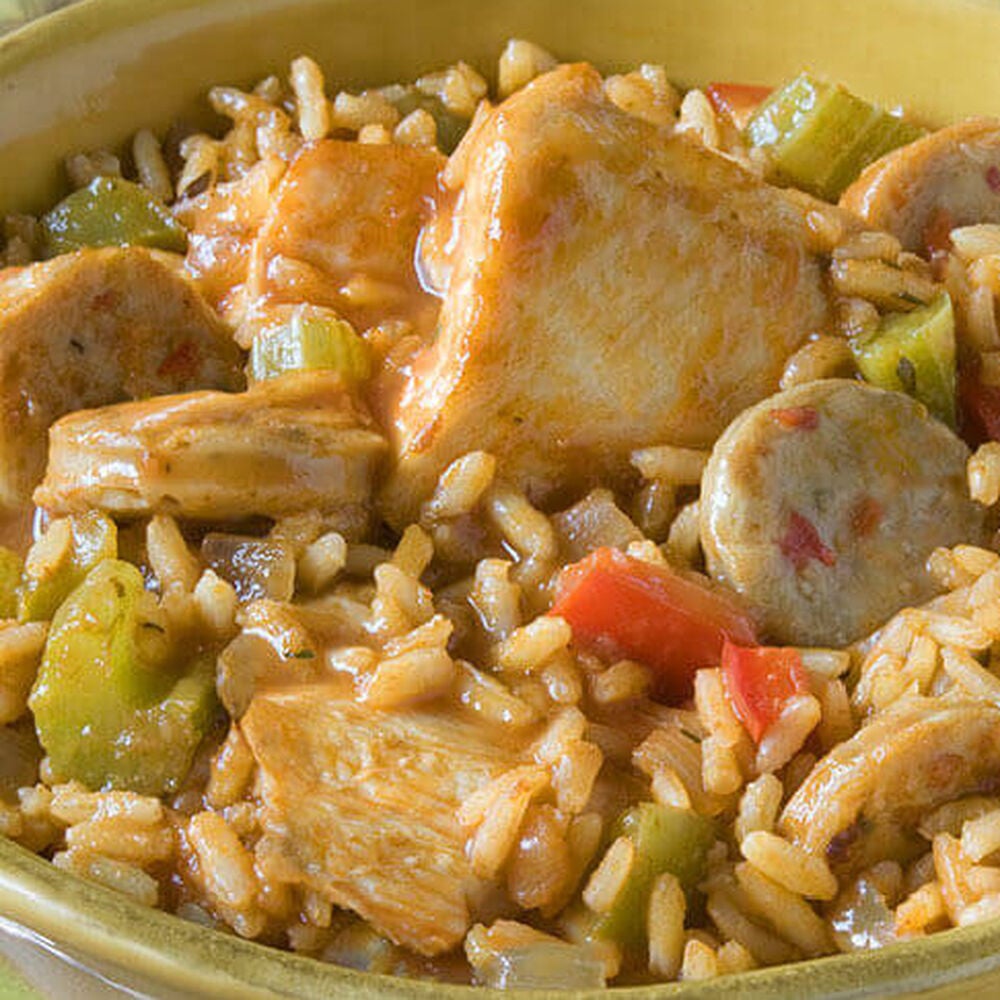 Louisiana-Style Jambalaya
A French Quarter favorite that's perfect on a chilly fall or winter's day! This quick and easy take on a classic Louisiana-style recipe calls for sweet Italian sausage, but feel free to swamp in hot sausage and add a splash or two of hot sauce to give the recipe a kick.
Nutritional Information
6 Servings Per Recipe
Total Carbohydrate: 40.0g
*Percent Daily Values are based on a 2,000 calorie diet.
Ingredients
Ingredients
2 pounds Perdue Harvestland Boneless Skinless Chicken Breasts
4 Italian sausages
2 teaspoons olive oil
1/4 cup water
1 medium onion, chopped
1 red bell pepper, chopped
1 green bell pepper, chopped
2 ribs celery, sliced
4 cloves garlic, minced
1 teaspoon dried thyme
1 can (14.5 ounces) reduced-sodium chicken broth
1 can (8 ounces) tomato sauce
1 1/4 cups 10-minute-cook brown rice (uncooked)
Approx. 3-lb. pack of tender, juicy organic chicken breasts ― portioned into three 1-lb. pouches
Step 1
Step 1
Cut chicken into 2-inch pieces. Cut sausage into 1/4-inch-thick rounds.
Step 2
Step 2
In a large deep skillet, over medium heat, heat olive oil. Add chicken and sausage; cook, stirring occasionally until well-browned and chicken is cooked. Remove from pan and set aside.
Step 3
Step 3
In the same pan, add 1/4 cup water, onion, bell peppers, celery, garlic and thyme. Stir over medium heat, loosening browned bits from pan and cooking until vegetables are softened, about 5 minutes.
Step 4
Step 4
Stir in broth and tomato sauce. Bring to a boil. Add rice. Cover, reduce heat and cook 10 minutes or until rice is done. (Add additional water in 1/4-cup increments if needed until rice is cooked). Return chicken and sausage to pan. Cover and heat through, about 3 minutes.
The Perdue Farms Culinary Team
Chef Chris Moyer, CEC, CRC, and Chef Shawn Reese, CEC, CRC, bring decades of combined culinary experience to their roles at Perdue Farms. The chefs contribute to recipe development, culinary ideation, and all culinary aspects of the company business.
MEET THE CHEFS