Two-Meat Ragu With Cheesy Polenta
Recipe Source

by Chef Gio Osso of Nico Heirloom Kitchen, courtesy of Niman Ranch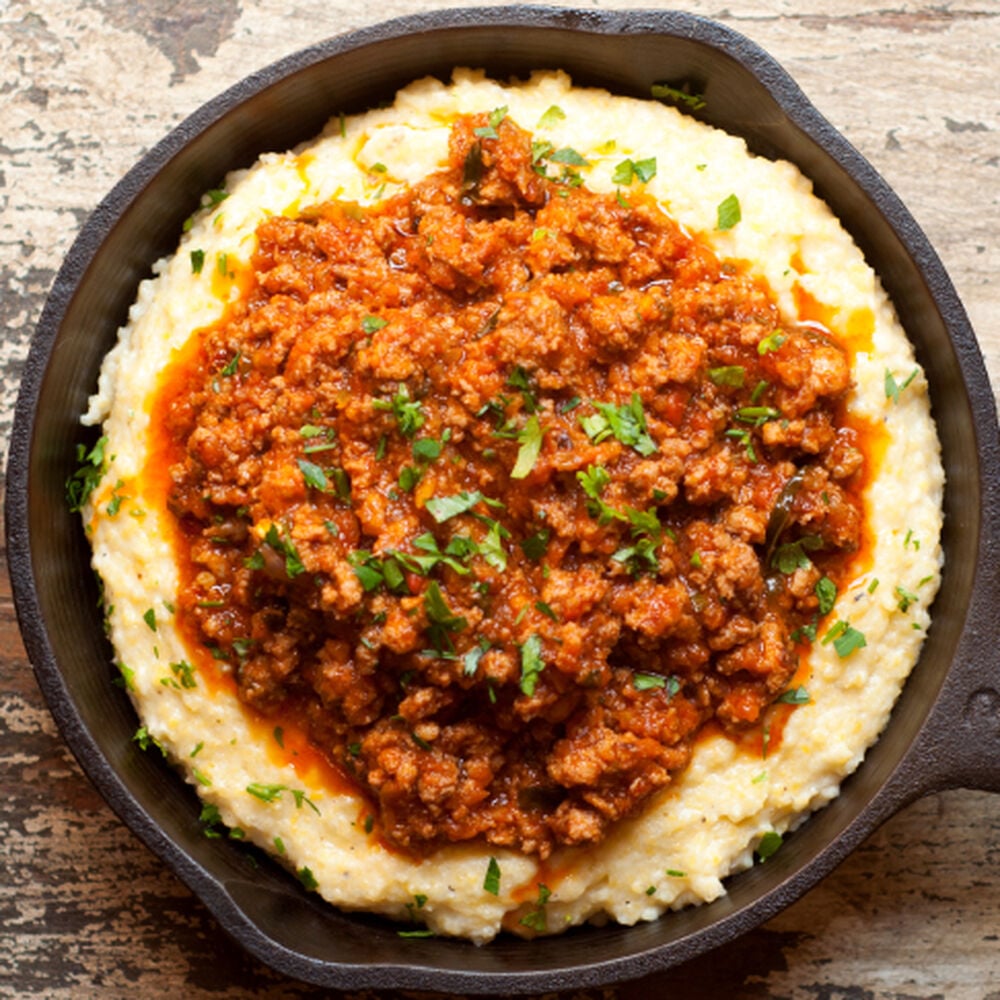 Two-Meat Ragu With Cheesy Polenta
Recipe Source

by Chef Gio Osso of Nico Heirloom Kitchen, courtesy of Niman Ranch
Rich, creamy and satisfying, this Italian main course makes the most of premium ground pork and beef. A cheesy polenta, which stands in place of pasta, lends a unique twist.
Nutritional Information
8 Servings Per Recipe
Total Carbohydrate: 40g
15%
*Percent Daily Values are based on a 2,000 calorie diet.
Ingredients
Ingredients
1 pound Niman Ranch 80/20 Ground Beef
1 pound Niman Ranch Ground Pork
1 small onion, minced
1 large carrot, minced
1 celery stalk, minced
2 garlic cloves, minced
1 28-ounce can peeled tomatoes, pureed
1 tablespoon tomato paste
1 tablespoon chopped oregano
2 tablespoons chopped basil
1 to 3 teaspoons red chile flakes, to taste
1/4 cup half-and-half
1 rind of Parmigiano-Reggiano cheese, optional
6 cups chicken stock (or water)
3 garlic cloves, minced very fine
2 cups dry coarse polenta, also called corn grits
8 ounces mascarpone cheese, room temperature
1/2 cup half-and-half
1/4 cup grated Parmigiano-Reggiano cheese
1/4 cup chopped parsley, for garnish
Salt and pepper to taste
1-lb. pack of tender and flavorful 80/20 ground beef
Step 1
Step 1
Heat a large stockpot over medium-high heat and brown the pork and beef together, using a spoon to break up any large pieces.
Step 2
Step 2
Add the minced vegetables, crushed tomatoes, tomato paste, oregano, basil, Chile flakes and half-and-half. Stir together and bring to a boil.
Step 3
Step 3
Submerge the cheese rind into the sauce, reduce the heat to simmer and cook covered until the vegetables have "melted" into the sauce, about an hour. Stir the sauce periodically, and if desired, skim off excess fat that accumulates on the surface. Salt and pepper to taste.
Step 4
Step 4
While the ragu is cooking, combine the chicken stock, salt, pepper and garlic cloves in a large stockpot and bring to a boil.
Step 5
Step 5
Slowly whisk in the polenta and continue whisking until it begins to thicken. Reduce the heat to simmer and cook covered until the grains are soft, about 15 minutes, stirring occasionally.
Step 6
Step 6
Remove from the heat and stir in the mascarpone until melted. Stir in the half-and-half and Parmigiano-Reggiano. To serve, spoon polenta into individual bowls and spoon the ragu sauce over the top. Garnish with fresh parsley.