Niman Ranch Andouille Sausage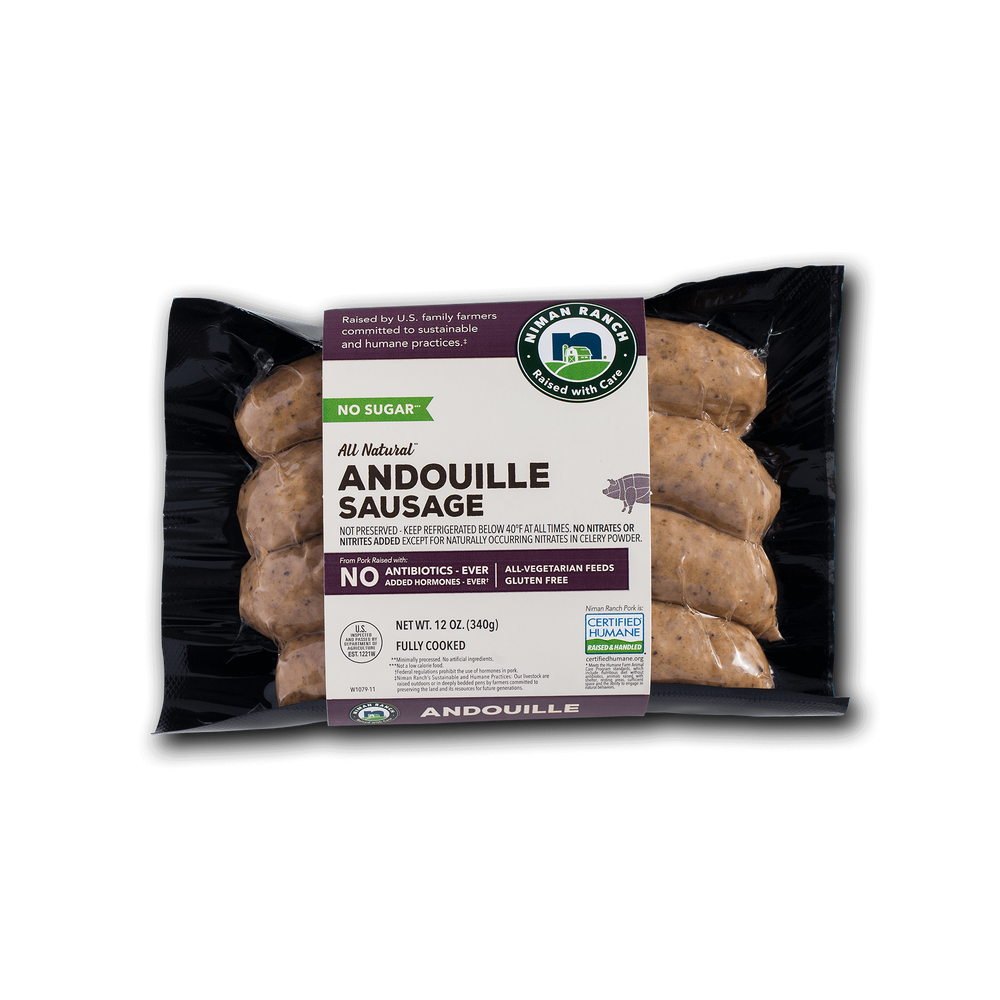 Niman Ranch Andouille Sausage
12-oz. package (contains 4 frozen fully cooked sausages)
---
This Product Is No Longer Available
Shop our selection of premium proteins, seafood, sides and Desserts.
Give Us Your Feedback
---
Hand-Picked Favorites to Fill Your Freezer
Description
Whole muscle cuts of Niman Ranch heritage pork are combined with traditional Louisiana spices and finished without a casing. Garlicky, spicy and smoky, our Andouille sausage showcases our flavorful pork.
Quick Facts
No Nitrites or Nitrates
Fully Cooked
Gluten Free
No Antibiotics Ever
No Added Hormones Ever
All-Vegetarian Feeds
Certified Humane
Product Handling
All Niman Ranch products should be kept frozen. Thaw in the refrigerator for up to three days before cooking.
Cook and Prep
Stovetop:
Remove sausage from the package.
Place sausage in medium frying pan with 1/4 cup water and 1 teaspoon of oil.
Cook on medium-high heat until water dissipates and sausage is heated through.
Grill:
Remove sausage from the package.
Place sausage over medium heat and cook until heated through.
Ingredients
Pork, water, garlic, salt, black pepper, cayenne pepper, thyme, celery powder and bay leaves
Nutrition
Nutritional Information
Serving Size 1 link (84 grams)
Total Carbohydrate: 1g
0%
*Percent Daily Values are based on a 2,000 calorie diet.