Country Style Pork Breakfast Sausage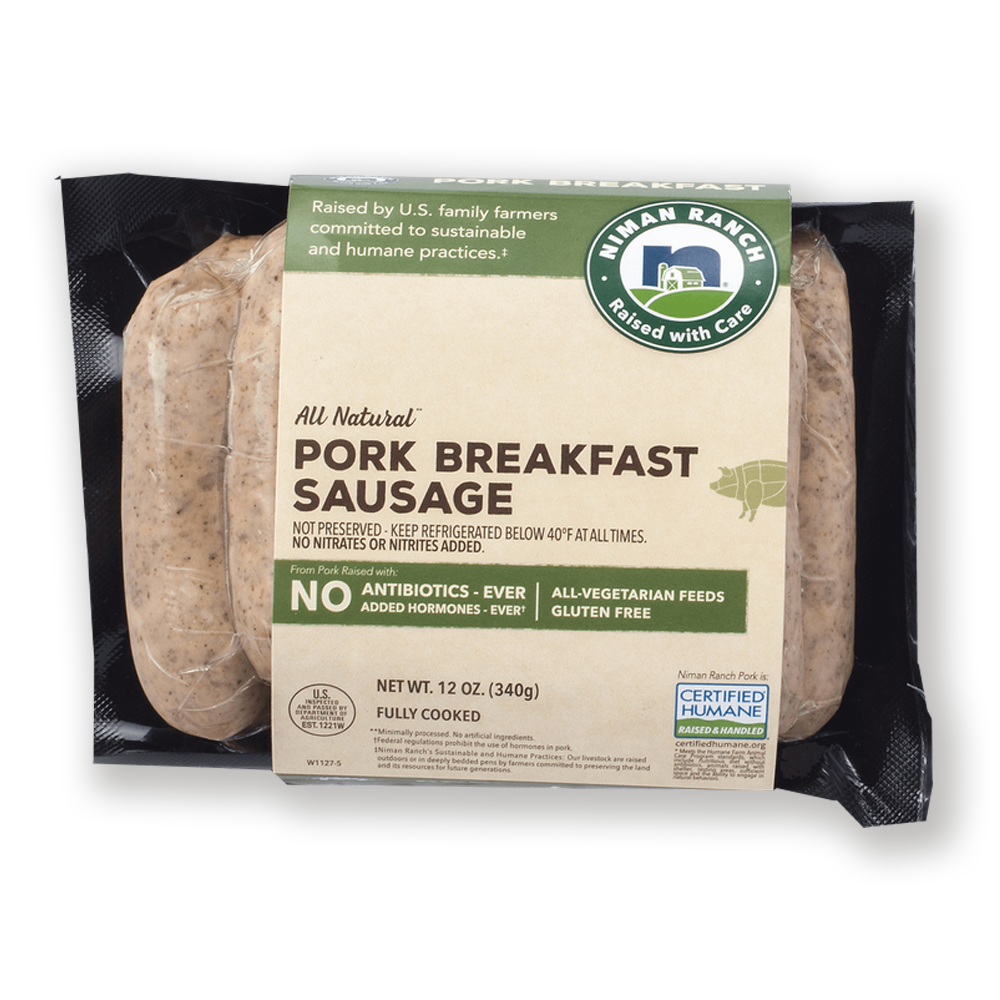 Country Style Pork Breakfast Sausage
12-oz. pack of savory fully cooked sausages -- 12 links total
---
Hand-Picked Favorites to Fill Your Freezer
Description
These homestyle breakfast sausages, made with a special blend of heritage-breed pork, sage, black pepper and a pinch or two of sugar, are uncured and full cooked – ready to reheat in a skillet. If you enjoy big hearty breakfasts and long, leisurely Sunday brunches, these traditional, savory links are for you! Sausage is vacuum sealed and flash frozen at the peak of freshness to ensure optimum flavor.
About Niman Ranch
Niman Ranch is a community of more than 750 independent U.S. family farmers and ranchers who raise pork, beef and lamb traditionally, humanely and sustainably to deliver the finest-tasting meat. Niman Ranch farmers and ranchers share a passion for their craft, dedication to their animals and respect for the land that can truly be tasted in the finished product. All Niman Ranch meats are Certified Humane® and raised on pasture or in deeply bedded pens (no cages or crates), with no antibiotics or added hormones — ever. Learn more at Nimanranch.com
Quick Facts
12-oz. Vacuum Sealed and Flash Frozen Pack (12 sausages)
Uncured Heritage-Breed Pork; Traditional Homestyle Flavor
Gluten Free
Fully Cooked
No Nitrites or Nitrates
All Niman Ranch Hogs are:

Raised Outdoors or in Deeply Bedded Pens
Only Fed a 100% Vegetarian Diet
Never Given Hormones or Antibiotics – EVER
Certified Humane
Bred, Born, Raised and Processed in the U.S.
Product Handling
All Niman Ranch products should be kept frozen. Thaw in the refrigerator for up to three days before cooking.
Cook and Prep
Stovetop:
Remove sausage from the package.
Place sausage in medium frying pan with 1/4 cup water and 1 teaspoon of oil.
Cook on medium-high heat until water dissipates and sausage is heated through.
Ingredients
Pork, water, salt, spices, natural flavorings, sugar and stuffed in natural sheep casings
Nutrition
Nutritional Information
Serving Size 12 ounces
Total Carbohydrate: 2g
0%
*Percent Daily Values are based on a 2,000 calorie diet.