Paleo Crock-Pot Beef Stew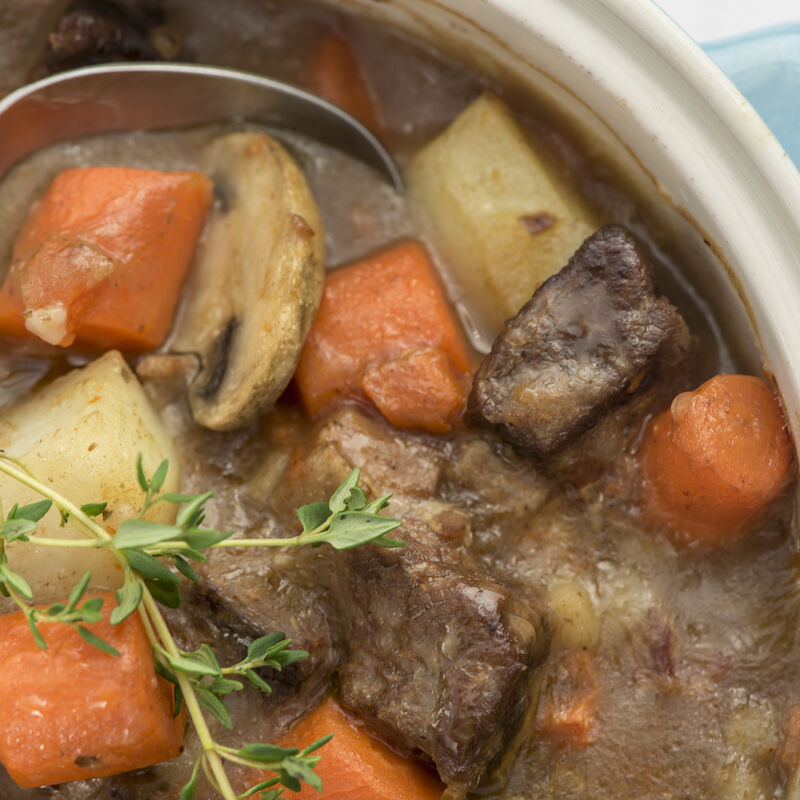 Paleo Crock-Pot Beef Stew
With all the classic flavors of a beef bourguignon, this paleo beef stew cooks slowly in a crock-pot, which means melt-in-your-mouth beef chunks. Serve up with a hearty loaf of your favorite French bread and a glass of red wine from the same bottle you used in the stew.
Nutritional information
Calories

650

Protein

47g

Sodium

860mg

Sat. fat

10g

Sugar

5g
Nutritional information
Servings per recipe: 4
Amount per serving calories: 650
% daily value
Total fat: 32 g
Saturated fat: 10 g
Cholesterol: 165 mg
Sodium: 860 mg
Total carbs: 14 g
Dietary fiber: 3 g
Sugar: 5 g
Protein: 47 g
*Percent Daily Values are based on a 2,000 calorie diet.
The link to Paleo Crock-Pot Beef Stew has been copied
Ingredients
Ingredients
radishes, freshly washed, greens/stems and roots trimmed, cubed
yellow onion, chopped into 1-inch pieces
carrots, chopped into 1-inch rounds
celery stalks, chopped into 1/2-inch pieces
teaspoons thyme, dried (If using fresh, double recommended amount.)
teaspoons rosemary, dried
Salt and pepper, to taste
Parsley, freshly chopped (for garnish)
Step One
Step One
Remove stew meat from refrigerator, pat dry, sprinkle pieces with salt and pepper and let rest at room temperature for one hour.
Step Two
Step Two
While meat rests, prepare vegetables (radishes, onion, garlic, celery and carrots). Keep radishes separate from the rest of the vegetables as they will be added in at a different time. Pour beef bone broth in crock-pot; add radishes and dried herbs. Set crock-pot aside.
Step Three
Step Three
Drizzle olive oil in a pan and heat to a high temperature, but not to smoke point. Sear meat in the pan. Add seared meat to crock-pot. Cook on the low setting.
Step Four
Step Four
Place onion, garlic, carrots and celery in pan used to sear meat. Sauté the vegetables for 3 to 5 minutes to unlock flavor. Set aside.
Step Five
Step Five
At 1 1/2 hours, add sautéed vegetables to crock-pot. At 2 hours, check meat. It should be cooked, but not to the point of falling apart. Combine wine and tomato paste and pour into crock-pot. Gently stir. Add fresh herbs.
Step Six
Step Six
Let cook for an additional 30 minutes to an hour. Once meat is falling apart, turn crock-pot off. Remove bay leaves. Salt and pepper to taste. Add fresh parsley as garnish, if desired, and serve.