Paleo Crock-Pot Beef Stew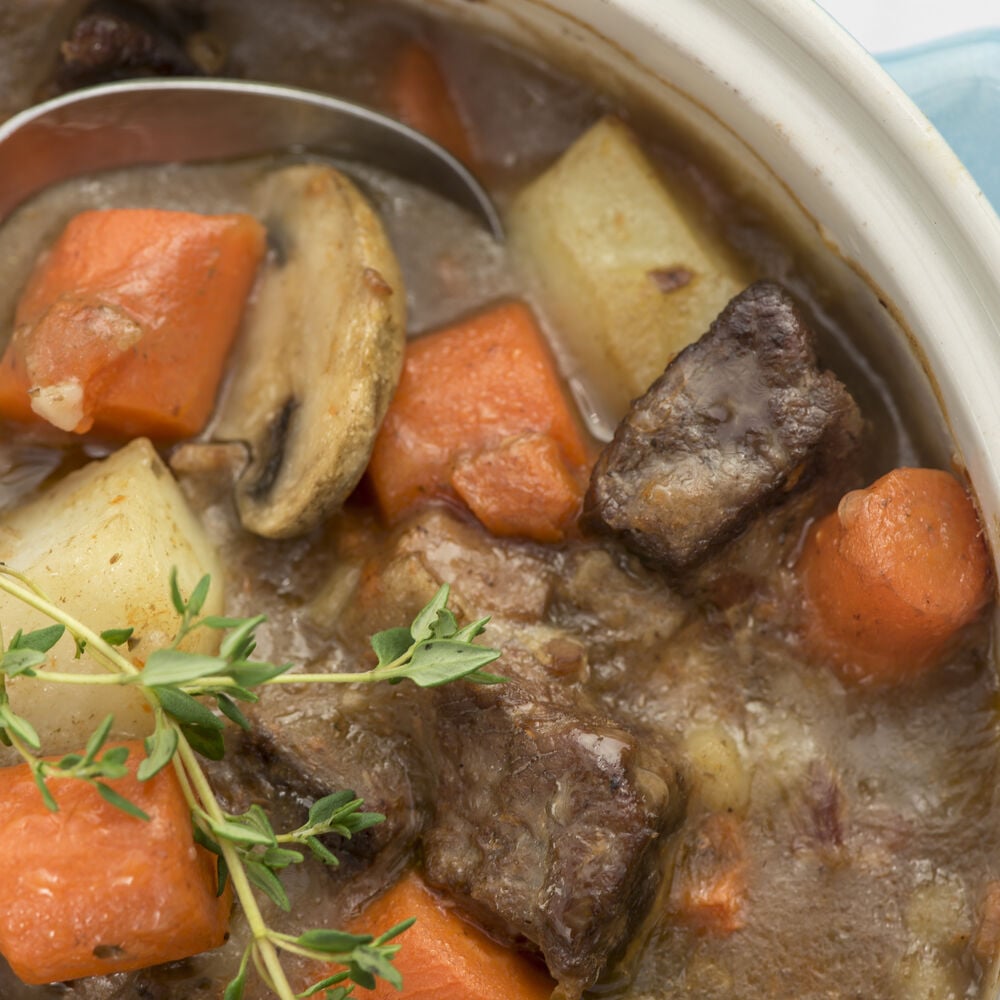 Paleo Crock-Pot Beef Stew
With all the classic flavors of a beef bourguignon, this paleo beef stew cooks slowly in a crock-pot, which means melt-in-your-mouth beef chunks. Serve up with a hearty loaf of your favorite French bread and a glass of red wine from the same bottle you used in the stew.
Nutritional Information
4 Servings Per Recipe
Total Carbohydrate: 14g
5%
*Percent Daily Values are based on a 2,000 calorie diet.
Ingredients
Ingredients
2 pounds Panorama Organic Grass-Fed Beef Stew Meat
1 1/2 cups beef bone broth
Olive oil
4 radishes, freshly washed, greens/stems and roots trimmed, cubed
1 yellow onion, chopped into 1-inch pieces
2 carrots, chopped into 1-inch rounds
2 celery stalks, chopped into 1/2-inch pieces
2 teaspoons thyme, dried (If using fresh, double recommended amount)
2 teaspoons rosemary, dried
1 teaspoon marjoram, dried
2 bay leaves, dried, whole
1 teaspoon chili powder
1/2 cup red wine, robust
2 tablespoons tomato paste
4 garlic cloves, minced
Salt and pepper, to taste
Parsley, freshly chopped (for garnish)
Step 1
Step 1
Remove stew meat from refrigerator, pat dry, sprinkle pieces with salt and pepper and let rest at room temperature for one hour.
Step 2
Step 2
While meat rests, prepare vegetables (radishes, onion, garlic, celery and carrots). Keep radishes separate from the rest of the vegetables as they will be added in at a different time. Pour beef bone broth in crock-pot; add radishes and dried herbs. Set crock-pot aside.
Step 3
Step 3
Drizzle olive oil in a pan and heat to a high temperature, but not to smoke point. Sear meat in the pan. Add seared meat to crock-pot. Cook on the low setting.
Step 4
Step 4
Place onion, garlic, carrots and celery in pan used to sear meat. Sauté the vegetables for 3 to 5 minutes to unlock flavor. Set aside.
Step 5
Step 5
At 1 1/2 hours, add sautéed vegetables to crock-pot. At 2 hours, check meat. It should be cooked, but not to the point of falling apart. Combine wine and tomato paste and pour into crock-pot. Gently stir. Add fresh herbs.
Step 7
Step 7
Let cook for an additional 30 minutes to an hour. Once meat is falling apart, turn crock-pot off. Remove bay leaves. Salt and pepper to taste. Add fresh parsley as garnish, if desired, and serve.