Pan-Seared Filet Mignon with Brandy Sauce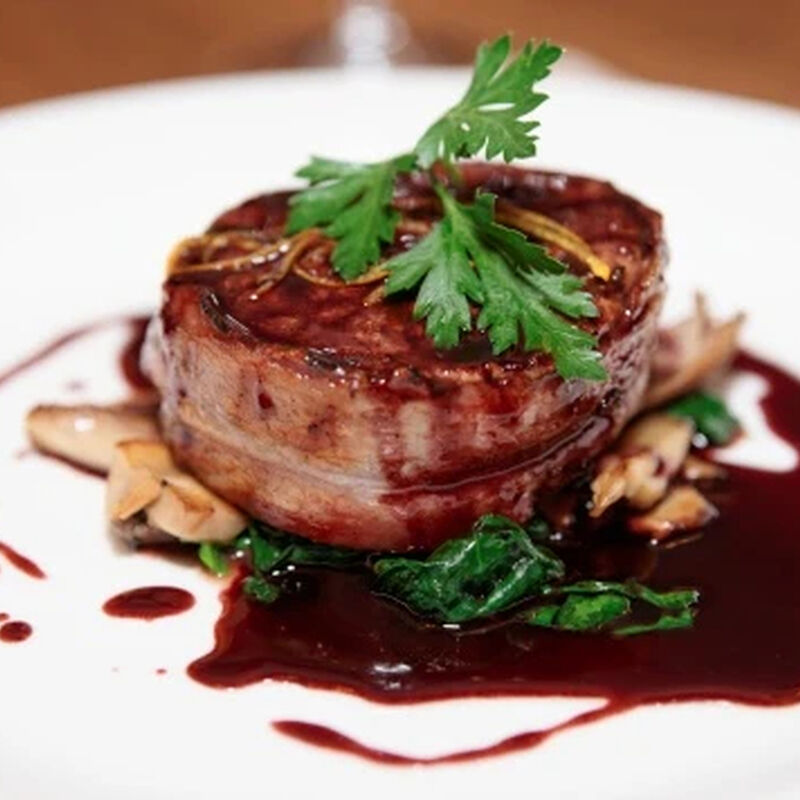 Pan-Seared Filet Mignon with Brandy Sauce
Wow dinner guests will this elegant main course! Filet mignon is pan-seared in a butter-rosemary mixture and then kept warm in the oven while you prepare a quick and easy sauce with your favorite brand of cognac or brandy. Serve with garlic-smashed potatoes, salad and a side of vegetables to complete the meal.
Nutritional Information
Calories

470

Protein

33g

Sodium

660mg

Sat. fat

11g

Sugar

2g
Nutritional Information
*Percent Daily Values are based on a 2,000 calorie diet.
Ingredients
Ingredients
4 filet mignon steaks
Coarse kosher salt
Cracked black pepper
2 tablespoons olive oil
4 tablespoons chilled unsalted butter, divided
2 garlic cloves, peeled
1 fresh rosemary sprig
1/2 cup finely chopped shallots
1/2 cup cognac or brandy
1/2 cup low-salt chicken broth
2 teaspoons Dijon mustard
Timing
Timing
Prep
5 minutes
Cook
12 minutes
Step One
Step One
Preheat oven to 250 F. Sprinkle steaks with salt and pepper on both sides.
Step Two
Step Two
Heat oil in heavy large skillet over high heat. Add steaks and sear until brown, about 2 minutes per side. Reduce heat to medium-low and add 2 tablespoons butter, garlic and rosemary to skillet. Cook steaks to desired doneness, turning occasionally and basting with pan juices, about 6 to 8 minutes for medium-rare.
Step Three
Step Three
Transfer steaks to small-rimmed baking sheet and keep warm in oven and pour contents of skillet into small bowl. Return 3 tablespoons drippings from bowl to same skillet and place over high heat. Add shallots and sauté 2 minutes. Remove from heat and add cognac, return to heat and stir 1 minute, scraping up any browned bits. Add broth and reduce for about 2 minutes. Whisk in Dijon mustard and the remaining 2 tablespoons butter, adding 1 tablespoon at a time. Season to taste with salt and pepper. Set aside.
Step Four
Step Four
Arrange steaks on plates; whisk any accumulated juices from baking sheet into sauce. Spoon sauce over steaks, serve and enjoy!