Panorama Organic Grass-Fed Hickory Smoked Sausages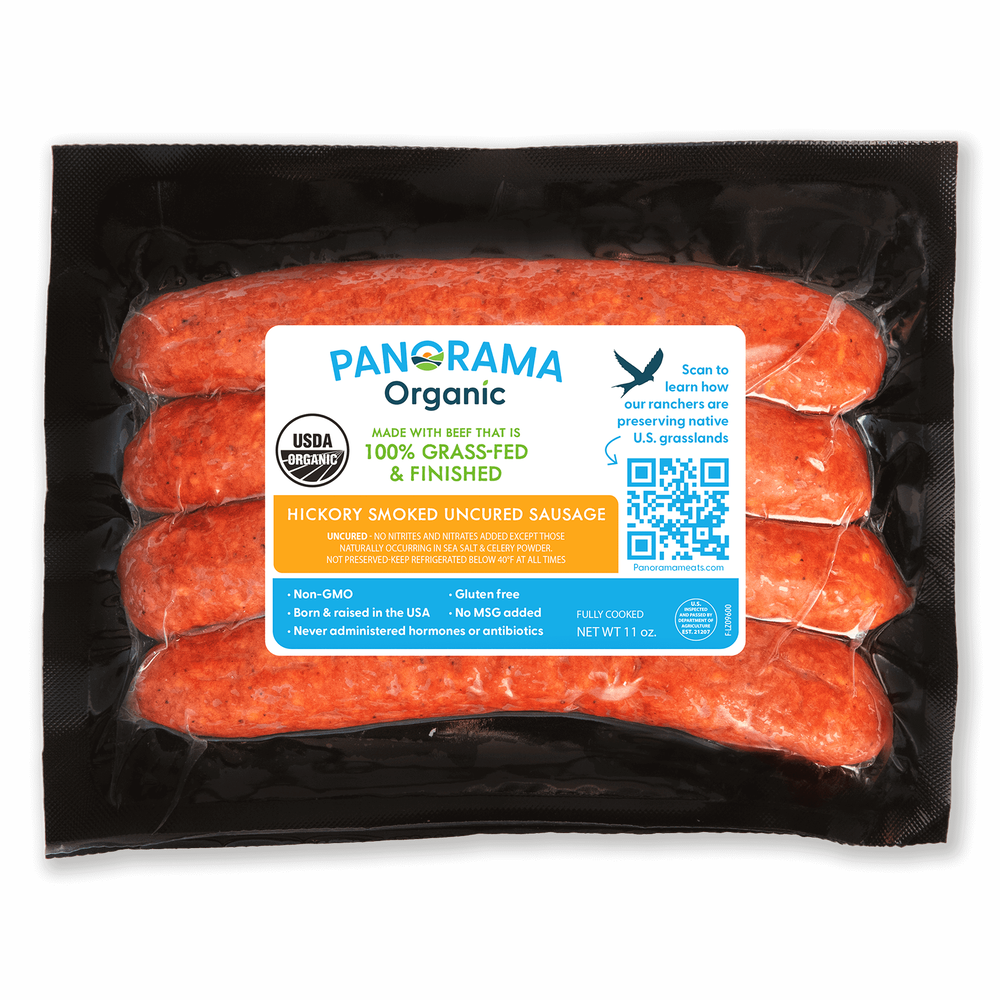 Panorama Organic Grass-Fed Hickory Smoked Sausages
11-oz. pack of uncured, fully cooked frozen sausages
---
Hand-Picked Favorites to Fill Your Freezer
Description
There's so much goodness in these tasty links, made with quality ingredients, including 100% grass-fed, grass-finished beef from Panorama Organics' network of U.S. family ranchers. Cattle is raised on open rangelands of organic grasses and legumes from start to finish – no hormones, no antibiotics ever!
Beef filling is packed in natural pork casings for the perfect bite, then roasted over hickory wood for a sweet, mildly smoky and satisfying flavor. Fully cooked, sausage heats up quickly and can be added to your favorite pasta or casseroles, stuffed in hoagie buns and topped with fried onions and peppers or sliced into bite-sized pieces and enjoyed as a low-carb snack.
Quick Facts
Organic Grass-Fed, Grass-Finished Beef Makes Up Only 1.3% of the Beef Market
Largest U.S. Producer of 100% Grass-Fed, Grass-Finished Beef
NEVER Imported. 100% Born and Raised in the USA®
NEW! Added Almost One Million Acres of Ranchland to the Audubon Society's Conservation Ranching Initiative (ACR) to Protect Endangered Grassland Birds. All Products are Bird-Friendly Certified.
USDA Certified Organic
Global Animal Partnership Certified Step 4: Pasture Raised
No Added Hormones or Antibiotics — Ever
Certified Paleo® and Paleo Approved
Whole30 Approved®
Gluten Free
Product Handling
Keep frozen.
Ingredients
Organic beef, water, 2% or less of sea salt, organic black pepper, organic garlic, cultured celery juice powder and in a natural hog casing
Nutrition
Nutritional Information
4 Servings Per Container
Serving Size 1 link
*Percent Daily Values are based on a 2,000 calorie diet.