Philly-Style Cheesesteaks
Recipe Source

by the Ninja Test Kitchen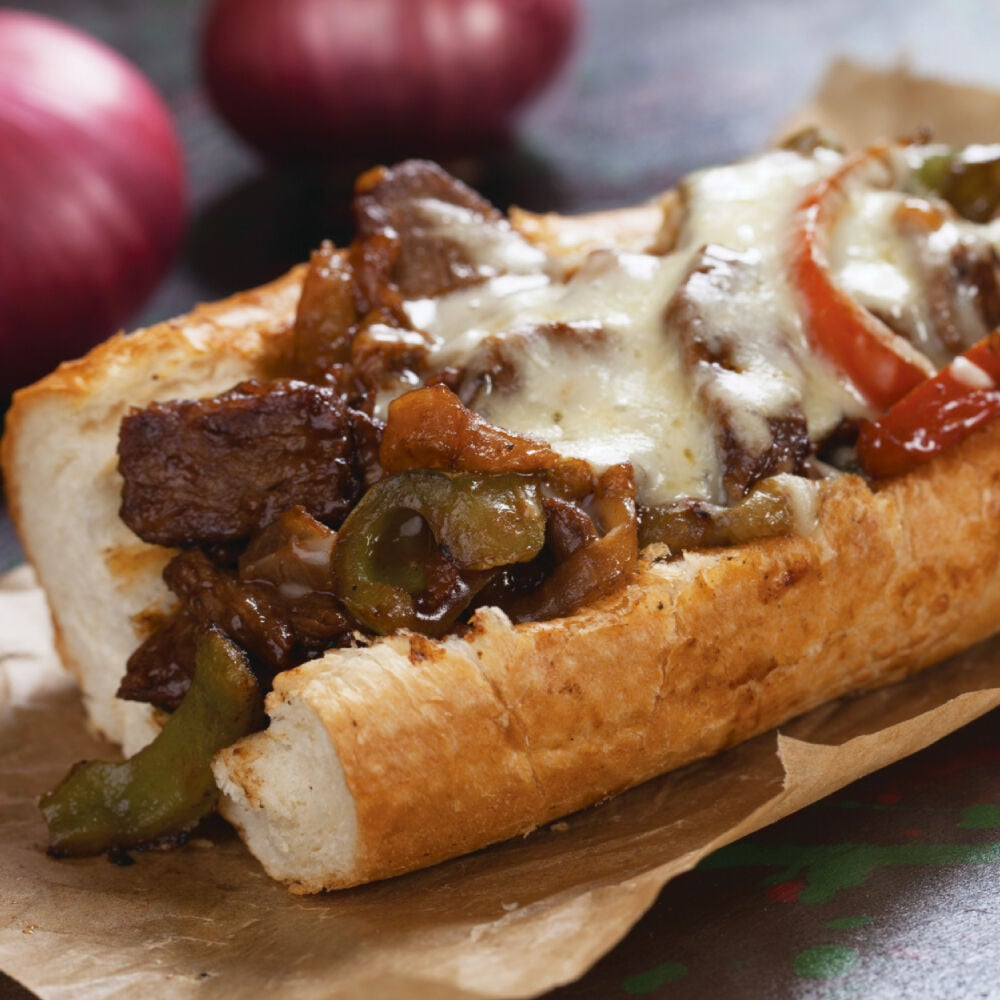 Philly-Style Cheesesteaks
Recipe Source

by the Ninja Test Kitchen
Use the Ninja® Foodi® Xl Pro Grill & Griddle to cook up this classic lunch or dinnertime sandwich.
Nutritional Information
Serving Size 4
Total Carbohydrate: 52.6g
18%
*Percent Daily Values are based on a 2,000 calorie diet.
Ingredients
Ingredients
1 pound Ribeye Steak, thin shaved
2 tablespoons canola oil, divided
1 bell pepper, sliced, seeds removed
1 medium onion, peeled, sliced
Kosher salt, as desired
Ground black pepper, as desired
6 slices cheese (American, cheddar, or provolone)
4 long sub or club rolls
Step 1
Step 1
To install the grill grate, slide it into the front of the base so it hooks in, then press down on the back until it clicks into place. Place griddle on top of grill grate so it sits flat. Close the hood. Select BBQ GRIDDLE, set temperature to 400°F, and set time to 15 minutes. Press the dial to begin preheating (preheating will take approximately 10 minutes).
Step 2
Step 2
When unit beeps to signify it has preheated, open hood and place 1 tablespoon canola oil on the griddle. Leave hood open. Add the shaved steak in an even layer and cook steak for 2 minutes, using silicone-tipped tongs to flip at least once and break up into smaller pieces during cooking. Close the hood and cook for 5 minutes. Remove from griddle and set aside.
Step 3
Step 3
Add remaining oil to the griddle, then add the peppers and onions and use silicone-tipped tongs to toss them in the oil. Leave hood open. Sauté, tossing occasionally, until lightly browned, about 5 minutes.
Step 4
Step 4
After 5 minutes, add the steak, salt, and pepper to the vegetables and toss to combine and cook for 1 minute.
Step 5
Step 5
Separate the steak and veggies into four equal lines, top each line with two pieces of cheese. Close the hood and cook until cheese is melted, 1 to 2 minutes.
Step 6
Step 6
Once cheese is melted, transfer the steak and vegetables to the rolls and serve.