Philly-Style Chicken Cheese Steak Sandwich
Recipe Source

by the Perdue Farms Culinary Team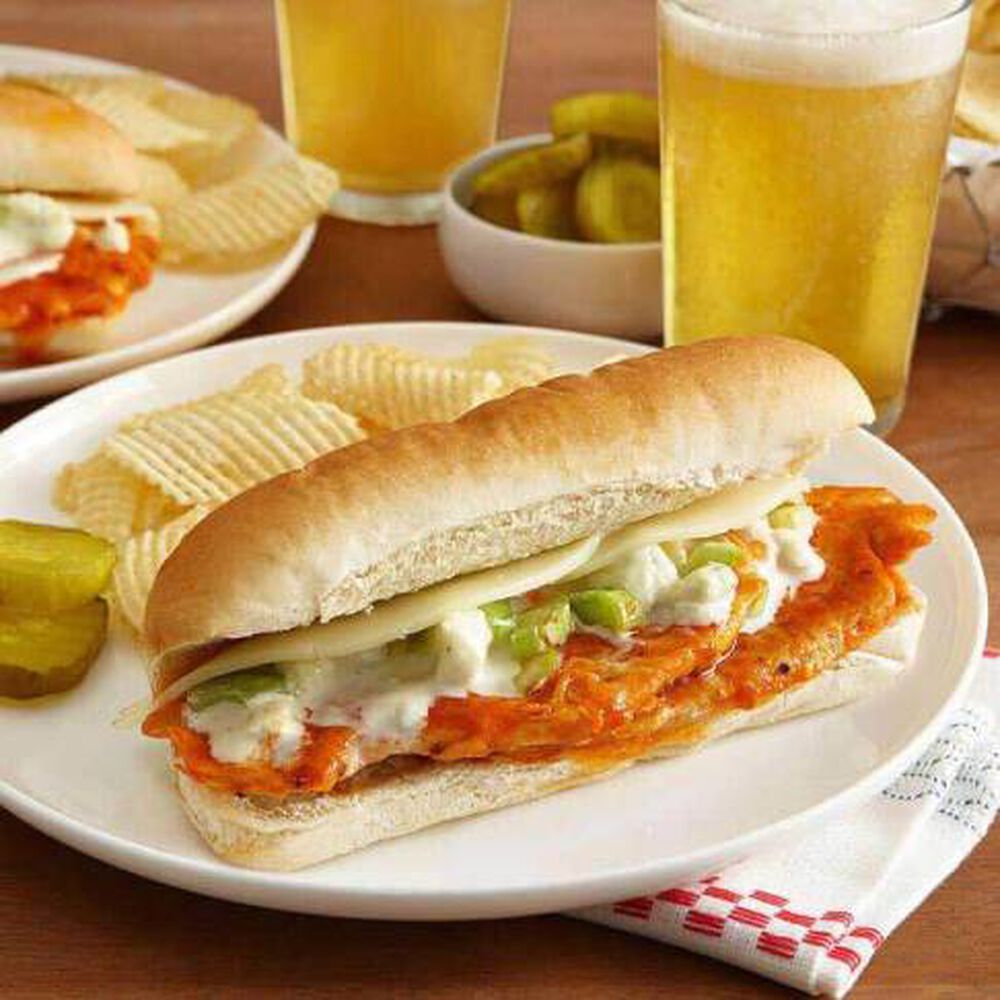 Philly-Style Chicken Cheese Steak Sandwich
Recipe Source

by the Perdue Farms Culinary Team
Wondering how to make the best cheesesteak sandwich? We think the answer comes in replacing thinly sliced beefsteak with chicken tenders and flavor with a buffalo-style dressing! This recipe comes together in minutes, which means it's a great option when you need to get dinner on the table quickly. And kids will love this cheesy, filling dish.
Nutritional Information
*Percent Daily Values are based on a 2,000 calorie diet.
Ingredients
Ingredients
1 pound Perdue Boneless Skinless Chicken Tenderloins
1/2 cup buffalo hot sauce
4 slices provolone cheese, sliced in half
1/4 teaspoon salt
1/8 teaspoon black pepper
2 tablespoons olive oil
4 six-inch hoagies
1/2 cup chunky blue cheese dressing
1/3 cup thinly sliced celery
Step 1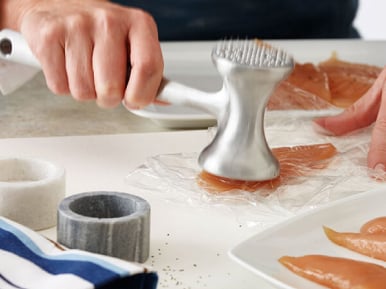 Step 1
Cover the tenders with plastic wrap and pound with a rolling pin or meat mallet to create a thin, even thickness. Season the chicken tenderloins with salt and pepper.
Step 2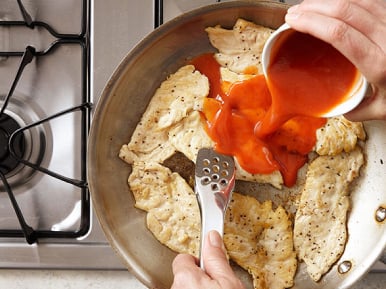 Step 2
In a large skillet, heat the olive oil over medium-high heat. Sauté the chicken tenders for 2 to 3 minutes on each side. Add the hot sauce and simmer for 2 to 3 minutes more until chicken is cooked through. Chicken is done when it feels firm to the touch and a meat thermometer inserted in the center reaches 170 F.
Step 3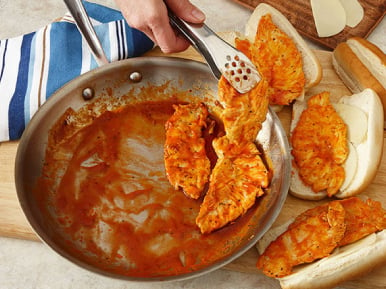 Step 3
Open the hoagie rolls lengthwise and place 2 halves of provolone cheese in the bottom of the roll. Fill the roll with buffalo-simmered chicken tenders.
Step 4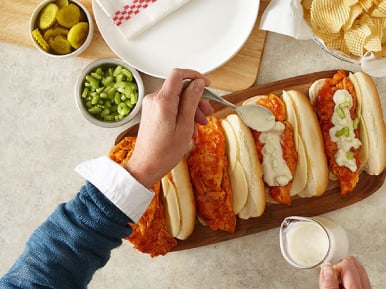 Step 4
Spoon 2 tablespoons of blue cheese dressing over the buffalo chicken and sprinkle with thinly sliced celery. Serve with chips and pickles
The Perdue Farms Culinary Team
Chef Chris Moyer, CEC, CRC, and Chef Shawn Reese, CEC, CRC, bring decades of combined culinary experience to their roles at Perdue Farms. The chefs contribute to recipe development, culinary ideation, and all culinary aspects of the company business.
MEET THE CHEFS