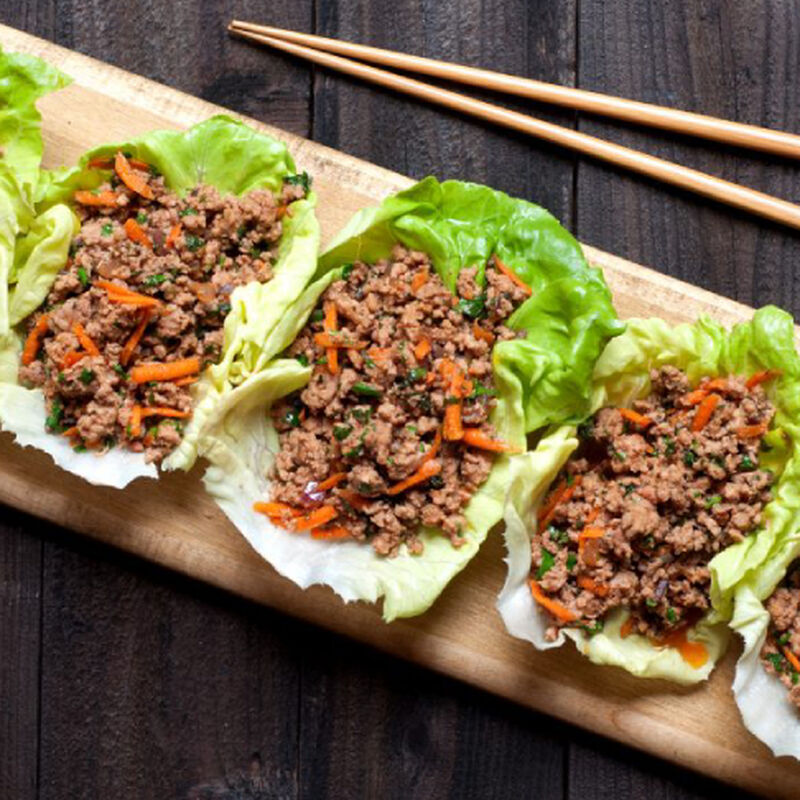 This low-carb dinner idea packs a punch as its infused with Asian flavors and cooks up quickly. Lettuce wraps make this dish both keto-friendly and low calorie.
Nutritional information
Calories

140

Protein

16g

Sodium

390mg

Sat. fat

3.5g

Sugar

2g
Nutritional information
Servings per recipe: 8
Amount per serving calories: 140
% daily value
Total fat: 9 g
Saturated fat: 3.5 g
Cholesterol: 40 mg
Sodium: 390 mg
Total carbs: 3 g
Dietary fiber: 1 g
Sugar: 2 g
Protein: 16 g
*Percent Daily Values are based on a 2,000 calorie diet.
The link to Pork Lettuce Wraps has been copied
Ingredients
Ingredients
cup finely chopped red onion
tablespoons chopped fresh mint
tablespoons chopped fresh cilantro
bibb or butter lettuce leaves
Step 1
Step 1
Heat a large skillet over medium-high heat and add the ground pork and onion. Cook until completely browned, breaking up the meat with a spoon or spatula as it cooks. Drain off any excess fat, if desired
Step 2
Step 2
Add the hoisin sauce, fish sauce, tamari and Sriracha. Simmer for a few minutes to allow flavors to meld. Remove from the heat and stir in the mint, cilantro and grated carrot.
Step 3
Step 3
Serve immediately by spooning the pork filling into lettuce leaves