Pork and Rice Bowl, Sweet and Spicy Asian Style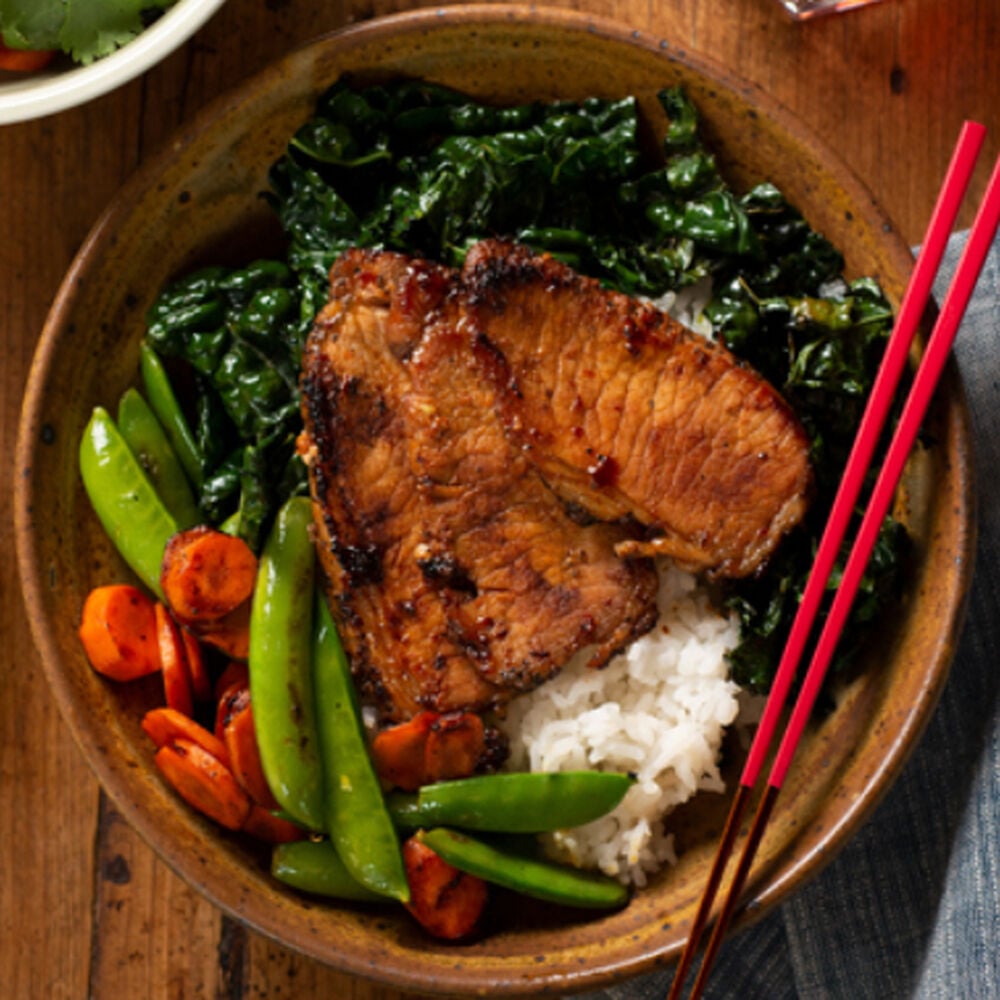 Pork and Rice Bowl, Sweet and Spicy Asian Style
A pork rice bowl recipe you'll return to again and again! Tender and juicy slices of pork tenderloin provide the protein in this spicy, Asian-style dish, which will warm you up on cold fall and winter days. And packed with tons of veggies, this makes a great one-pot meal, whether for lunch or dinner.
Nutritional Information
4 Servings Per Recipe
Total Carbohydrate: 42g
15%
*Percent Daily Values are based on a 2,000 calorie diet.
Ingredients
Ingredients
2-pound Coleman Natural Boneless Pork Loin Roast
6 tablespoons hot chili paste
3 tablespoons light brown sugar
1 2-inch piece of fresh ginger, peeled and finely grated
2 finely chopped cloves garlic
6 tablespoons soy sauce
3 teaspoons toasted sesame oil
2 tablespoons vegetable oil
1/2 teaspoon salt
3 medium carrots peel and sliced thin
1 bunch chard or other hearty green
1 cup fresh sugar snap peas (optional)
1 tablespoon seasoned rice vinegar
1 bunch scallions, thinly sliced, white part only
Steamed white rice for serving
Step 1
Step 1
Thinly slice pork tenderloin with a very sharp knife, set aside
Step 2
Step 2
Combine chili paste, brown sugar, ginger, garlic, soy sauce and sesame oil in small bowl. Place half the mixture in a resealable plastic bag, reserving other half of mixture in bowl. Add pork to resealable plastic bag and marinate 1 to 2 hours, or overnight in refrigerator.
Step 3
Step 3
When ready to cook, heat 1 tablespoon vegetable oil in cast iron or other heavy bottom skillet over medium heat and cook pork until cooked through and golden brown on both sides. Remove pork from pan and set aside
Step 4
Step 4
Heat remaining 1 tablespoon vegetable oil in skillet over medium heat, add carrots and peas and cook until tender and slightly starting to brown, about 3 minutes. Add kale and cook until wilted. Reduce heat to low and add reserved sauce to pan and toss with vegetables for one minute.
Step 5
Step 5
To serve, divide rice among bowls and arrange pork and vegetables on top. Garnish with scallion and serve immediately.