Pumpkin Spice Chicken Wings
Recipe Source

by the Perdue Farms Culinary Team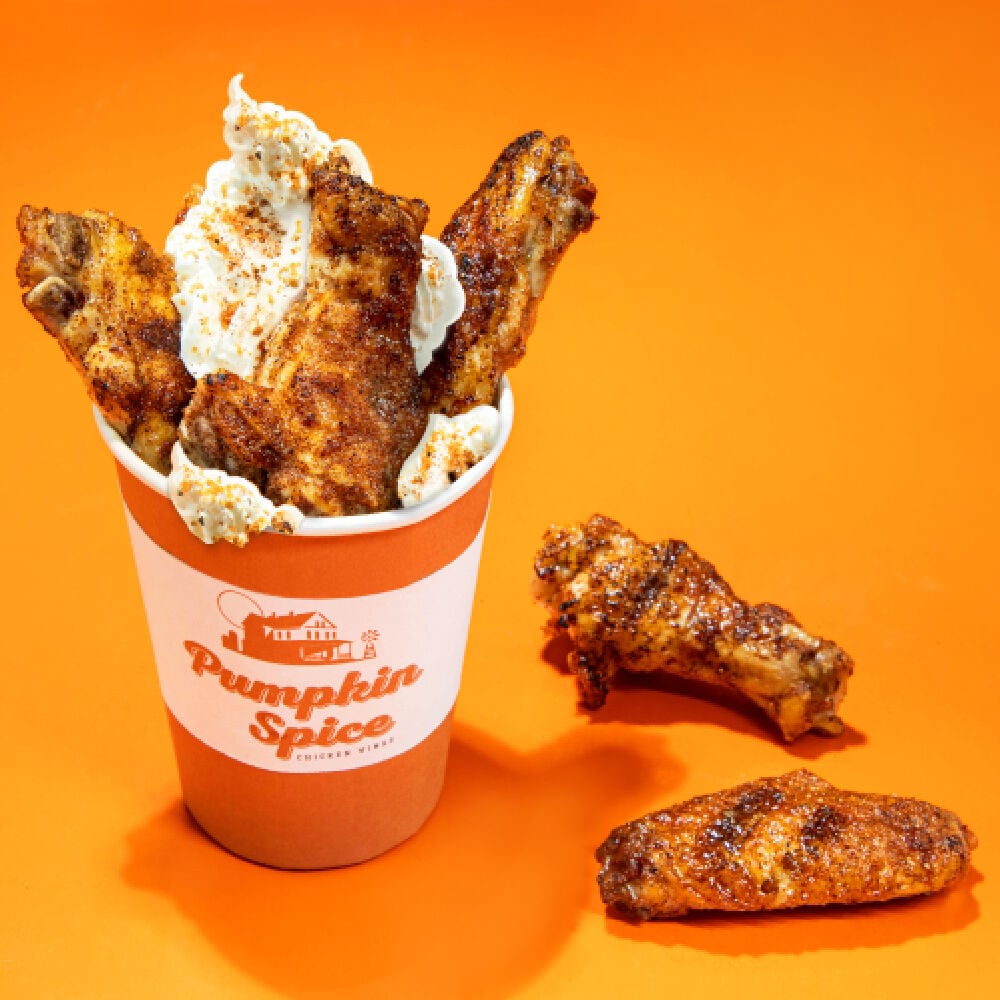 Pumpkin Spice Chicken Wings
Recipe Source

by the Perdue Farms Culinary Team
You've heard of the famous pumpkin spice latte, but have you ever tried pumpkin spice wings? Perfect for fall and holiday celebrations, this recipe pairs sweet with savory — your guests will love every bite!
Nutritional Information
Serving Size 4
Total Carbohydrate: 8.4g
3%
*Percent Daily Values are based on a 2,000 calorie diet.
Ingredients
Ingredients
2 pounds chicken wing sections
2 tablespoons olive oil
2 tablespoons pumpkin pie spice
1 tablespoon brown sugar
1 tablespoon salt
2 teaspoons black pepper
2 teaspoons garlic powder
2 teaspoons onion powder
1/2 teaspoon cayenne pepper
Approx. 3-lb. pack of juicy chicken wings ― portioned in three 1-lb. pouches
Approx. 3-lb. pack of tender, juicy organic wing segments ― portioned into three 1-lb. pouches
Step 1
Step 1
In a small mixing bowl, whisk together olive oil, pumpkin pie spice, brown sugar, salt, black pepper, garlic powder, onion powder and cayenne pepper (optional, for more spice).
Step 2
Step 2
Place wings in a large mixing bowl and sprinkle pumpkin spice mixture over, tossing to coat. Let wings marinate in the refrigerator for at least 30 minutes or up to two hours.
Step 3
Step 3
Preheat grill to medium-high heat (about 400 F). Lightly oil grill grates to prevent wings from sticking.
Step 4
Step 4
Place wings on grill and cook for 12 to 15 minutes, turning occasionally, or until wings are cooked through, charred on the outside and reach an internal temperature of 180 to 185 F.
Step 5
Step 5
Remove wings from grill and let rest for five minutes before serving.
The Perdue Farms Culinary Team
Chef Chris Moyer, CEC, CRC, and Chef Shawn Reese, CEC, CRC, bring decades of combined culinary experience to their roles at Perdue Farms. The chefs contribute to recipe development, culinary ideation, and all culinary aspects of the company business.
MEET THE CHEFS