Quinoa-Breaded Chicken Tenders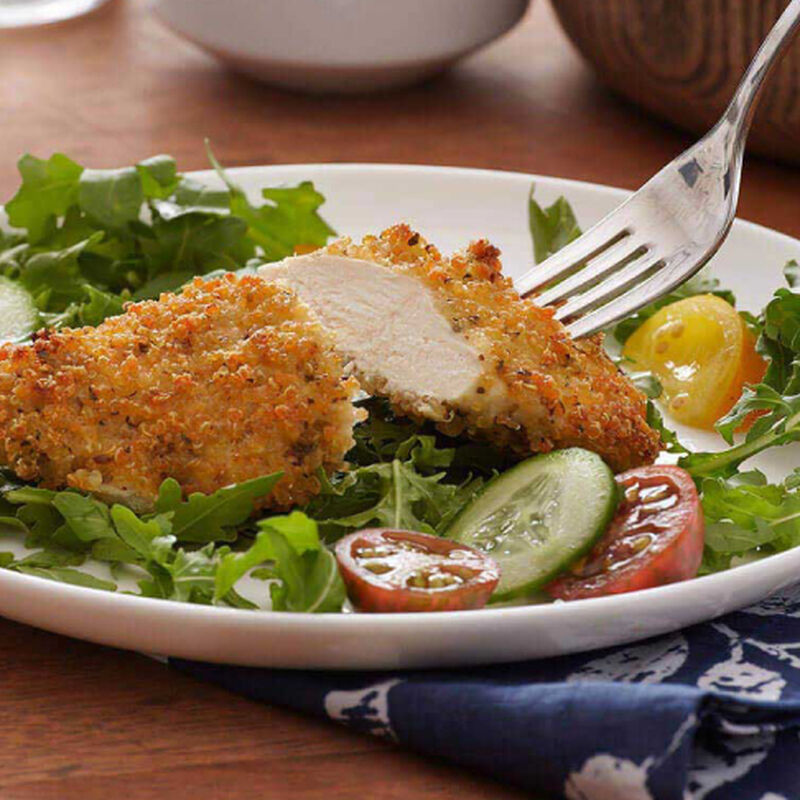 Quinoa-Breaded Chicken Tenders
This unique take on chicken tenders gives you all the crunch of traditional breading thanks to a gluten-free quinoa-Parmesan crust. Pair these baked tenders with your favorite dipping sauce and a side salad for a healthy, satisfying meal.
Nutritional Information
Calories

190.0

Protein

29.0g

Sodium

410mg

Sat. fat

1.5g
Nutritional Information
*Percent Daily Values are based on a 2,000 calorie diet.
Ingredients
Ingredients
1 pound chicken tenders
1/2 teaspoon powdered garlic
1/4 teaspoon black pepper
1 cup cooked quinoa
1/2 cup grated Parmesan cheese
1/2 teaspoon dried oregano
1/2 teaspoon salt
2 large eggs
Timing
Timing
Prep
10 minutes
Cook
20 minutes
Step One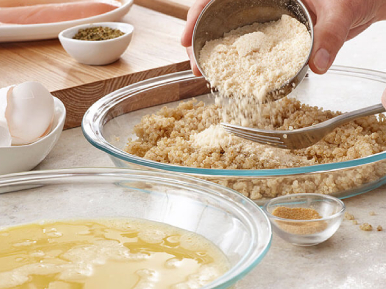 Step One
In a shallow plate, combine the cooked quinoa, Parmesan cheese, oregano, garlic, salt and black pepper. In another shallow plate, lightly beat two eggs.
Step Two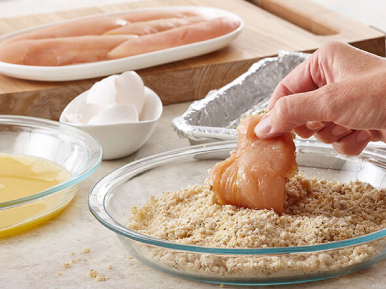 Step Two
Dip each chicken strip into the egg and then into the quinoa mixture, pressing to evenly coat each tender.
Step Three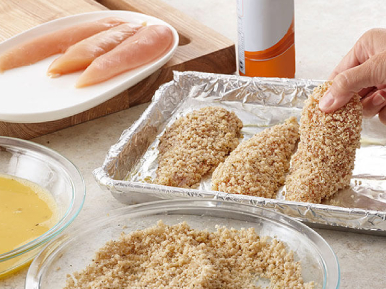 Step Three
Preheat oven to broil. Line a baking sheet with foil and lightly coat with cooking spray. Arrange the strips on the sheet and lightly spray again. Broil the chicken strips until golden brown and crispy, about 10 to 15 minutes, turning once halfway through cooking. The chicken is done when it feels firm to the touch and a meat thermometer inserted in the center reaches 170 F.
Step Four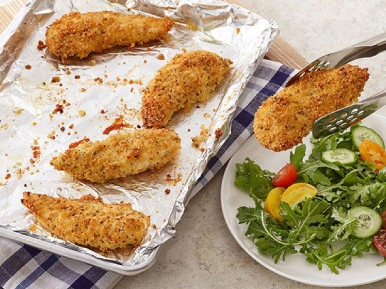 Step Four
Serve over salad greens or on their own with sweet Thai chili dipping sauce or salsa verde.