Recipe Source

by the Perdue Farms Culinary Team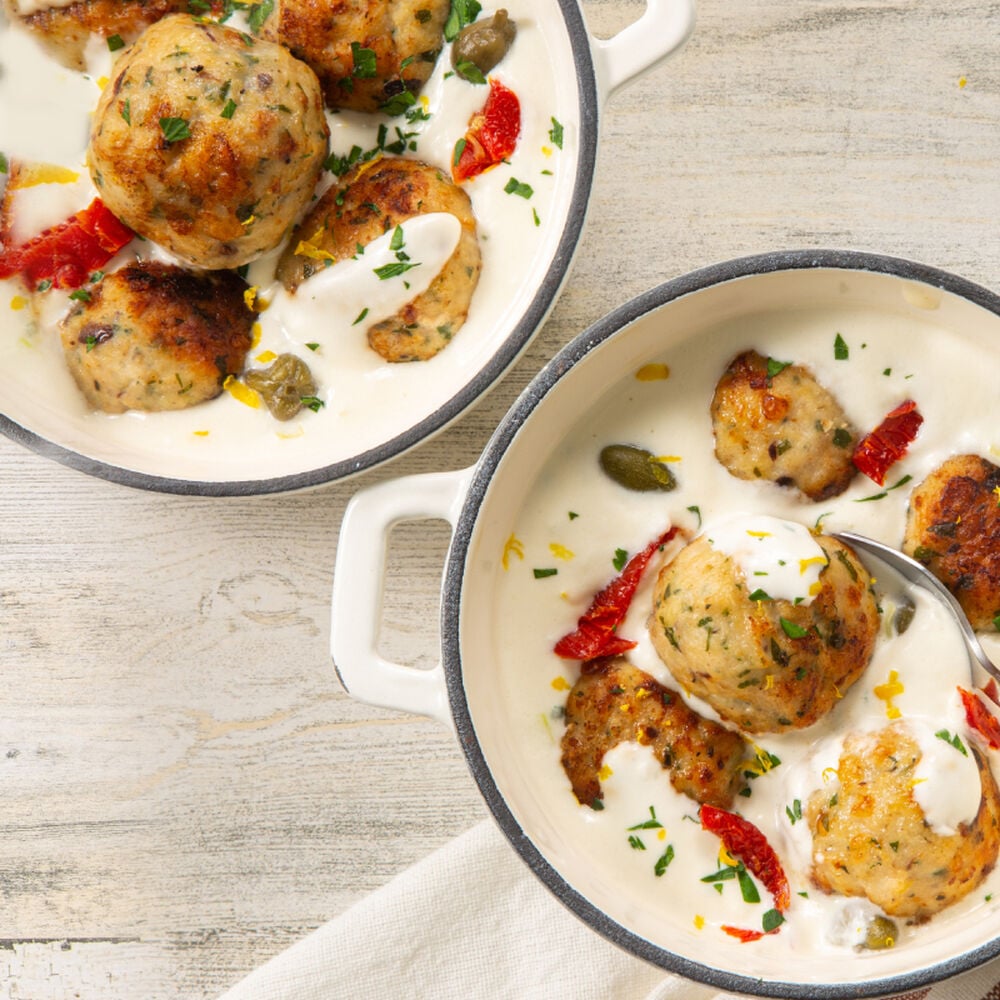 Recipe Source

by the Perdue Farms Culinary Team
A quick and easy recipe that packs a major flavor punch! Roast Mediterranean-style meatballs and serve in hoagie buns or pitas with a creamy sauce ― perfect for lunch, dinner or game day!
Nutritional Information
6 Servings Per Recipe
Total Carbohydrate: 15.6g
5%
*Percent Daily Values are based on a 2,000 calorie diet.
Ingredients
Ingredients
1 1/2 pounds Perdue Harvestland Organic Ground Chicken
2 tablespoons olive oil
3 tablespoons minced shallots
1 tablespoon minced garlic
1 tablespoon chopped oregano
2 tablespoons chopped parsley
1 egg and 1 egg white, whisked
1 cup bread crumbs
1/2 cup feta cheese
1/4 cup Parmesan
2 tablespoons chopped Kalamata olives
1 teaspoon kosher salt
1 teaspoon coarse black pepper
1.5-lb. pack of flavor-packed organic ground chicken
Step 1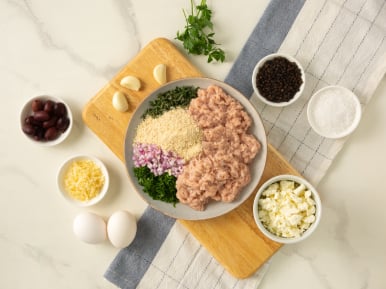 Step 1
Preheat oven to 375 F. Spray baking sheet with non-stick cooking spray. Blend ingredients in a medium-sized mixing bowl. Shape into 1 1/2-ounce meatballs and place on baking sheet.
Step 2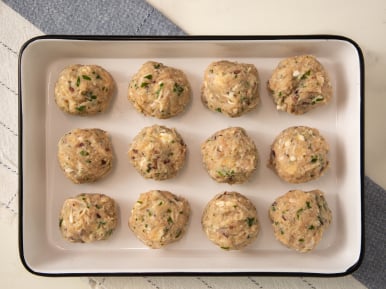 Step 2
Place tray in oven and cook until meatballs reach an internal temperature of 170 F when measured with a digital meat thermometer. Approximate cook time is 15 to 20 minutes.
Step 3
The Perdue Farms Culinary Team
Chef Chris Moyer, CEC, CRC, and Chef Shawn Reese, CEC, CRC, bring decades of combined culinary experience to their roles at Perdue Farms. The chefs contribute to recipe development, culinary ideation, and all culinary aspects of the company business.
MEET THE CHEFS