Rigatoni with Meat Sauce and Swiss Chard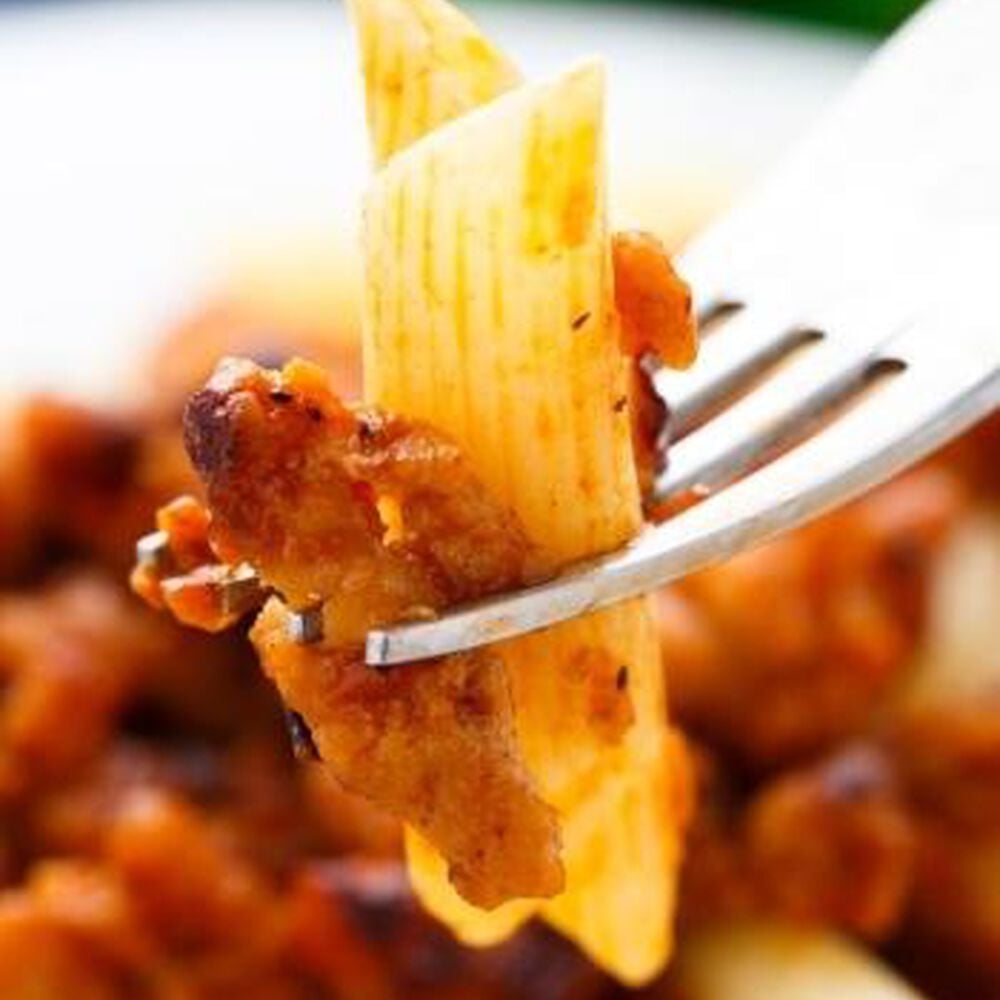 Rigatoni with Meat Sauce and Swiss Chard
This homemade rigatoni recipe is comfort food at its very best! A quick and easy dinner idea, this dish combines grass-fed ground beef with Swiss chard, ricotta cheese and classic tomato and basil pasta sauce.
Nutritional Information
8 Servings Per Recipe
Total Carbohydrate: 53g
18%
*Percent Daily Values are based on a 2,000 calorie diet.
Ingredients
Ingredients
1 pound Panorama Organic Grass-Fed Ground Beef
1 yellow onion (approx. 1 1/2 cups diced)
2 tablespoons olive oil
1/2 tablespoon granulated garlic powder
2 ounces salami, sliced into thin strips
2 tablespoons tomato paste
1 cup pasta sauce, preferably tomato basil
1/2 cup tomato sauce
1/2 tablespoon dried thyme
3/4 cup kalamata olives, pitted
8 ounces ricotta cheese
16 ounces rigatoni pasta
Salt and freshly ground pepper
1 bunch green Swiss chard, chopped into 1-inch pieces
1/2 teaspoon garlic powder
Pinch of salt
1-lb. pack of organic grass-fed ground beef
Step 1
Step 1
Preheat a large saucepot over high heat. Add diced onion and stir until softened (approx. 2 to 3 minutes). Add olive oil, garlic and salami. Cook over high heat, stirring frequently until onions are translucent (3 to 5 minutes). Add ground beef and tomato paste. Break up any large lumps, and cook until meat is no longer pink (about 5 minutes). Add pasta sauce and thyme; season with salt and pepper to taste.
Step 2
Step 2
Finish sauce with ricotta cheese and olives, stirring to combine. Keep warm on low heat.
Step 3
Step 3
Place chopped Swiss chard in a colander and place colander in a large bowl. Place bowl in the sink; position a second colander on top of the Swiss chard. Cook pasta in boiling salted water, according package instructions. When done, pour pasta and water over top colander, letting hot water cover the chard. Remove pasta-filled collander and set aside. Let chard sit in hot water for 1 minute. Carefully lift colander with Swiss chard from hot water and shake off excess moisture.
Step 4
Step 4
Place saute pan over high heat, adjust heat to medium low and add olive oil and garlic. Add Swiss chard to olive oil and garlic in pan; stir and season with a pinch of salt. Remove pan from heat.
Step 5
Step 5
Pour cooked rigatoni into ricotta sauce, fold in sauteed Swiss chard and serve.