Oven-Roasted Chicken Breasts and Harvest Vegetables
Recipe Source

by the Perdue Farms Culinary Team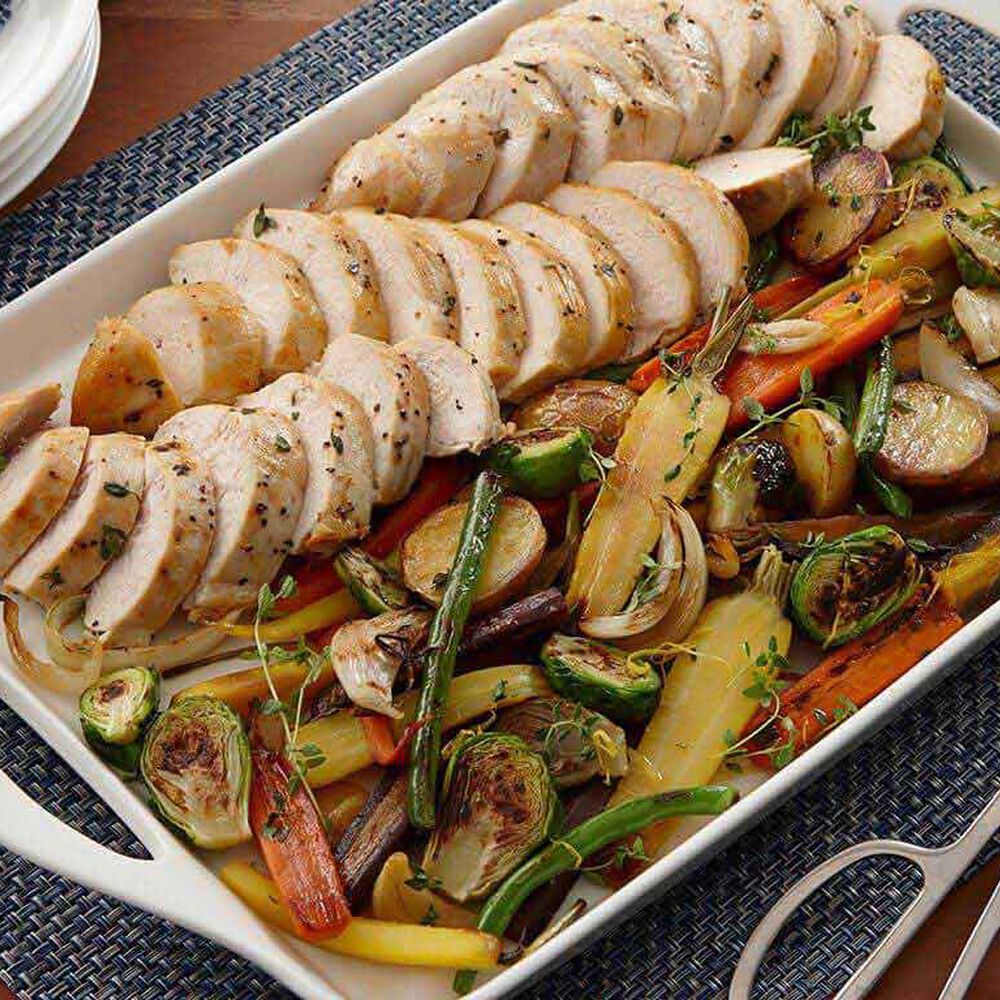 Oven-Roasted Chicken Breasts and Harvest Vegetables
Recipe Source

by the Perdue Farms Culinary Team
A complete dinner cooked in one pan! Late-season veggies in a variety of colors and chicken breasts are seasoned and then roasted in a hot oven. This easy-prep dinner can be enjoyed any day of the week and is perfect for a sit-down Sunday dinner.
Nutritional Information
4 Servings Per Recipe
Total Carbohydrate: 38g
13%
*Percent Daily Values are based on a 2,000 calorie diet.
Ingredients
Ingredients
2 pounds Perdue Boneless Skinless Chicken Breast Filets
16 ounces baby potatoes, halved crosswise
6 medium carrots, cut into large chunks and halved lengthwise
8 ounces green beans
8 brussels sprouts, cut in half
1 large onion cut into slices, lengthwise through the root
3 cloves garlic, sliced
4 tablespoons olive oil, divided
1 lemon, zested and juiced
4 to 5 sprigs fresh thyme leaves
1 teaspoon salt
1/2 teaspoon black pepper
2-lb. bag of seasoned filets – 5 to 8 total
Step 1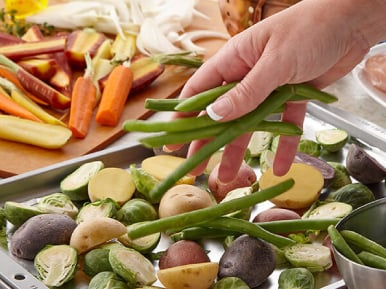 Step 1
Preheat oven to 400 F. On a sheet tray lined with foil, combine potatoes, carrots, green beans, brussels sprouts, onion and garlic.
Step 2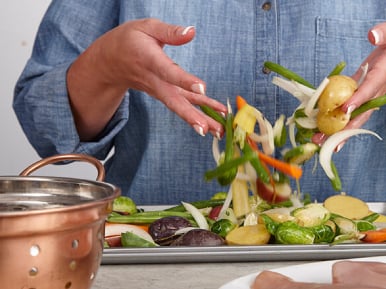 Step 2
Drizzle the vegetables with 3 tablespoons olive oil and lemon zest. Toss to coat everything well. Place chicken breasts on top of the vegetables in the center of the sheet tray. Drizzle chicken with the remaining 1 tablespoon olive oil. Sprinkle the lemon juice, thyme, salt and black pepper evenly over the chicken breasts and vegetables.
Step 3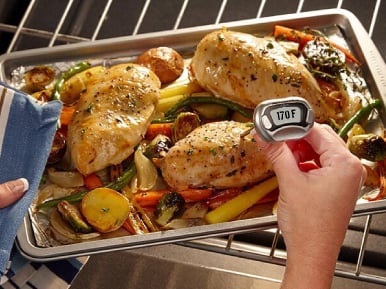 Step 3
Roast chicken breasts and vegetables in for 25 to 30 minutes, until the chicken is cooked and the vegetables are tender and golden brown. Chicken is done when a meat thermometer inserted in the center reaches 170 F. Let chicken rest for 2 to 3 minutes before slicing.
Step 4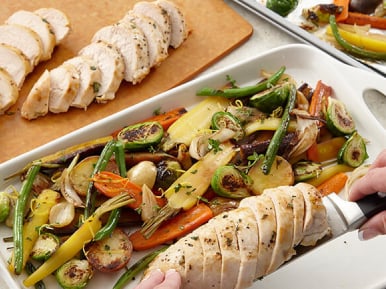 Step 4
Transfer chicken breasts to a cutting board and slice into serving pieces. Place chicken breasts on a serving platter and surround with roasted vegetables. Garnish with fresh thyme sprigs, if desired.
The Perdue Farms Culinary Team
Chef Chris Moyer, CEC, CRC, and Chef Shawn Reese, CEC, CRC, bring decades of combined culinary experience to their roles at Perdue Farms. The chefs contribute to recipe development, culinary ideation, and all culinary aspects of the company business.
MEET THE CHEFS