Chinese Sesame-Spice Chicken Bites With Apricot Dipping Sauce
Recipe Source

by the Perdue Farms Culinary Team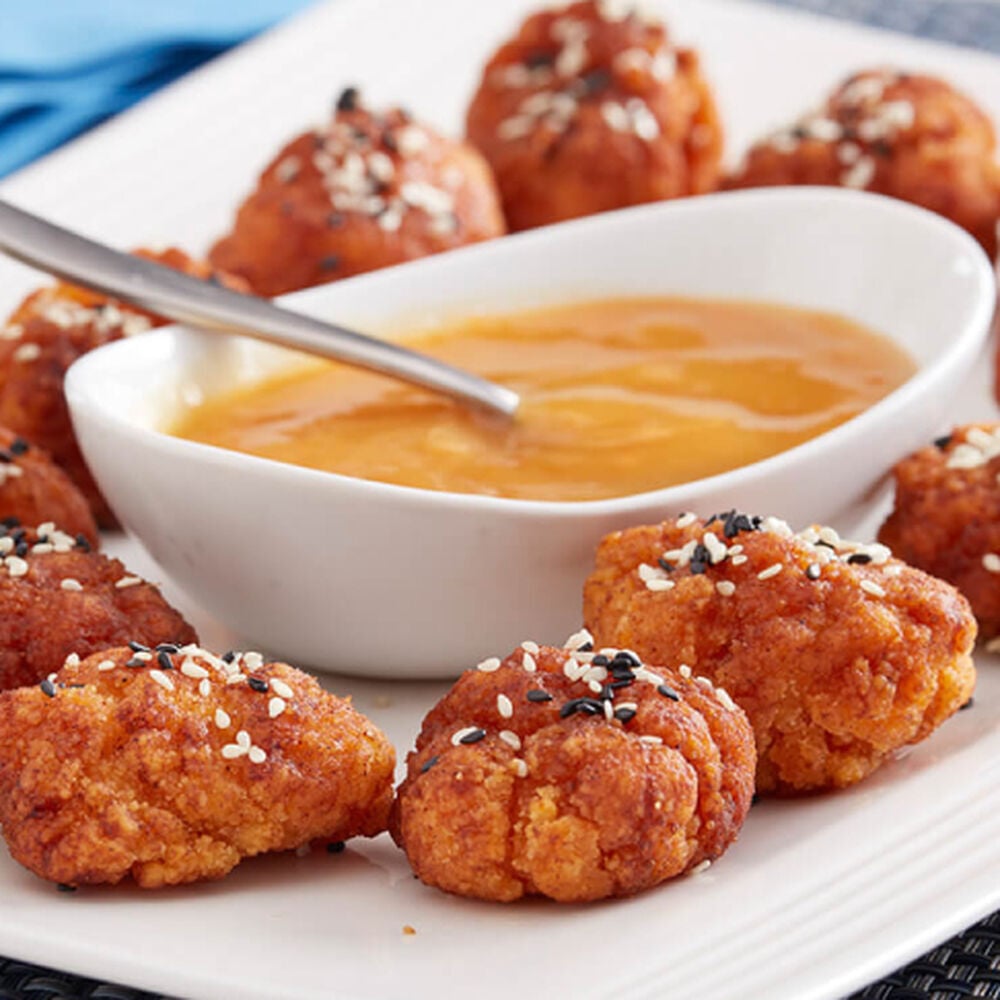 Chinese Sesame-Spice Chicken Bites With Apricot Dipping Sauce
Recipe Source

by the Perdue Farms Culinary Team
Bake a few batches because these spicy morsels won't last long! Chicken nuggets are flavored with Asian five-spice powder, baked and served with a homemade apricot marmalade and Dijon mustard dipping sauce.
Nutritional Information
9 Servings Per Recipe
Total Carbohydrate: 37.0g
*Percent Daily Values are based on a 2,000 calorie diet.
The link to Chinese Sesame-Spice Chicken Bites With Apricot Dipping Sauce has been copied
Ingredients
Ingredients
1 1/2 pounds Perdue Breaded Popcorn Chicken
4 tablespoons sesame seeds
6 tablespoons apricot marmalade
6 tablespoons low-sodium soy sauce
1 teaspoon five-spice powder
1/2 cup rice vinegar
2 tablespoons Dijon mustard
Step 1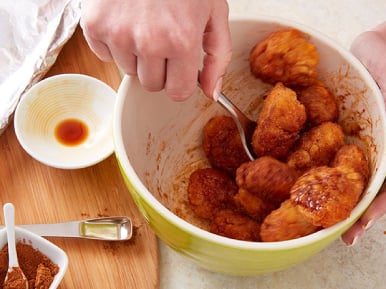 Step 1
Preheat oven to 425 F. In a bowl toss the popcorn chicken, soy sauce and five-spice powder until chicken is well coated.
Step 2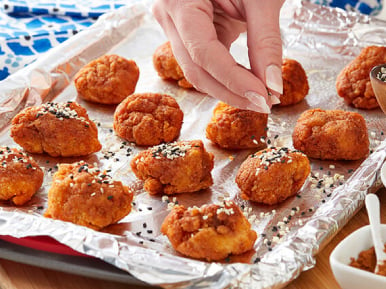 Step 2
Spread the seasoned popcorn chicken on a foil-lined baking sheet sprayed with cooking spray. Sprinkle chicken with sesame seeds. Bake for 15 minutes until chicken is heated through and crispy.
Step 3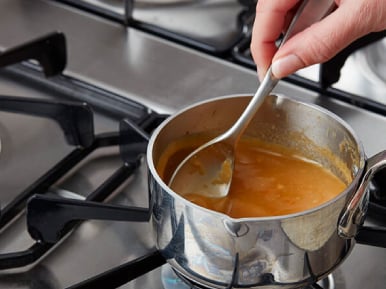 Step 3
In a small saucepan, heat the rice vinegar, the apricot marmalade and the Dijon mustard until melted and combined. Remove from heat and let cool.
Step 4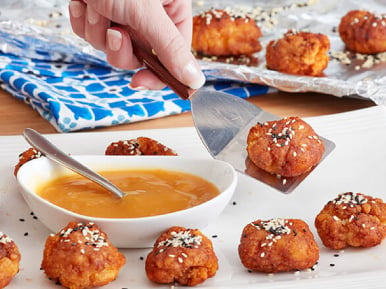 Step 4
Serve chicken bites with dipping sauce.

TIP: This recipe makes about 24 pieces, but can easily be cut in half.
The Perdue Farms Culinary Team
Chef Chris Moyer, CEC, CRC, and Chef Shawn Reese, CEC, CRC, bring decades of combined culinary experience to their roles at Perdue Farms. The chefs contribute to recipe development, culinary ideation, and all culinary aspects of the company business.
MEET THE CHEFS