Everything Bagel Sheet Pan Chicken
Recipe Source

by the Perdue Farms Culinary Team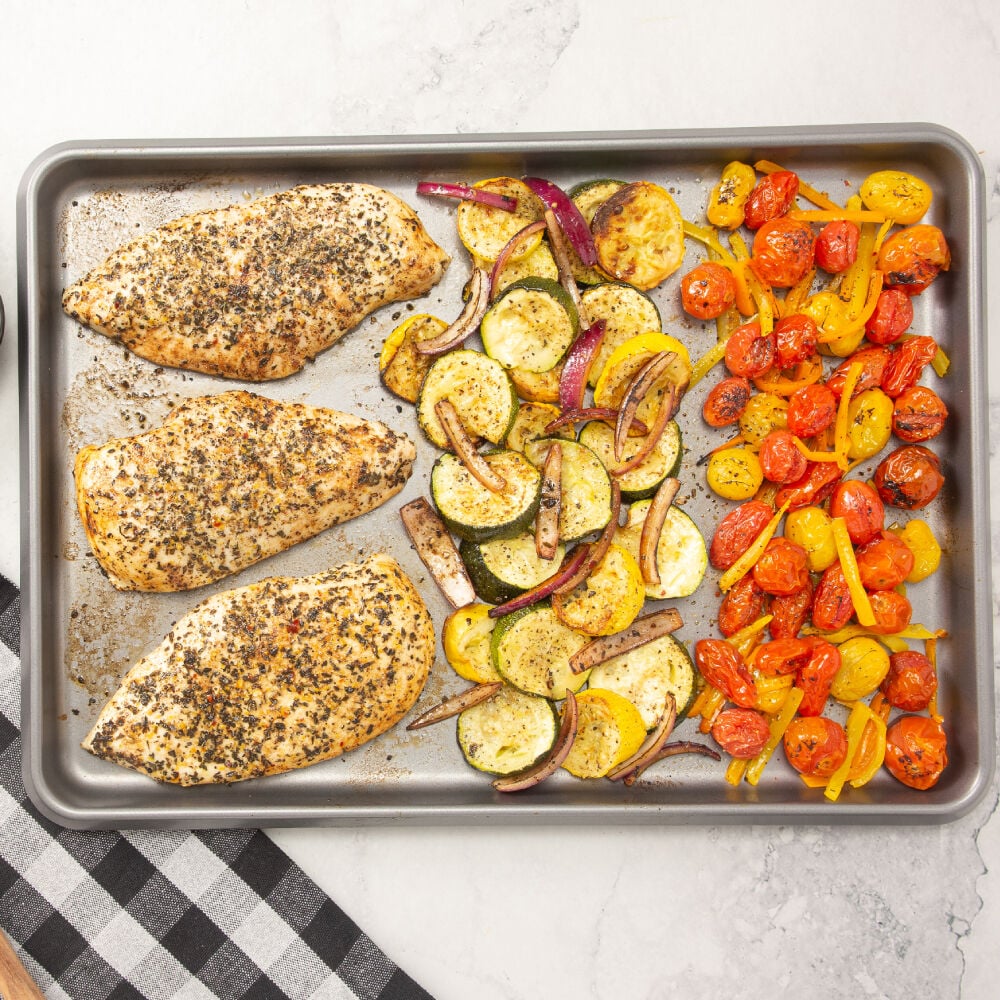 Everything Bagel Sheet Pan Chicken
Recipe Source

by the Perdue Farms Culinary Team
Weeknight dinner couldn't be easier! This sheet pan chicken recipe pairs a fan-favorite spice blend with premium chicken breasts, squash, veggies and more! Perfect for those who meal prep for the week.
Nutritional Information
3 Servings Per Recipe
Total Carbohydrate: 17g
6%
*Percent Daily Values are based on a 2,000 calorie diet.
Ingredients
Ingredients
1 pound Perdue Boneless Skinless Chicken Breasts
1 1/2 tablespoons everything bagel seasoning
2 tablespoons vegetable oil
1 large zucchini, sliced into 1/2-inch rounds
1 large summer squash, sliced into 1/2-inch rounds
1/4 red onion, sliced
1 bell pepper, sliced
1 pint cherry tomatoes
Salt and pepper to taste
Approx. 3-lb. pack of tender, juicy organic chicken breasts ― portioned into three 1-lb. pouches
Approx. 3-lb. pack of succulent and juicy chicken breasts ― portioned in three 1-lb. pouches
Step 1
Step 1
Preheat oven to 400 F. In a medium mixing bowl, toss the sliced vegetables in the vegetable oil and season with salt and pepper. Place on a greased sheet pan in a single layer. Leave room for chicken breasts.
Step 2
Step 2
Generously season tops of chicken breasts with everything bagel seasoning, and place them on tray with vegetables.
Step 3
Step 3
Place tray in oven and cook for 25 to 35 minutes, or until digital meat thermometer, inserted in thickest part of chicken, measures 165 F.
The Perdue Farms Culinary Team
Chef Chris Moyer, CEC, CRC, and Chef Shawn Reese, CEC, CRC, bring decades of combined culinary experience to their roles at Perdue Farms. The chefs contribute to recipe development, culinary ideation, and all culinary aspects of the company business.
MEET THE CHEFS