Chef Shawn's Sheet Pan Meatloaf
Recipe Source

by the Perdue Farms Culinary Team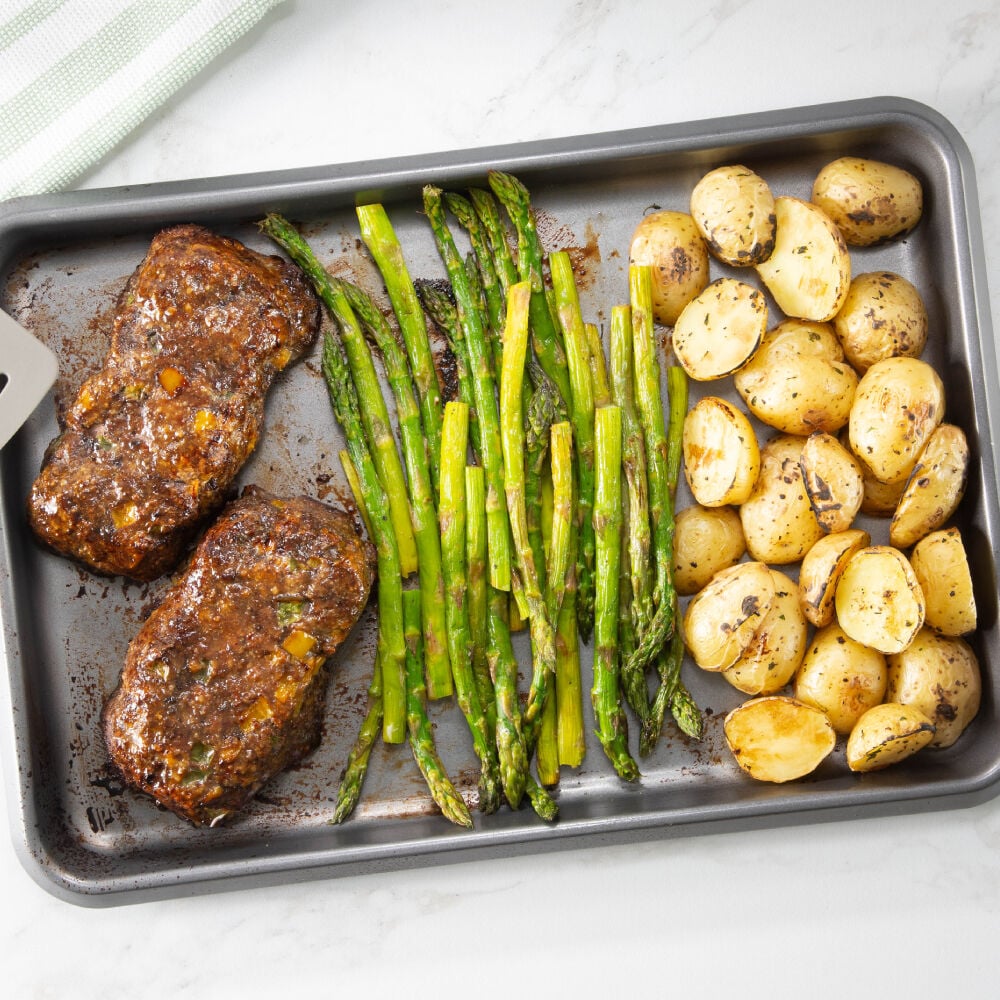 Chef Shawn's Sheet Pan Meatloaf
Recipe Source

by the Perdue Farms Culinary Team
A meal prep recipe that will become a staple in your collection! Sheet pan meatloaf is easy to make and takes only 30 minutes to bake. Serve mini meatloaf with mashed potatoes and a side of veggies. Your family will love this comfort food classic!
Nutritional Information
8 Servings Per Recipe
Total Carbohydrate: 18.3g
6%
*Percent Daily Values are based on a 2,000 calorie diet.
Ingredients
Ingredients
2 pounds Niman Ranch 80/20 Angus Ground Beef
1 medium yellow onion, small dice
2 cloves garlic, minced
2 eggs, whisked
1 cup plain breadcrumbs
2 tablespoons Worcestershire sauce
2 tablespoons chopped fresh parsley
2 teaspoons chopped fresh thyme
2 teaspoons kosher salt
1 teaspoon cracked black pepper
3/4 cup Ketchup
2 teaspoons apple cider vinegar
2 teaspoons brown sugar
1/2 teaspoon black pepper
1-lb. pack of tender and flavorful 80/20 ground beef
Your Price
Limited Time Only Save 38%
Regular Price
$17.99
Sale Price
$10.99
Each
avg/ea
Step 1
Step 1
Preheat oven to 400 F. Mix first ten ingredients in a mixing bowl until thoroughly combined.
Step 2
Step 2
Separate mixture into 12 individual portions and place, evenly spaced, on a greased sheet pan; form into small loaves.
Step 3
Step 3
Bake for 20 to 30 minutes, or until loaves reach an internal temperature of 160 F.
Step 4
Step 4
Optional glaze: Combine last four ingredients and, once loaves have cooked for 10 minutes, pull tray out of oven, brush tops of loaves with glaze and place tray back in oven. Bake until done.
The Perdue Farms Culinary Team
Chef Chris Moyer, CEC, CRC, and Chef Shawn Reese, CEC, CRC, bring decades of combined culinary experience to their roles at Perdue Farms. The chefs contribute to recipe development, culinary ideation, and all culinary aspects of the company business.
MEET THE CHEFS