Spicy Smoked Sausage Cornbread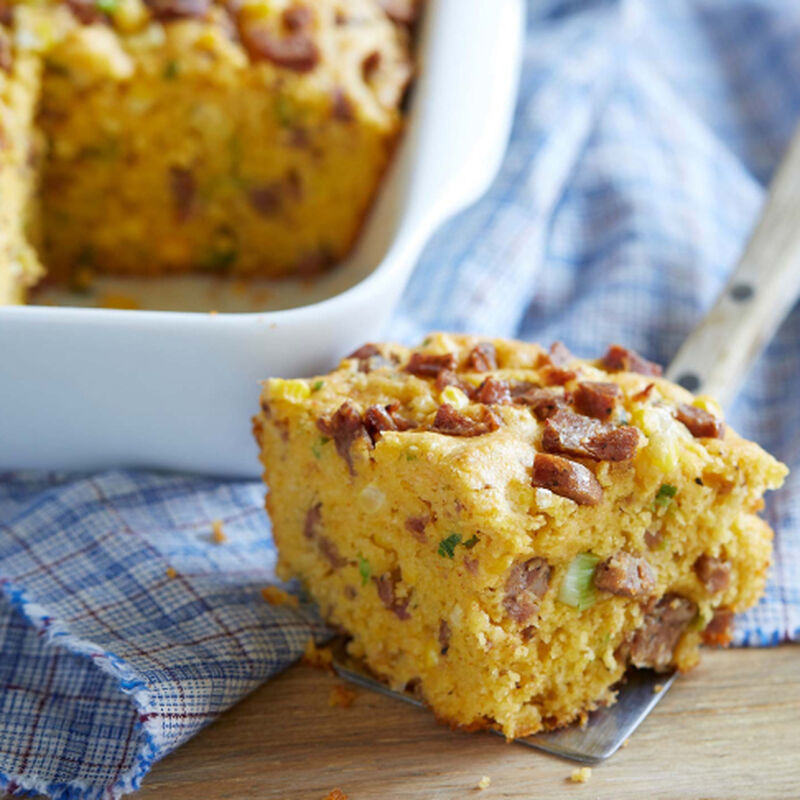 Spicy Smoked Sausage Cornbread
Here's how to make cornbread that's good enough to slice, toast, slather with butter and eat on its own for lunch or dinner! Our recipe calls for spicy Andouille sausage and cayenne pepper — a savory twist on an American classic!
Nutritional Information
Calories

250

Protein

9g

Sodium

540mg

Sat. fat

6g

Sugar

2g
Nutritional Information
*Percent Daily Values are based on a 2,000 calorie diet.
Ingredients
Ingredients
3 Andouille sausage links
1/4 cup unsalted butter, melted and cooled
1/2 cup sliced scallions, white and green parts
1 cup, plus 2 tablespoons all-purpose flour
3/4 cup yellow stone ground cornmeal
1 1/2 teaspoons baking powder
1/2 teaspoon baking soda
1/2 teaspoon salt
1/2 teaspoon sweet paprika
1/8 teaspoon cayenne pepper
2 teaspoons chopped thyme
2 large eggs, lightly beaten
1 cup low-fat buttermilk
1/3 cup frozen corn, thawed
Timing
Timing
Prep
12 minutes
Cook
30 minutes
Step One
Step One
Heat oven to 375 F. Roughly chop sausages into 1/4- to 1/2-inch pieces. Remove one third (2/3 cup), and set aside.
Step Two
Step Two
In a large bowl, whisk together flour, cornmeal, baking powder, baking soda, paprika, salt, cayenne and thyme. Whisk together eggs, buttermilk and cooled butter and add to flour mixture all at once. Stir just to combine. Fold in corn, scallions and the chopped Andouille sausage.
Step Three
Step Three
Generously grease an 8-by-8-inch baking dish and spread batter in the pan. Top with reserved chopped sausage.
Step Four
Step Four
Bake until top is just golden and a toothpick inserted into the center comes out clean, 25 to 30 minutes. Cool about 5 minutes. Serve warm or at room temperature.