Smoky Maple Bourbon Chicken Wings
Recipe Source

by Justin McChesney-Wachs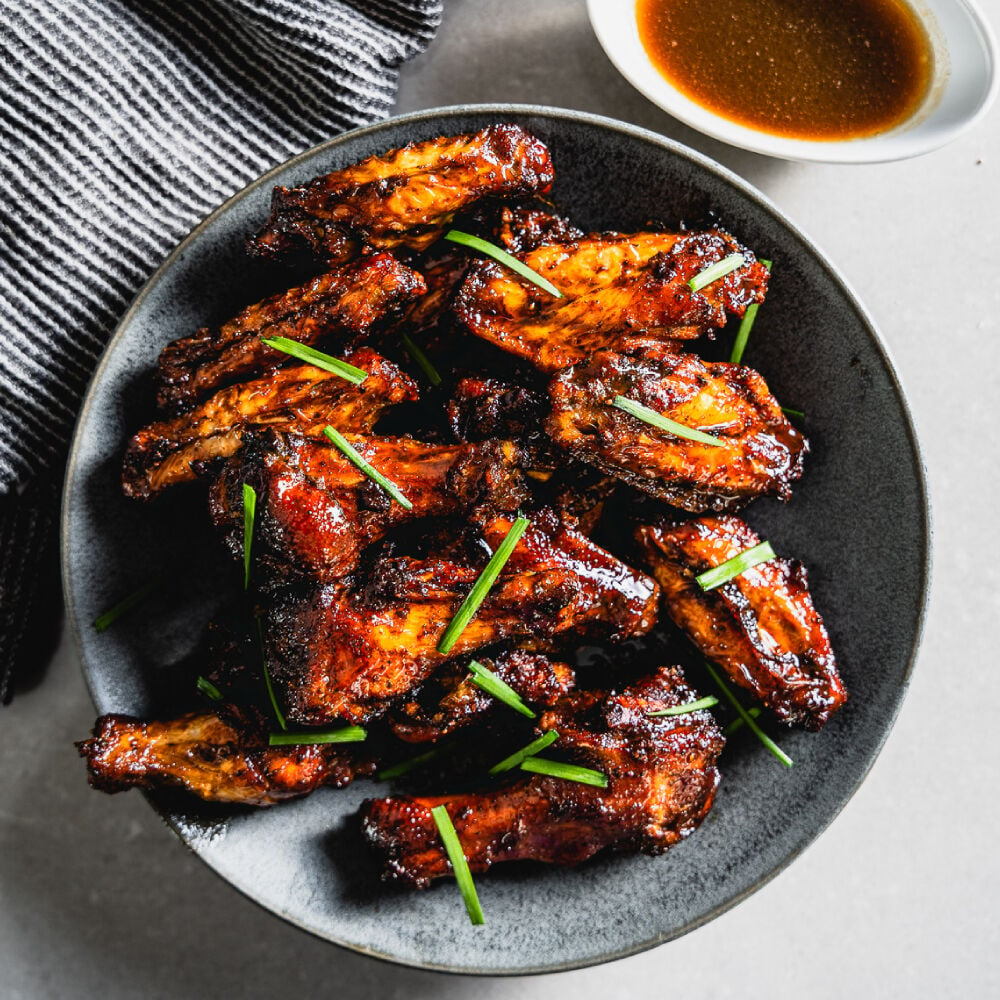 Smoky Maple Bourbon Chicken Wings
Recipe Source

by Justin McChesney-Wachs
Nutritional Information
6 Servings Per Recipe
Cholesterol: 351.5mg
117%
Total Carbohydrate: 20.4g
*Percent Daily Values are based on a 2,000 calorie diet.
Ingredients
Ingredients
4 pounds Perdue chicken wings
1 tablespoon Diamond kosher salt
1 teaspoon black pepper
2 teaspoons garlic powder
2 teaspoons smoked paprika
3 tablespoons unsalted butter
1/2 cup bourbon
1/2 cup maple syrup
1/4 cup apple cider vinegar
2 teaspoons Dijon mustard
1 tablespoon Sriracha (optional for heat)
Approx. 3-lb. pack of juicy chicken wings ― portioned in three 1-lb. pouches
Your Price
Limited Time Only Save 44%
Regular Price
$24.99
Sale Price
$13.99
Each
avg/ea
Step 1
Step 1
To install the grill grate in the Ninja Woodfire Grill, position it flat on top of the heating element and gently press down until it sits in place. Place Air Crisp Basket on the grate, then close the hood.
Step 2
Step 2
While holding the smoke box lid open, use the pellet scoop to pour pellets into the smoke box until filled to the top, then close the smoke box lid.
Step 3
Step 3
Turn the dial to AIR CRISP. Press WOODFIRE FLAVOR. Set temperature to 390 F, and set time to 30 minutes. Select START/STOP to begin preheating (preheating will take approx. 8 to 10 minutes).
Step 4
Step 4
Prep the wings: While the grill pre-heats: Mix first four dry ingredients in a small bowl and place the dried wings in a large bowl. Toss the wings with the salt and dry rub, until evenly coated.
Step 5
Step 5
Cook the wings: When unit beeps to signify it has preheated and ADD FOOD is displayed, open the hood and place the wings in basket. Close the hood to begin cooking. Several times during cooking, open hood and use silicone-tipped tongs to flip the wings (about every 10 minutes).
Step 6
Step 6
Make the sauce (while the wings are cooking): Combine butter, bourbon, maple syrup, apple cider vinegar, mustard and Sriracha in a medium saucepan, whisk over medium heat until dissolved, then reduce heat and simmer, stirring occasionally until the sauce is reduced (by about one quarter) and thickened, about 15 to 20 minutes. Remove from heat.
Step 7
Step 7
When cooking is complete, open the hood, remove wings from the basket, toss with sauce (if using) and serve hot.