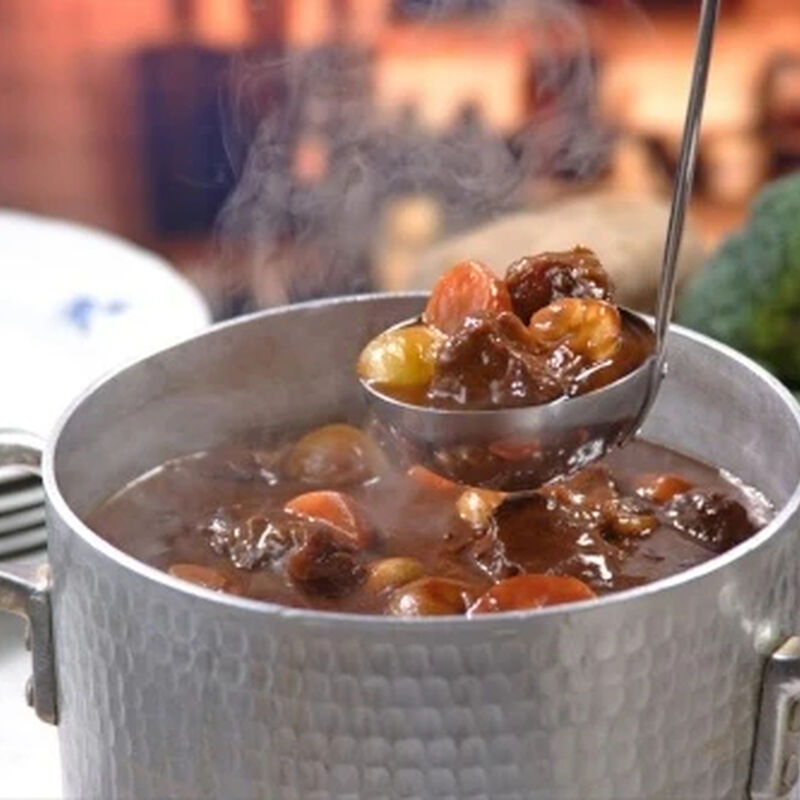 This warm, yummy and filling dark stout-infused beef stew is the perfect one-pot dish to serve on chilly autumn and winter days. Start with premium grass-fed beef and add garden herbs, root vegetables and dark brown sugar to make a traditional beef stew the family will love.
Nutritional Information
Calories

680

Protein

40g

Sodium

1390mg

Sat. fat

8g

Sugar

14g
Nutritional Information
*Percent Daily Values are based on a 2,000 calorie diet.
Ingredients
Ingredients
tablespoons Worcestershire sauce
tablespoons dark brown sugar
large yellow or white onion, chopped
medium-sized carrots, chopped
pounds baby yukon gold potatoes, quartered (or cut in halves, if you prefer bigger pieces)
Step One
Step One
Remove beef stew meat from refrigerator and pat dry with paper towels. Sprinkle with salt. Allow to rest at room temperature for 1 hour.
Step Two
Step Two
While the stew meat is resting, chop the vegetables/potatoes and mince the garlic.
Step Three
Step Three
Place a large 10-quart pot on the stove. Add olive oil. Heat until olive oil simmers when a few drops of water are added (usually on medium-high). Turn the heat down to medium, or medium-low. Add the stew meat to the pan to brown. Be careful not to overcrowd the pan, otherwise the meat will steam rather than fry and brown. Work in batches, if need be.
Step Four
Step Four
Add garlic to the meat, and give it a quick stir. Add in onions, cooking for no longer than 2 minutes. Pour in the dark stout beer, and cook for 3 to 5 minutes. Pour in the remaining ingredients (EXCEPT the potatoes), stirring to mix.
Step Five
Step Five
Bring the beef stew to a simmer, slightly reduce heat, and simmer for 1 hour. Add the potatoes, and simmer for an additional 40 minutes (or until potatoes are easily speared with a fork or butter knife). Retrieve the sprigs of rosemary and thyme from the stew and discard. Serve and enjoy!