Traditional Penne Bolognese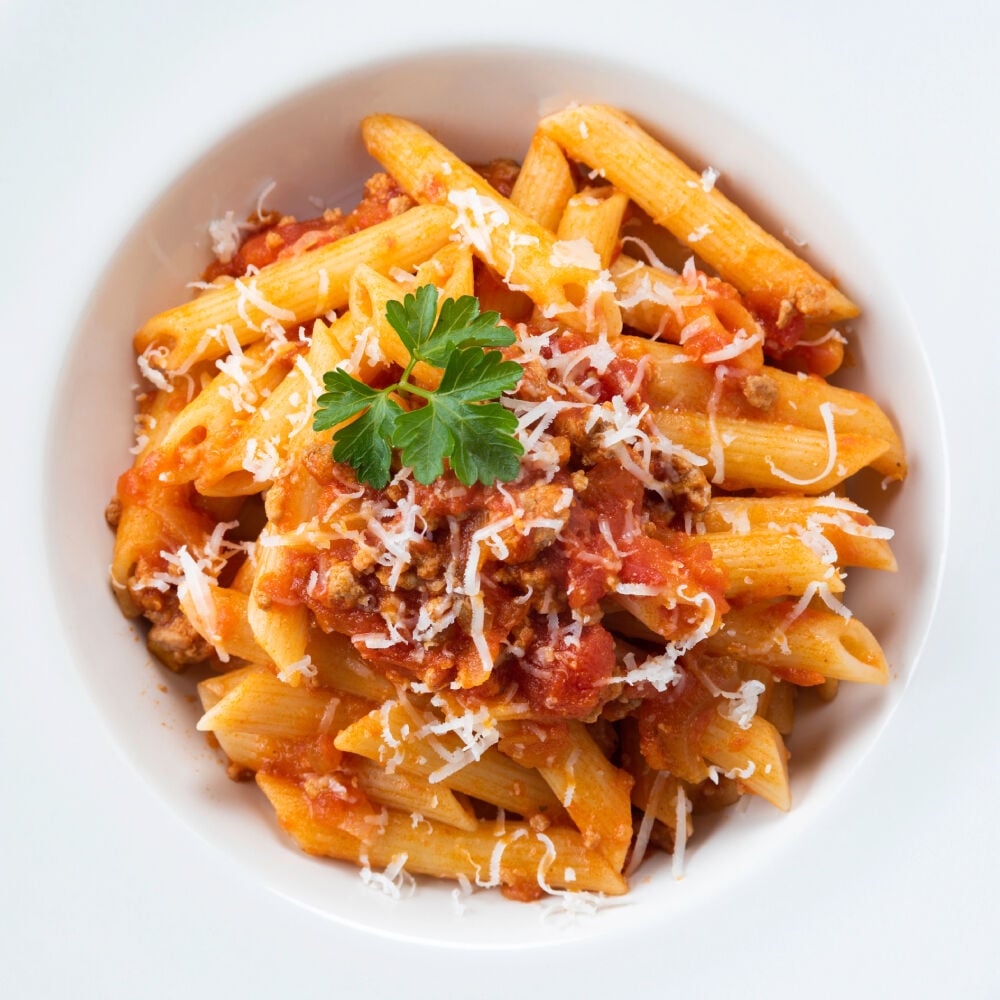 Traditional Penne Bolognese
This beef bolognese recipe is the best ever! We start with the best beef for bolognese, grass-fed ground beef, and add to that traditional bolognese ingredients, including fresh basil, crushed tomatoes, carrots, garlic and cheese. Serve this sauce over a rigid pasta, like penne or rigatoni.
Nutritional Information
6 Servings Per Recipe
Total Carbohydrate: 16g
6%
*Percent Daily Values are based on a 2,000 calorie diet.
Ingredients
Ingredients
1 pound Panorama Organic Grass-Fed 93/7 Ground Beef
1/4 cup olive oil
1 bunch fresh basil, whole leaves picked or 4 teaspoons dried basil
1 yellow onion, medium chopped
1/2 teaspoon dried garlic
2 carrots, peeled and chopped
3 tablespoons tomato paste
1 28-ounce can crushed tomatoes
1/4 cup freshly grated Parmesan
Kosher salt and freshly ground black pepper
Step 1
Step 1
In a large saucepot, heat the olive oil and basil leaves until it starts to make noise.
Step 2
Step 2
Using a wooden spoon, slowly stir in the onion and sauté over medium heat until the onions become very soft, about 8 minutes. Next add the carrots, tomato paste, garlic powder and salt. Cook for 5 minutes.
Step 3
Step 3
Raise heat to high and add the ground beef. Sauté, stirring frequently and break up any large lumps. Cook until meat is no longer pink, about 5 minutes.
Step 4
Step 4
Add the tomatoes and cook over medium-low heat until the sauce thickens. This will take about 30 minutes. Season with salt and pepper and finish Bolognese with grated Parmesan. Serve over rigatoni or penne, as they are rigid enough to hold the sauce with each bite.