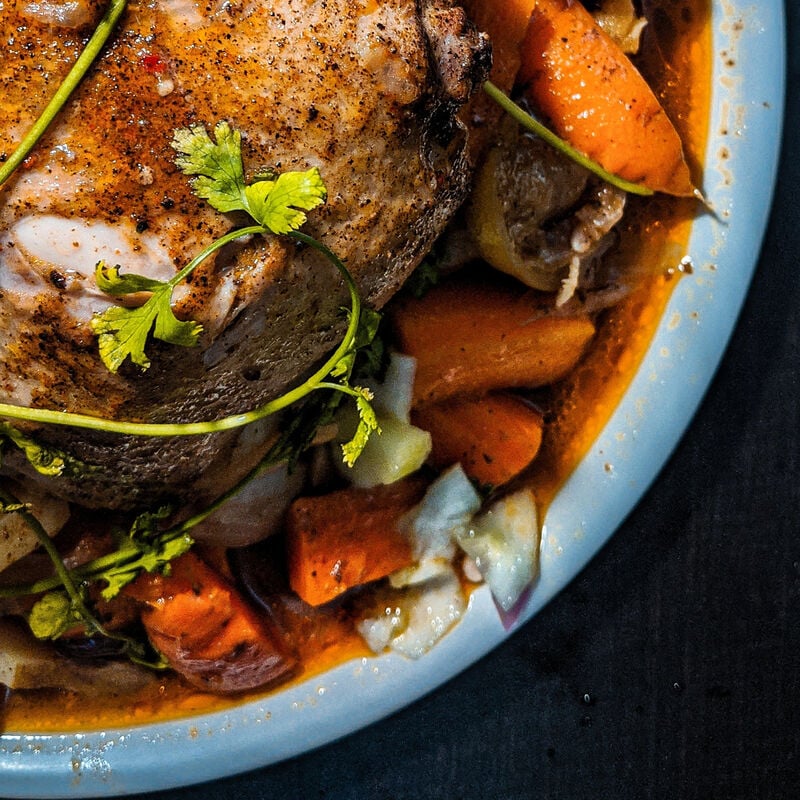 This recipe is ideal for a small gathering. Sunday dinner, a holiday feast or any special occasion is the perfect time to make this turkey breast pot roast. Turkey slowly stews in a dutch oven with a medley of vegetables -- tasty, tender and delicious!
Nutritional information
Calories

395

Protein

27g

Sodium

462mg

Sat. fat

2.5g
Nutritional information
Servings per recipe: 6
Amount per serving calories: 395
% daily value
Total fat: 13.7 g
Saturated fat: 2.5 g
Cholesterol: 60 mg
Sodium: 462 mg
Total carbs: 42 g
Dietary fiber: 4 g
Protein: 27 g
*Percent Daily Values are based on a 2,000 calorie diet.
The link to Dutch Oven Turkey Breast has been copied
Ingredients
Ingredients
teaspoon poultry seasoning
cups chicken broth or water
medium onion cut into 6 to 8 pieces
Chopped parsley (optional)
Step One
Step One
Preheat oven to 325 F. In small bowl, combine flour, poultry seasoning, salt and pepper. Lightly flour breast, reserving remaining seasoned flour.
Step Two
Step Two
In a large Dutch oven, over medium heat, heat oil. Add breast and brown on all sides, 15 to 20 minutes. Add remaining flour to pan and cook, stirring, 2 minutes. Stir in chicken broth. Add vegetables to pan and bring to a boil.
Step Three
Step Three
Cover and place in oven. Simmer 1 1/4 to 1 3/4 hours, until meat thermometer inserted in thickest part of breast registers 170 F and vegetables are tender. Slice turkey and serve with vegetables and pan gravy. If desired, sprinkle with parsley.