Zesty Veggie Relish Franks
Recipe Source

courtesy of Niman Ranch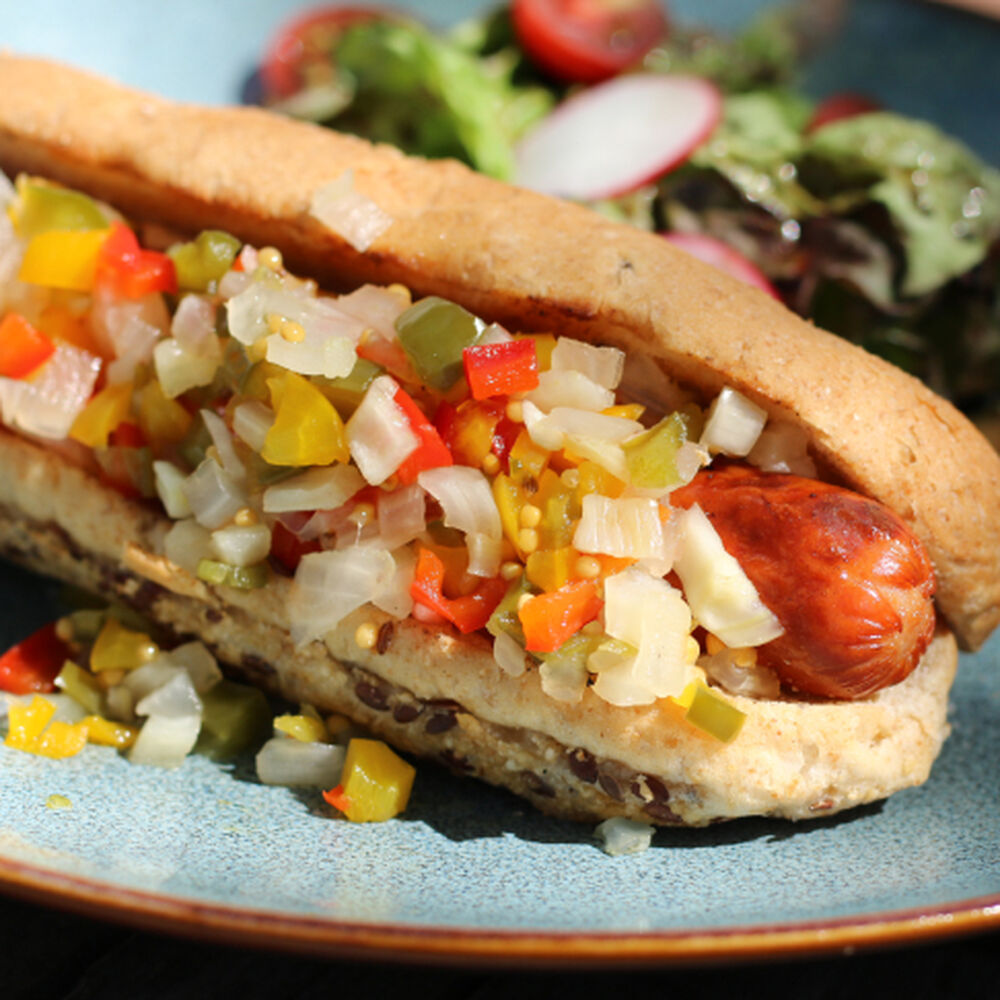 Zesty Veggie Relish Franks
Recipe Source

courtesy of Niman Ranch
What a way to dress up traditional hot dogs! This tasty relish, which makes use of veggies you may already have in your fridge, comes together quickly, and lends color, flavor and a hint of sweetness to hot-off-the-grill franks.
Nutritional Information
*Percent Daily Values are based on a 2,000 calorie diet.
Ingredients
Ingredients
8 Niman Ranch Pork and Beef Franks
1 cup sugar
1 tablespoon mustard seeds
1 teaspoon caraway seeds
2 tablespoons kosher salt
1/3 cup cider vinegar
1/3 cup water
1 white onion, minced
1 red bell pepper, minced
1 yellow bell pepper, minced
1 green bell pepper, minced
2 bulbs fennel, minced
1 to 2 teaspoons minced jalapeño pepper
Step 1
Step 1
Heat the dressing ingredients in a medium-size saucepan over medium heat, stirring frequently until the sugar dissolves and the dressing boils. Turn the heat to low and simmer for 5 minutes.
Step 2
Step 2
Add the relish vegetables and cook over low heat for another 5 minutes.
Step 3
Step 3
Place a colander inside a bowl and scrape the relish into the colander to drain; set the relish aside.
Step 4
Step 4
Pour the dressing back into the saucepan and boil on medium to medium-high heat, reducing the dressing until syrupy. This should take about 10 more minutes.
Step 5
Step 5
Combine the syrup with the reserved relish in a container with a tight-fitting lid. Put in the refrigerator and let cool.
Step 6
Step 6
Grill your hot dogs to your liking, then place in sesame buns. Top with relish and serve immediately.