Vietnamese Hot Dog, Banh Mi Style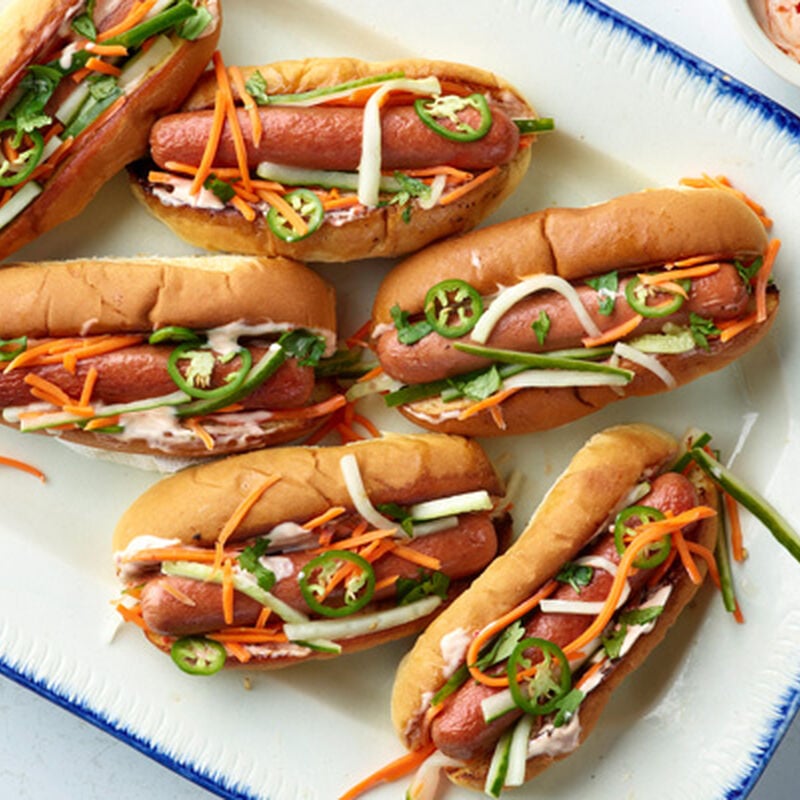 Vietnamese Hot Dog, Banh Mi Style
Hot spicy Asian flavors are paired with the crunch of fresh vegetables in this unique twist on the classic banh mi sandwich. Grill or steam dogs before assembling and be sure to serve with plenty of ice-cold lemonade or iced tea!
Nutritional information
Calories

380

Protein

11g

Sodium

590mg

Sat. fat

8g

Sugar

8g
Nutritional information
Servings per recipe: 8
Amount per serving calories: 380
% daily value
Total fat: 25 g
Saturated fat: 8 g
Cholesterol: 35 mg
Sodium: 590 mg
Total carbs: 27 g
Dietary fiber: 2 g
Sugar: 8 g
Protein: 11 g
Vitamin A: 20%
Vitamin C: 6%
*Percent Daily Values are based on a 2,000 calorie diet.
The link to Vietnamese Hot Dog, Banh Mi Style has been copied
Ingredients
Ingredients
cup cucumber, sliced into thin strips
cup carrot, sliced into thin strips
jalapeno, sliced into thin rounds
cup seasoned rice wine vinegar
Step One
Step One
In a small mixing bowl, add cucumber, carrot, jalapenos and the rice wine vinegar. Let marinate for 5 to 10 minutes, and strain excess liquid. In a separate mixing bowl, whisk together the mayo, Sriracha and lime juice.
Step Two
Step Two
Remove the hot dogs from the package, and grill or place in a pot of simmering water for 5 to 7 minutes.
Step Three
Step Three
Assemble: Place a hot dog into each of the buns, followed by about a tablespoon of the quick pickled vegetables and a drizzle of sriracha mayo, and finish with some fresh cilantro leaves.