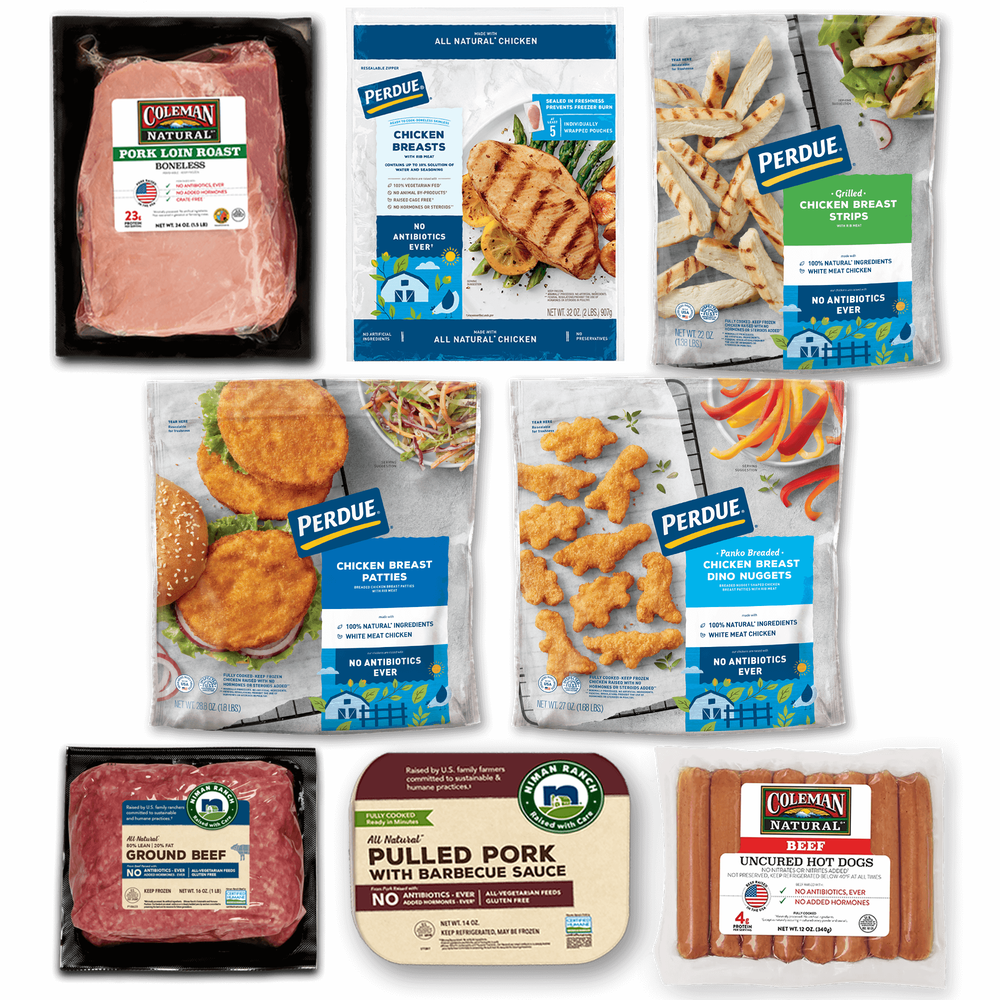 A collection of premium pork, beef and chicken products — 45 servings for only $2.22 per serving.
Your Price
Limited Time Only Save 16%
Regular Price
$119.92
Sale Price
$99.99
Each
Description
We make getting back into the swing of school, work and action-packed schedules easier than ever. This collection of pork, beef and chicken products is specially designed to make meal prep quick and easy. There's something for everyone: fully cooked heat-and-eat treats for the kids (our no-antibiotics-ever chicken products are a customer favorite), quick-thaw proteins, ground beef for burgers, pasta and one-pot meals and a pork roast that you can set and forget in the slow cooker. This value pack offers 45 servings for only $2.00 per serving, savings so good that you can treat yourself and gift a bundle to a busy parent!
Perdue Boneless Skinless Chicken Breast Filets
Perdue Boneless Skinless Chicken Breast Filets
2-lb. bag (contains 5-8 wrapped and frozen filets)
Perdue Breaded Chicken Breast Patties
Perdue Breaded Chicken Breast Patties
1.8-lb. bag of frozen patties
Perdue Grilled Chicken Breast Strips
Perdue Grilled Chicken Breast Strips
1.6-lb. bag of frozen strips
Perdue Panko-Breaded Dino Nuggets
Perdue Panko-Breaded Dino Nuggets
1.68-lb. bag of frozen nuggets
14-oz. package of frozen pulled pork
Coleman Natural Boneless Pork Loin Roast
Coleman Natural Boneless Pork Loin Roast
1.5-lb. package of frozen pork loin
Coleman Natural Uncured Beef Hot Dogs
Coleman Natural Uncured Beef Hot Dogs
12-ounce package of frozen beef hot dogs
Niman Ranch 80/20 Ground Beef
Niman Ranch 80/20 Ground Beef
1-lb. package of frozen ground beef