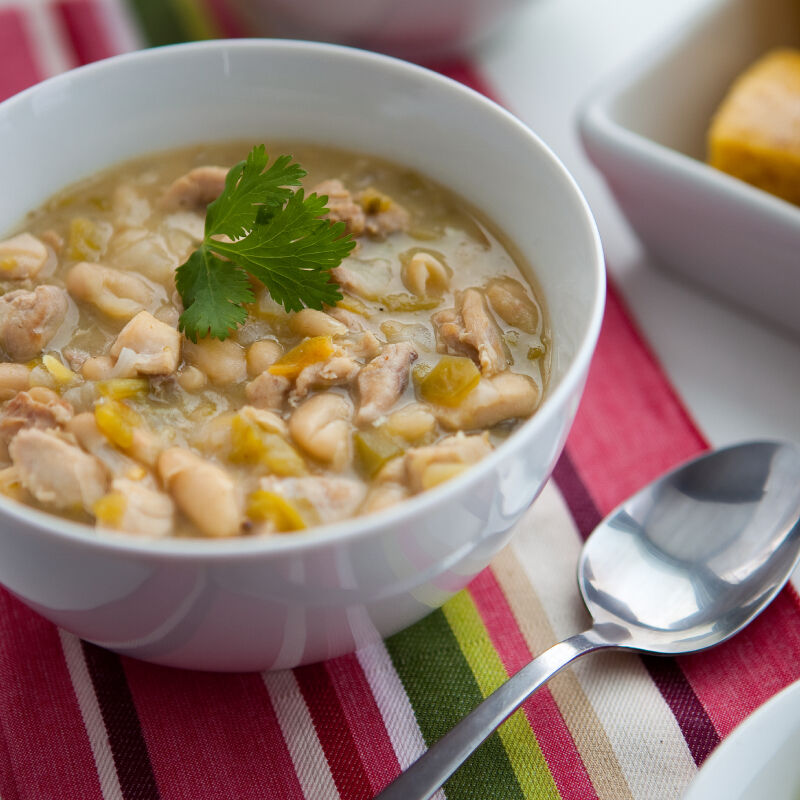 This stick-to-your-ribs recipe is a crowd pleaser, for sure! Green chiles and classic seasonings add just the right Tex-Mex flavor. Serve with sour cream, fresh lime wedges and seasoned tortilla strips.
Nutritional information
Calories

380.0

Protein

39.0g

Sodium

850mg

Sat. fat

1.5g

Sugar

3.0g
Nutritional information
Servings per recipe: 6
Amount per serving calories: 380.0
% daily value
Total fat: 9.0 g
Saturated fat: 1.5 g
Cholesterol: 65.0 mg
Sodium: 850 mg
Total carbs: 39.0 g
Dietary fiber: 9.0 g
Sugar: 3.0 g
Protein: 39.0 g
*Percent Daily Values are based on a 2,000 calorie diet.
The link to White Chicken Chili has been copied
Ingredients
Ingredients
cup masa harina or finely ground corn meal (or 4 tablespoons corn starch)
cups chopped onion (1 large onion)
cups chopped celery (about 8 stalks)
tablespoon poultry seasoning, or to taste
cans cannellini or other white beans, rinsed and drained (15-ounce)
can diced mild green chili (4 ounces)
Shredded cheddar cheese for serving
Sour cream and tortilla strips for serving
Step One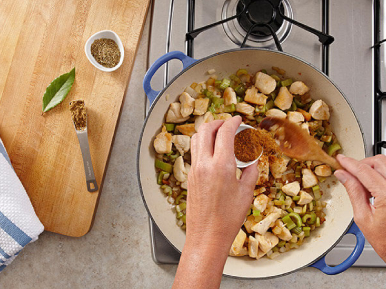 Step One
On a plastic or dishwasher-safe cutting board, cut the chicken breast into cubes. Heat the olive oil in a large pot over medium heat. Add the chicken cubes and cook until lightly browned, 5 to 7 minutes. Add the onions, celery and garlic. Sauté until the onions soften, 2 to 3 minutes. Add the poultry seasoning, salt, oregano, cumin and the bay leaf. Stir to combine.
Step Two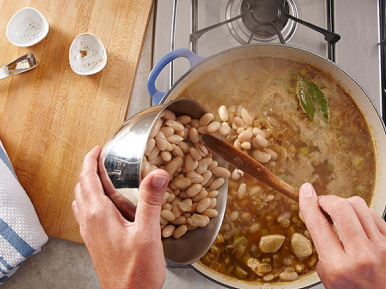 Step Two
Add the chicken stock, bring to a boil, then reduce the heat to a simmer. Add the cannellini beans and cook, covered, for 30 minutes.
Step Three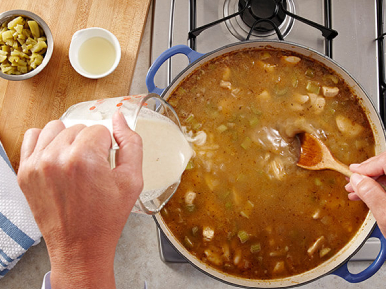 Step Three
After 30 minutes, whisk together the masa harina with 1 cup of water. Stir the masa into the chili, along with the lime juice and the green chilies. Stir and cook until thick, about 5 minutes.
Step Four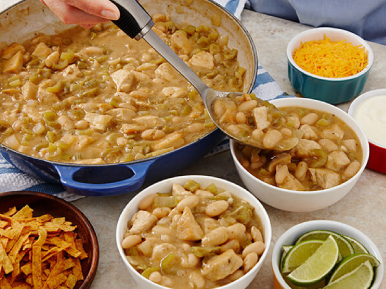 Step Four
Ladle into bowls. Serve with shredded cheddar cheese, sour cream, lime wedges and tortilla strips, if desired.