Apple and Heritage Pork Sausage Stuffing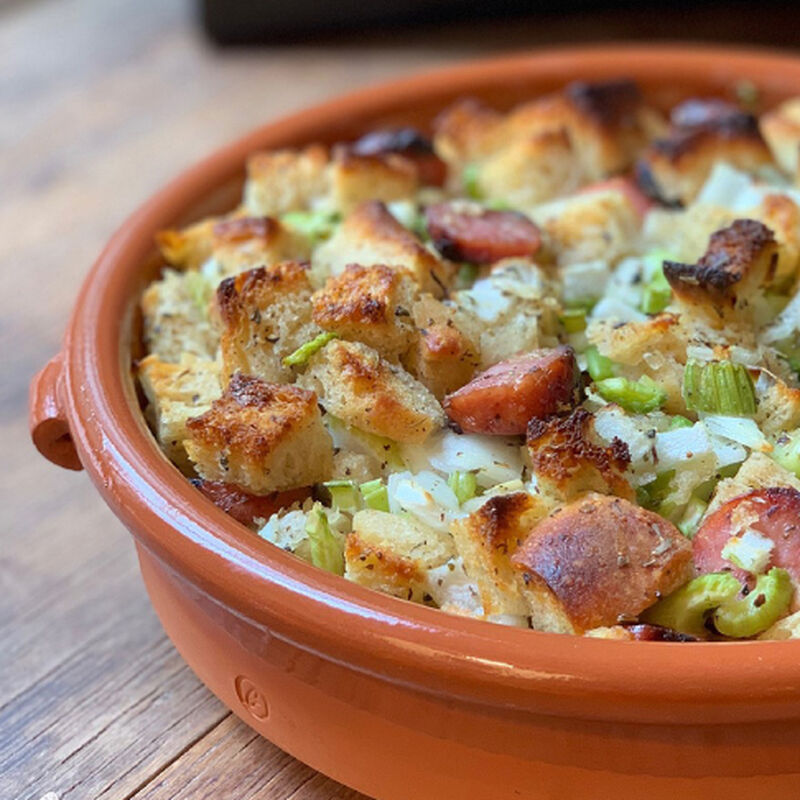 Apple and Heritage Pork Sausage Stuffing
What's the difference between a sausage stuffing recipe and the best sausage stuffing recipe ever? Niman Ranch apple gouda sausage! This delicious dish will add a gourmet twist to Thanksgiving dinner or any formal meal – and the best thing is that it takes only 35 minutes to bake!
Nutritional Information
Calories

440

Protein

18g

Sodium

1630mg

Sat. fat

11g

Sugar

12g
Nutritional Information
*Percent Daily Values are based on a 2,000 calorie diet.
Ingredients
Ingredients
cups bread cubes, white, wheat, or sourdough
tablespoons (1 stick) unsalted butter
cups yellow onion, diced (one large onion)
apples, unpeeled, cored and diced, optional
tablespoons chopped flat-leaf parsley
teaspoon freshly ground black pepper
Step 1
Step 1
Preheat the oven to 300 F. Place the bread cubes in a single layer on a sheet pan and bake for 7 minutes. Raise the oven temperature to 350 F. Remove the bread cubes and place in a large bowl.
Step 2
Step 2
Meanwhile, in a large sauté pan, melt the butter and add the onions, celery, apples if using, parsley, salt and pepper. Sauté over medium heat for 10 minutes, until the vegetables are softened. Add to the bread cubes.
Step 3
Step 3
In the same sauté pan, cook the sausage over medium heat for about 5 minutes, until browned and warmed through. Add to the bread cubes and vegetables.
Step 4
Step 4
Add the chicken stock and milk to the mixture, mix well and pour into a large baking dish. Bake for 30 minutes, until browned on top and hot in the middle. Serve warm.