Harvesttime Apple, Sweet Potato and Sausage Supper
Recipe Source

courtesy of Niman Ranch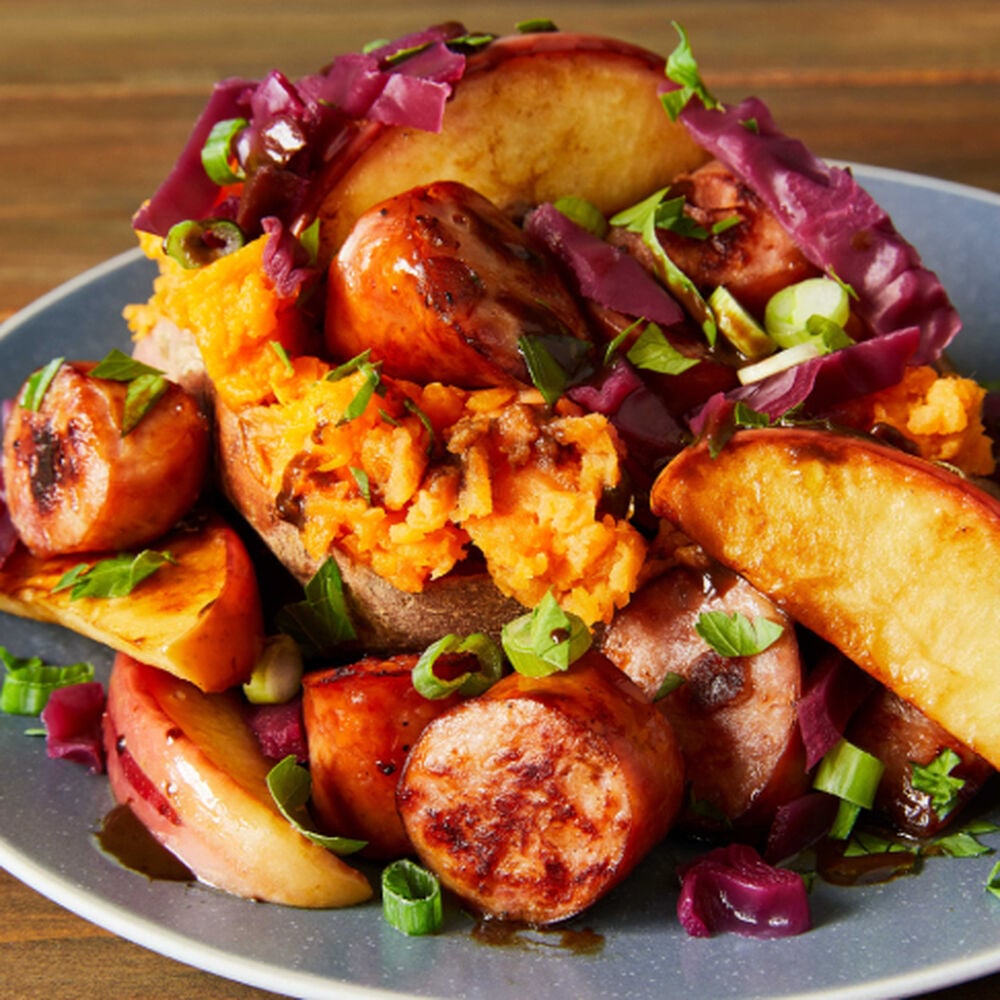 Harvesttime Apple, Sweet Potato and Sausage Supper
Recipe Source

courtesy of Niman Ranch
When it comes to easy one-pot meals, this recipe may be one of our favorites. Perfect for fall, this dish pairs sweet potatoes and crisp, ripe apples with smoky apple gouda sausage. For an extra-special touch, top with your favorite brand of red sauerkraut, chopped green onions and parsley.
Nutritional Information
4 Servings Per Recipe
Total Carbohydrate: 37g
13%
*Percent Daily Values are based on a 2,000 calorie diet.
Ingredients
Ingredients
4 links Kielbasa, each cut into 8 pieces
4 small sweet potatoes, scrubbed clean
2 tablespoons, plus 2 teaspoons olive oil
2 1/2 teaspoons balsamic vinegar
1 teaspoon honey
1/2 teaspoon Dijon mustard
1 large apple, sliced into wedges
1/2 cup jarred red sauerkraut (optional)
1/3 cup sliced green onions
2 tablespoons chopped fresh parsley
Step 1
Step 1
Heat oven to 400 F. Pierce entire surface of sweet potatoes with a fork. Bake until soft and tender, about 40 minutes; set aside.
Step 2
Step 2
For the dressing, whisk together 2 tablespoons olive oil, balsamic vinegar, honey and mustard in a bowl; set aside.
Step 3
Step 3
Meanwhile, in a large, heavy sauté pan, over medium-high heat, add 1 teaspoon olive oil and sausage. Sauté until golden brown, 4 to 5 minutes; set sausage aside. Add remaining 1 teaspoon olive oil and apple wedges to the same pan and cook 2 minutes. Add 2 tablespoons water, and turn apple wedges. Cook another 2 minutes.
Step 4
Step 4
Slice sweet potatoes in half and mash the insides with a fork. Divide sausage and apples and top with sauerkraut and drizzle with dressing. Garnish with green onions and parsley.