Asian-Style Chicken and Cauliflower-Veggie Rice
Recipe Source

by the Perdue Farms Culinary Team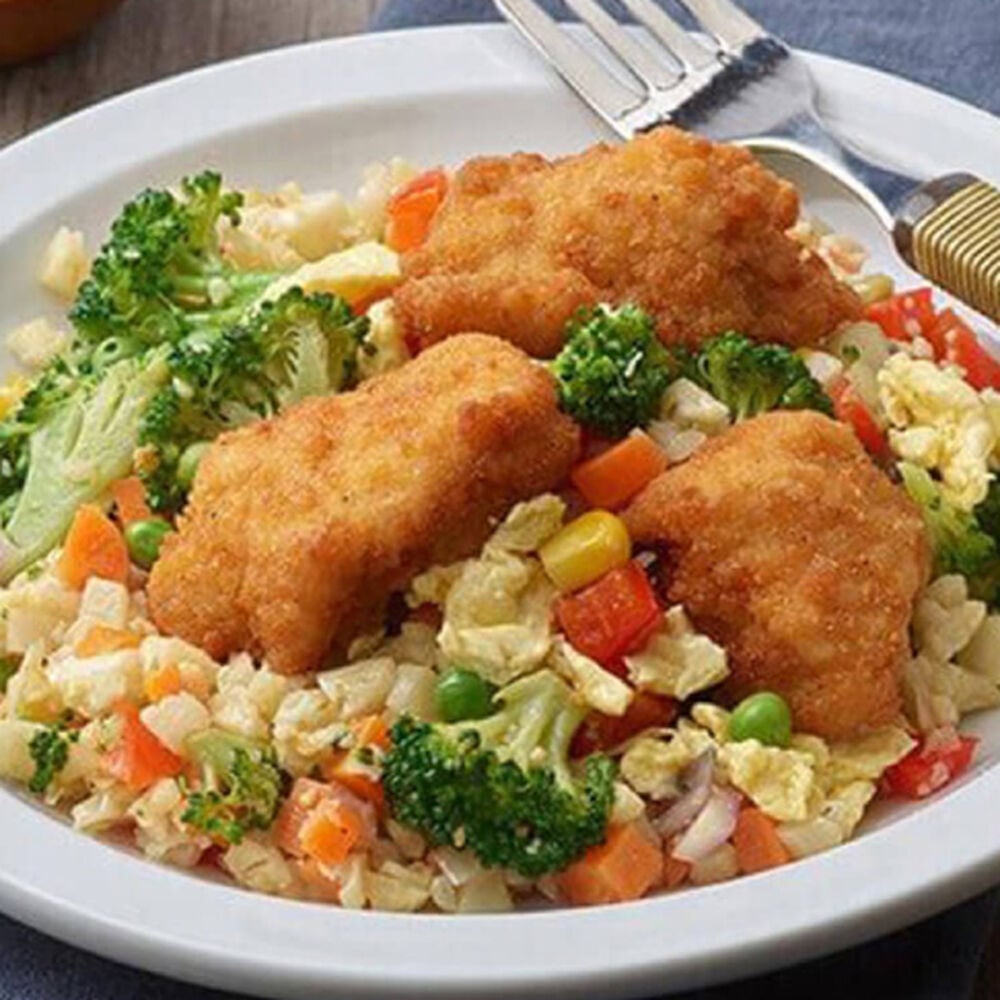 Asian-Style Chicken and Cauliflower-Veggie Rice
Recipe Source

by the Perdue Farms Culinary Team
The flavor of fried rice without the carb overload! This stir-fry comes together quickly, thanks to pre-cooked chicken chunks. To customize, toss in your favorite diced vegetables.
Nutritional Information
4 Servings Per Recipe
Total Carbohydrate: 26.0g
*Percent Daily Values are based on a 2,000 calorie diet.
Ingredients
Ingredients
1 pound Perdue Breaded Popcorn Chicken
2 large eggs, beaten
2 tablespoons grated ginger
1 12-ounce container store-bought cauliflower rice, about 3 1/2 cups
1 cup diced red bell pepper
1/2 cup frozen petite peas, thawed and drained
4 tablespoons gluten-free Tamari soy sauce, plus extra for serving
1/2 teaspoon powdered ginger
3 tablespoons vegetable oil, divided
1 cup diced onion
2 cloves garlic, minced
1 cup diced carrots
1 cup small broccoli florets
1/2 cup frozen petite corn, thawed and drained
2 tablespoons sesame oil
Step 1
Step 1
Preheat your toaster oven to 425 F. Spray a foil-lined toaster oven tray with cooking spray. Place chicken chunks on the toaster oven tray, spray with cooking spray and season with powdered ginger. Heat for 8 to 10 minutes. If frozen, add 2 minutes to heating time. For crispier product, turn halfway through heating time.
Step 2
Step 2
Heat 1 tablespoon vegetable oil in a large skillet over medium-high heat. Add the beaten eggs and quickly scramble. Transfer the eggs to a plate and set aside.
Step 3
Step 3
In the same skillet, heat the remaining 2 tablespoons vegetable oil over medium-high heat. Add the onion and ginger and stir-fry for about 1 minute. Add the garlic, cauliflower rice, carrots, bell pepper, and broccoli florets. Stir-fry until the vegetables are tender, about 3 to 4 minutes. Stir in the peas, corn, soy sauce and sesame oil. Stir fry for about 2 minutes until heated through.
Step 4
Step 4
Portion the stir-fry onto 4 plates. Top with 3 chicken chunks. Serve warm with extra soy sauce on the side.
The Perdue Farms Culinary Team
Chef Chris Moyer, CEC, CRC, and Chef Shawn Reese, CEC, CRC, bring decades of combined culinary experience to their roles at Perdue Farms. The chefs contribute to recipe development, culinary ideation, and all culinary aspects of the company business.
MEET THE CHEFS