Bacon-Wrapped Asparagus Bundles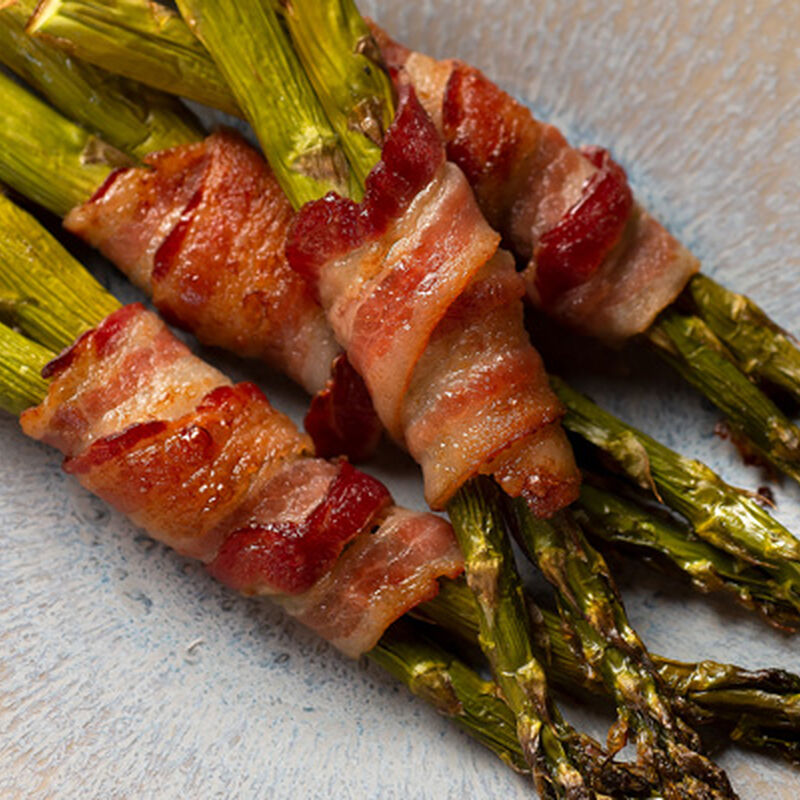 Bacon-Wrapped Asparagus Bundles
A side dish that pairs perfectly with steak, asparagus bundles are also an elegant addition to a plate of hors d'oeuvres. Veggies cook up quickly in a hot oven, and bacon lends the perfect amount of smoke and fat.
Nutritional Information
Calories

70

Protein

4g

Sodium

370mg

Sat. fat

1.5g

Sugar

1g
Nutritional Information
*Percent Daily Values are based on a 2,000 calorie diet.
Ingredients
Ingredients
10 bacon slices
20 asparagus stalks
2 tablespoons olive oil
1 teaspoon salt
1/2 teaspoon pepper
Timing
Timing
Prep
10 minutes
Cook
20 minutes
Step One
Step One
Preheat oven to 400 F. Line a rimmed baking sheet with parchment paper.
Step Two
Step Two
Wrap two stalks of asparagus with a slice of bacon. Place 10 bundles of bacon-wrapped asparagus on baking sheet. Drizzle asparagus ends with olive oil. Sprinkle with salt and pepper.
Step Three
Step Three
Bake until asparagus is cooked through and bacon is crisp, about 20 minutes.