Lamb Loin Chops Wrapped in Bacon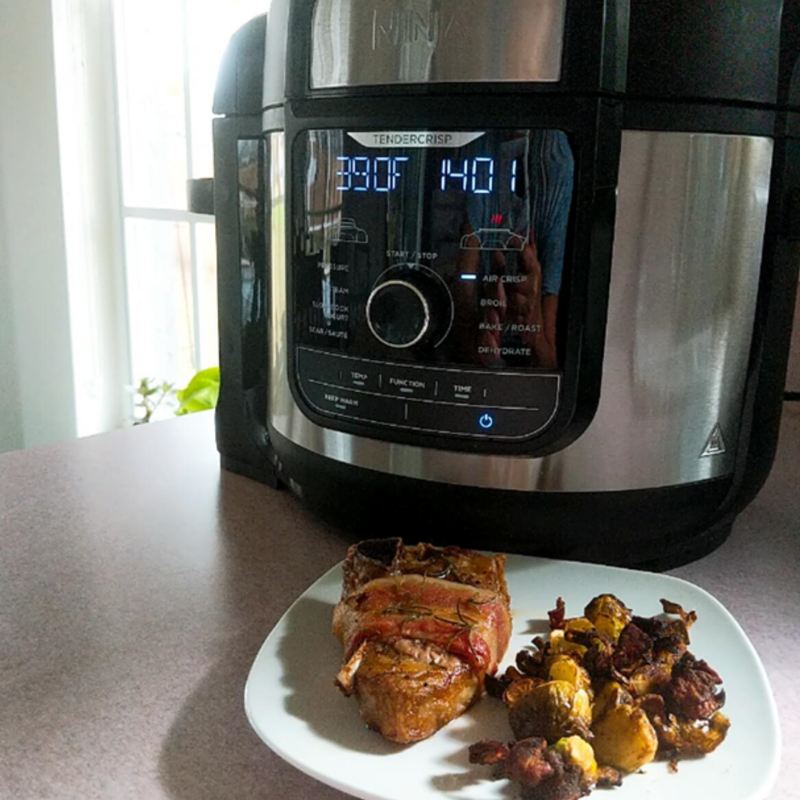 Lamb Loin Chops Wrapped in Bacon
by Zippy Sandler
Appliance used: Ninja® Foodi™ Pressure Cooker. Tip: Using the air crisp method on the Ninja Foodi eliminates the strong smell that can come from cooking lamb chops.
Prep: 10 minutes Cook: 15 minutes Makes: 4 servings
Ingredients
Ingredients
4 lamb loin chops
4 bacon strips
1/4 cup canola oil
1/2 teaspoon garlic paste
2 tablespoons chopped fresh rosemary
Kosher salt, to taste
Ground black pepper, to taste
4 sprigs fresh rosemary
Timing
Timing
Prep
10 minutes
Cook
15 minutes
Step One
Step One
In a large bowl, whisk together the oil, garlic, chopped rosemary and a pinch of salt and pepper. Add the lamb chops and toss until evenly coated.
Step Two
Step Two
Wrap a piece of bacon around each lamb chop, then place a rosemary sprig underneath each piece of bacon.
Step Three
Step Three
Place the lamb chops in the Cook & Crisp Basket™ and place the basket in the pot.
Step Four
Step Four
Close the crisping lid. Select AIR CRISP, set temperature to 390 F and set time to 15 minutes.
Step Five
Step Five
When cooking is complete, remove lamb chops from basket and serve immediately.