White Bean, Kale and Smoky Andouille Sausage Soup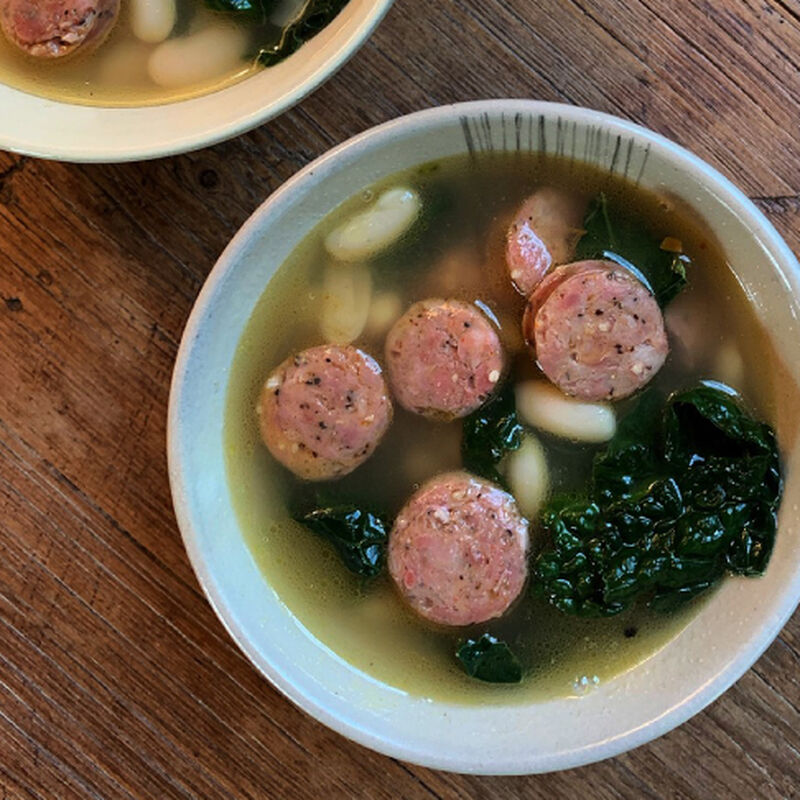 White Bean, Kale and Smoky Andouille Sausage Soup
Here's how to make white bean soup that warms the soul on chilly winter days! In this recipe Andouille sausage stands in place of ham and lends a spicy hint, while kale serves up a burst of nutrients and color. Add red pepper flakes, if you prefer your soup on the hotter side.
Nutritional information
Calories

300

Protein

20g

Sodium

1130mg

Sat. fat

5g

Sugar

4g
Nutritional information
Servings per recipe: 6
Amount per serving calories: 300
% daily value
Total fat: 18 g
Saturated fat: 5 g
Cholesterol: 35 mg
Sodium: 1130 mg
Total carbs: 18 g
Dietary fiber: 5 g
Sugar: 4 g
Protein: 20 g
*Percent Daily Values are based on a 2,000 calorie diet.
The link to White Bean, Kale and Smoky Andouille Sausage Soup has been copied
Ingredients
Ingredients
teaspoon crushed red chile flakes (optional)
quarts homemade chicken stock (store-bought is fine but use low sodium)
leaves Tuscan kale, stems removed and sliced into ribbons
ounces dried cannellini beans, cooked (or use canned)
Salt and freshly ground black pepper to taste
Step 1
Step 1
Heat the olive oil in a large soup pot over medium-high heat until hot and simmering. Add the sausage coins, stirring occasionally to prevent sticking but allowing the sausage to brown slightly, about 5 minutes.
Step 2
Step 2
Next, add onions, carrots and celery and sauté until tender, about 5 minutes, then add garlic and sauté for another minute.
Step 3
Step 3
Add chicken stock to soup pot, along with white beans, kale and crushed red chili flakes (if using) and stir to combine. Allow to simmer until all ingredients are tender and flavors have melded. Season with salt and pepper.
Step 4
Step 4
Serve immediately in warmed bowls.